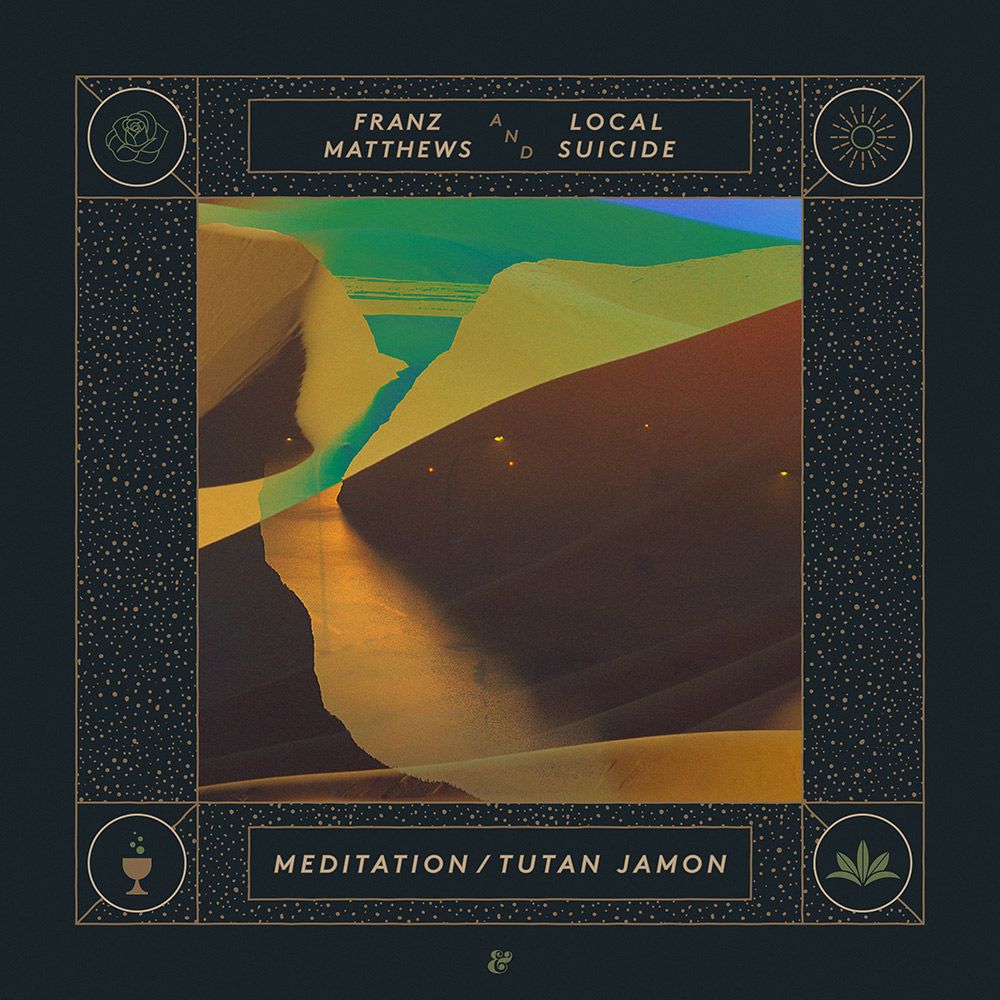 Franz Matthews & Local Suicide - Meditation / Tutan Jamon EP
Celestial Ghent-based label Eskimo Recordings has summoned an ethereal collaboration between Franz Matthews and Local Suicide with the release of 'Meditation / Tutan Jamon'. The other-worldly recording finds the Berlin artists combining forces for two exciting cosmic disco excursions into the desert oasis. The release feels right at home on Eskimo Recordings, as the darker counterpart to the label's recent nu-disco releases from the likes of Satin Jackets and Simon Says.
As the head of HIFI/LOFI Records and one-half of Balearic pop duo Languages, Franz Matthew's eclectic yet always entrancing approach melds perfectly with the 'technodisco' sound of Berlin-based duo Brax Moody and Vamparela, aka Local Suicide. Across the two tracks, the artists channel both the psychedelic indie dance-pop aesthetic of Matthew's previous releases on imprints such as Days Of Being Wild and Rockets & Ponies, and the new wave/acid goth jams of Local Suicide, who have previously released on labels such as Bordello A Parigi, Duro and My Favorite Robot Records.
The first track, 'Meditation', is a ruminative and spiritually infused number that combines sun-drenched melodies, wistful guitars, and breezy rhythms, overlayed with Vamparela's yearning vocal. Across the three edits, 'Meditation' soothes and transports the listener to a deeper state of consciousness.
'Tutan Jamon,' meanwhile, finds the trio of collaborators delving into darker territories with two distinct versions of the track. While the original mix assembles cold percussive beats, forbidding synthesizers and classic Egyptian melodies, the '1001 Nights' version takes these elements and delves even further into the menacing darkness of the desert by night. The release comes complete with instrumental versions of both tracks, serving to highlight the mystical sonic textures laced within each production.
'Meditation / Tutan Jamon' is out now through Eskimo Recordings.
"Acid-flecked, desert rock-informed nu disco made at the same time that Matthews was recording music for a meditation app, 'Meditation' is both propulsive and zen." – Resident Advisor
"From Berlin to the Sahara, Franz Matthews and Local Suicide have created a truly exotic piece of music..[They] have come together to create what is seemingly the sound of a desert oasis techno-disco. While Eskimo Recordings is known for their sun-soaked easy listening tunes, Tutan Jamon shows the darker and more experimental side of the label" – Magnetic Magazine
"Meditation has an incredible loose hypnotic groove, this is music for those messier moments, it's the perfect track for the sun rising after a perfect night's clubbing with friends." – Le Visiteur
"Franz Matthews and Brax Moody and Vamparela make life better. Seriously, when Franz does his music the world sings. When Brax and Vamparela do their thing, the concrete sidewalks churn and wave like the world is going to melt between their musical shimmer." – comeherefloyd
"Berlin-based trio blend post-punk intentions with a techno aesthetic on this pulsing new release." – Mystic Sons