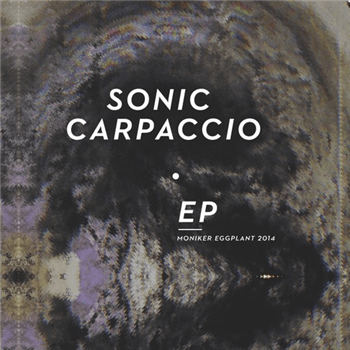 Memory9 – Carpaccio EP
Memory9, aka Italian born Gadi Sassoon, delivers his next release for Berlin DIY label and collective Moniker Eggplant for their 'Sonic Carpaccio' E.P released on the 25th April.
'Sonic Carpaccio' is the first Moniker Eggplant 12″ vinyl slice. A carefully curated audible meal that has been gently cooked to achieve an adequate balance between its musical ingredients and spices to deliver a full-flavoured taste of current explorations in electronic music. The black plate nourishes your head and feet likewise: four harvest-fresh tunes, from bright to deep, from dark to bouncy, from dubby to glitchy are all served on the menu.
A robust EP that takes you on a journey into sound and space with Memory9's 'Wuseng Dub' being the latest result of his experimentations in exploring the potentials of the slow/fast 80/160bmp axis .Prepare your ears for tunes that inherent the past and the very future.
Moniker Eggplant (M&E for short) was born out of the idea to blend different genres of electronic music into a full-flavoured audible menu. The ingredients of their sonic meals range from ambient spheres, weird electronica, jazzy beats, drums and spaces to acidulous analogue sounds. But 'Moniker Eggplant' is not just a moniker, with every release the galley's chef also indulges in his second passion and delivers delicious eggplant-based recipes. New creations as well as old classic dishes round up the whole sensual experience of tasty ideas for your own kitchen, accompanied by a fresh electronic sound track for your ears.
Tracklist:
A1. MEMORY9 – WUSENG DUB
A2. ILL K – PSALMUS
B1. ENA – NEVER BEEN
B2. IBUNSHI – SHADOWBORN