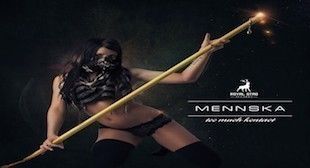 Mennska – Too Much Kontact
Glasgow is a house music hotbed right now and when one half of Apollo 440 starts making digital beats over the net, with his hugely talented Norwegian partner, the result is unpredictable and cutting edge.
Never ready to follow the rules of dance, Mennska (aka as Ewan Macfarlane & Filip Rasch) have made an interesting name for themselves, having steadily delivered on the dance floor they received major support in the clubs and across the airwaves around the globe. The duo are now ready to unleash 'Too Much Kontact'.
Full release also features huge remixes from, the in demand, Hoxton Whores with the added straight up tech house vibes of the Original dub.
The Clap & Smile Mix is a slice of deep vocal house that resonates with funk vibes.
Download Clap & Smile Mix FREE

Watch here: http://youtu.be/T2YZbBvkXUw
Beatport BUY Link: http://www.beatport.com/release/too-much-kontact/1412603
Follow
•••••••••••••••••••••••••••••••••••••••••••••••••••
www.mennska.com
www.facebook.com/mennska
www.twitter.com/mennska_