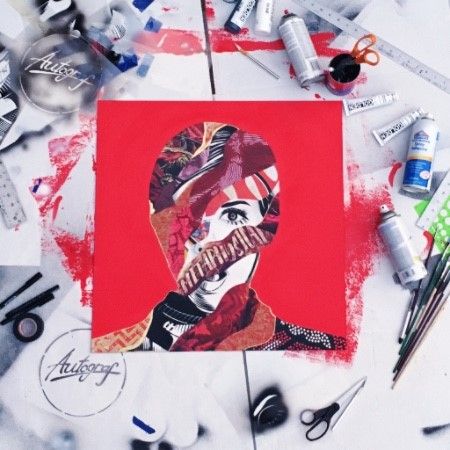 Autograf - Metaphysical
Launching the first in their pop-art inspired art and music series with "Running" last month, dance sensation Autograf release their latest art piece and song "Metaphysical" today.
Through their art and music, Autograf look to inspire others to create a better reality. Each new song is accompanied by a physical piece of artwork made by the act. The painting for "Metaphysical" features a surrealistic portrait of the pop-icon Twiggy who was often recognized for challenging societal norms of her era. Looking to encourage the viewer to look beyond assumed stereotypes, her face and body are a compilation of several parts, each peeled back to see various layers of forestry, fashion, artwork and more. Says Autograf, "to us, 'Metaphysical' isn't about the origin of the universe. It's about the reality we create in our own lives. When we peel back the layers, we're all just human inside."
Emotive and alluring from the opening keys, "Metaphysical" is intricately woven through the beautiful lines of strings, pianos, and drums throughout. Elegantly building before crashing into the tones of Autograf's signature vibraphone, the vocals of Janelle Kroll sing in ecstasy—forging a powerful and awe-inspiring debut collaboration.
Drawing inspiration from the integration of art, culture, and music from artists such as Banksy and the days of Andy Warhol's famous factory, Chicago trio Autograf live by the manifesto of making music for art. Comprised of members Mikul Wing, Louis Kha, and Jake Carpenter, Autograf's DIY aesthetic pairs their electronic sound with visual elements, creating tangible art to further express the emotions and thoughts behind every release. With over ten #1 hits on Hype Machine and over 20 million plays on Soundcloud, Autograf released their first single "Dream" this summer, a soulful number that has earned over five million streams and received remix treatments from artists such as Pat Lok and Robotaki. Touring worldwide this fall, the trio are asking fans to leave their autograph on their new interactive homepage and follow this exciting project wherever the art takes them.