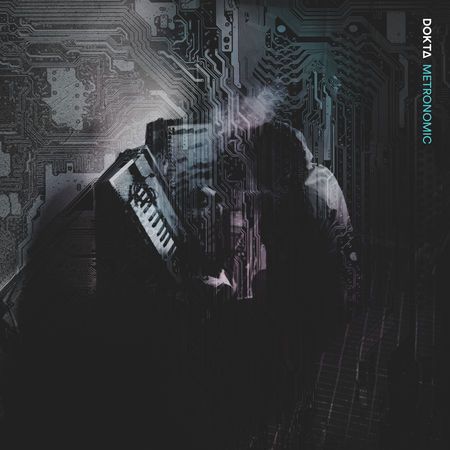 DOKTA - Metronomic
'Metronomic' is the debut album from anonymous London-born artist, DOKTA, released 14 May. With influences including Sun Ra, Fela Kuti, Aphex Twin, Orbital, and Isao Tomita, DOKTA fuses an incredible analogue set-up with live instrumentation, creating intensely rhythmic but cerebral electronic music that he performs fully live (he was recently signed to Little Big, the live agency for Aphex, Oneohtrix Point Never, and Autechre).
Signed to Ralph Lawson's 20/20 Vision Recordings imprint, DOKTA's single releases to date, include '2nd Nature EP' (featuring remixes from Seth Troxler & Bas Ibellini, and Jay Clarke), 'Baby Powder' (produced with Leonidas), and 'London Nights', (featuring remixes from Burnski, Ralph Lawson, and Jason Heath) which have earned support from the likes of Maya Jane Coles, Seth Troxler, Laurent Garnier, Francois K, Mixmag, XLR8R, and many more.
'Metronomic' is a stunning body of work, demonstrating how DOKTA's recording process – he records his music all in one take – and unique arrangements push at the boundaries of electronic music. With a music tech geek's paradise at his disposal (his studio kit list is provided on page 2), and a background as a studio engineer and mixer for some of the world's leading artists, he's one of the most genuinely exciting and talented producers to emerge in 2018.
Each week, DOKTA has been performing tracks from 'Metronomic' live via Facebook Live streams (Thursday, 6pm GMT), these are collected and archived on both his Facebook page and on YouTube (links below). DOKTA's radio show on 199Radio takes place every 4 weeks.
A special DOKTA live show, and in-store record shop events will be announced soon.
Further releases from DOKTA will be released in 2018.
DOKTA LIVE PERFOMANCE VIDEOS:
https://www.facebook.com/pg/doktamusic/videos/?ref=page_internal
https://www.juno.co.uk/artists/Dokta/
https://soundcloud.com/2020visionrecordings
https://www.facebook.com/2020VisionRecordings
http://2020visionrecordings.tumblr.com
https://www.facebook.com/2020VisionRecordings