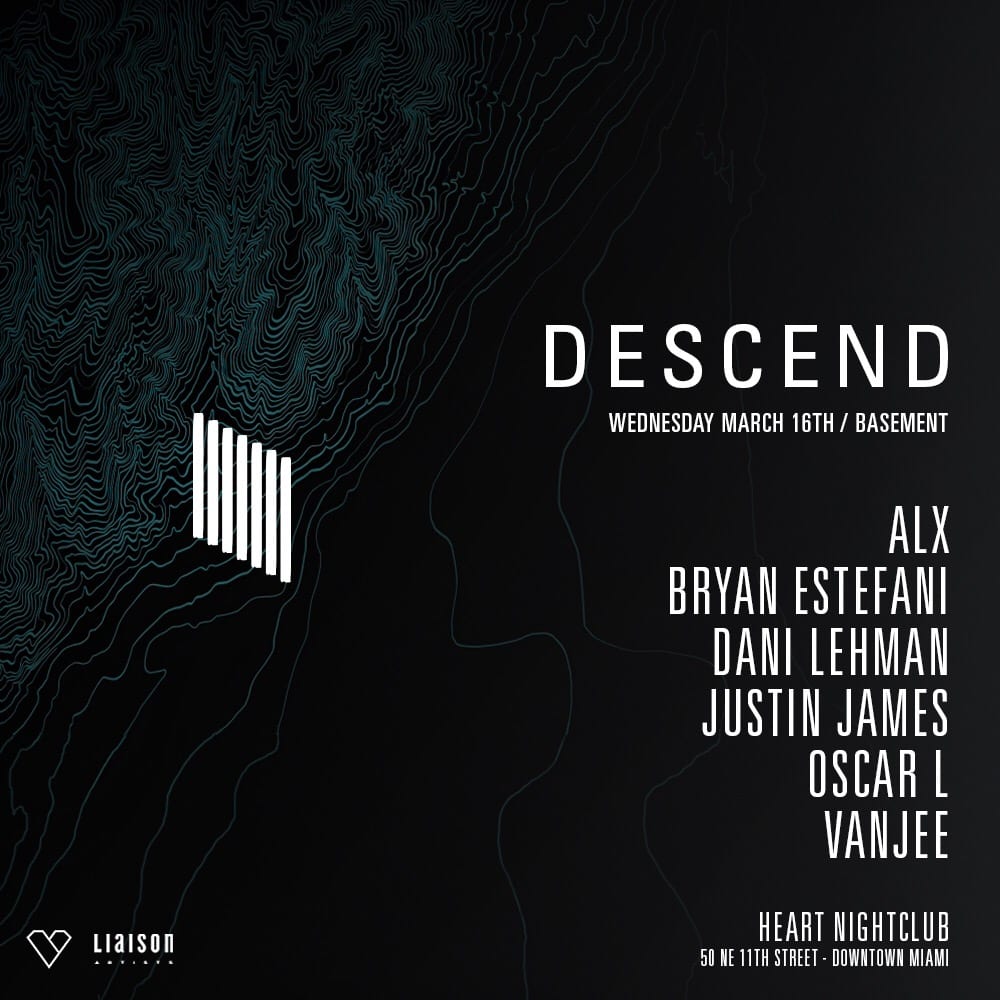 MIAMI WMC – Descend Showcase
Miami local and key member of its thriving underground scene Alex Sanchez AKA ALX, presents his very first Descend Records showcase this year at Miami Music Week [MMW]. Taking place in the basement of the new Heart Nightclub, Descend Records gives a breath of fresh techno to the decks on Wednesday March 16th, 2016.
Representing Descend Records at the MMW Showcase, is a strong line-up of techno's finest featuring both well established names, along with todays new wave of techno artists. Kicking off the night is label boss ALX, who will set the tone with his dark ominous sounds, following will be supporting acts Bryan Estefani and Dani Lehman who will take us for a ride. Special guests Justin James [SCI+TEC] and Spanish DJ/producer Oscar L, elevate the night as they bring originality and personality to the decks. Vanjee, one of New York City's rising names, is fashioning quite the reputation around the world for his entrancing house & techno sets, and will close out the night.
Descend is an experience that goes outside the norm – especially for Miami – It ventures into the deeper spectrum of techno, with a darker room in which it's subtle features are accented through minimal decor and lighting. It's designed to place more focus on the music and what makes that specific room unique. This environment allows people carry themselves deeper into their own individual experience instead of distracting them with over-the-top visual effects.

"Miami Music Week is an important time for the industry and its been great having the opportunity to work alongside the team at Heart Nightclub, during their first WMC. Heart Nightclub and Humans Alike have added a much needed layer of deeper techno to Miami's underground music movement."
– ALX

*ALX will also be closing out Miami Music Week at Club Space on Sunday March 20th, along side Loco Dice, Caleb Calloway, Guti, Julia Gover, Martin Buttrich, Stacey Pullen, Vanjee + more!

Descend Line Up
ALX
Bryan Estefani
Dani Lehman
Justin James
Oscar L
Vanjee
WHERE – HEART NIGHTCLUB [LOWER LEVEL] 50 NE 11 Street, Miami, FL 33132
WHEN – WEDNESDAY MARCH 16, 2016