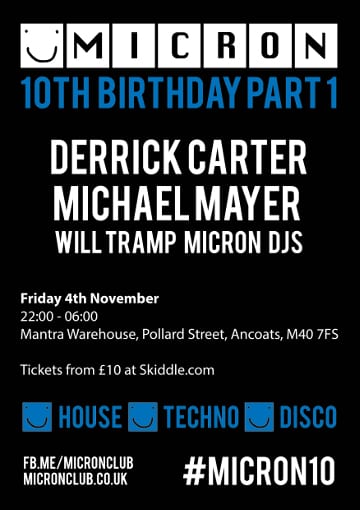 Micron takes over the North West to celebrate 10 years of decadence
MANCHESTER clubbing institution Micron celebrates a decade of decadence in November with dates in Manchester and Liverpool.
From the night's inception in November 2006, the club boasted an immediate impact on the clubbing landscape of the North West. Having started in Manchester's Joshua Brooks, it wasn't long until the club outgrew its home and moved to Sankeys to accommodate its growing audience, which only helped to boost the club's profile and set the benchmark for what was to become. Fast forward 10 years and having been nominated as the DJ Mag 'Best Small Club' for not one, but two years running in 2009 and 2010, helping Joshua Brooks to win the award for 'Best Venue' in the Manchester Evening News in 2011, hosting stages at the Manchester International Festival to playing at clubs and festivals across Europe.
So to help celebrate their milestone 10-year birthday, (no small feat in the highly competitive nightclub industry), Micron are returning to their hometown on Friday 4 November 2016 at the Mantra Warehouse for their 10.1 party, featuring heavyweight guests, Michael Mayer and Derrick Carter, of long-standing labels Kompakt and Classic respectively. Joining them on the bill are local heroes Will Tramp! (HomoElectric / The Warehouse Project), Black Eyes (Lost Control) and of course the Micron DJs.
Then on Saturday 12 November 2016, not one to do things by halves, the birthday celebrations continue at Underground in Liverpool, for Micron 10.2, with headline guests Âme (Innervisions) and Magda (m_nus / Items & Things), alongside the Micron DJs.
Michael Mayer, said of the forthcoming celebrations:
"I'm very excited to play for Micron in Manchester for a number of reasons: First, I love birthday parties. Second, I'll get to play my first extended set in Manchester and third, I'll finally get to meet Derrick Carter
In the mid-90s, when I was still working at the Kompakt record store and Derrick's 'Sweetened (no lemon)' album was released, I was so crazy about it that I pretty much forced every customer to buy a copy. I must have sold hundreds. Dinner on you, Derrick?"
Gareth Chubb, Micron's promoter, said:
"When we started Micron 10 years ago we were on a budget in terms of acts we could afford, we didn't think at the time that we would be in this position a decade on.
"We're no longer a monthly party, but organise several parties a year, where we want to make a big statement with each and every one of them.
"For our birthday parties we selected four headline acts that really helped Micron over the years. Magda is someone that was a huge influence at the beginning of Micron and we loved what she did with m_nus.
Twitter: www.twitter.com/marcogiannini78
Mixcloud: www.mixcloud.com/giannini78