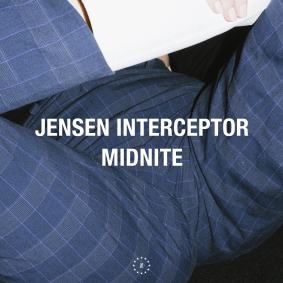 Jensen Interceptor - Midnite
Zone Records round out their year with a new and thrilling three tracker from Jensen Interceptor.
Jensen's versatile brand of techno takes him to clubs and warehouses around the world and has earned him the support of DJs such as Dave Clarke, Helena Hauff and Nina Kraviz amongst others. Taking cues from Detroit electro and Miami bass, rolling Italo and thunderous 90's breaks, he always cooks up a wild ride on influential labels like Boysnoize Records, Cultivated Electronics and Central Processing Unit.
It's the arresting 'Midnite' which kicks off with rugged basslines and slapping hits. Industrial, menacing moods pervade the tough electro groove and as it gurgles on the inner mechanics of the track take control of your body.
The lithe 'No Sleep' is even more athletic. Its basslines and synths gurgling and bubble, blurt and explode over and over as tinny cow bells hammer away up top. It's a visceral and upright cut that's as raw as they come.
Keeping up the energy levels, 'Illinois 78' is a little more stripped back, with echoes of EBM in the crunchy and off kilter drums and spooky synths. It's a stomping, macho track filled with atmosphere and one that is tailor made for gritty warehouses spaces.
Once again here Jensen Interceptor brings a unique and powerful sound that will find favour with dance floors worldwide.
Tracklist:
1. Midnite
2. No Sleep
3. Illinois 78