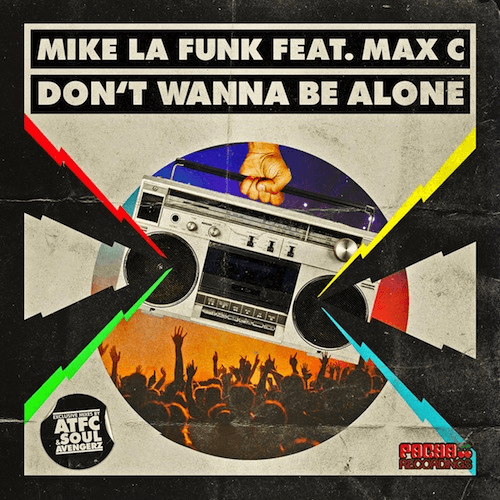 Mike La Funk ft. Max C – Don't Wanna Be Alone
Berlin-based House music purveyor, Mike La Funk, reveals his brand new release 'Don't Wanna Be Alone' for Pacha Recordings, working for the first time with talented vocalist Max C who injects a rich gospel flavour. The package also features some heavyweight remixers including: Soul Avengerz who opt for a deeper and mysterious vibe, showcasing a sexy nocturnal side; Jason Chance who creates an instant appeal for the young clubbers with his fast and sturdy beat science; and ATFC explodes on the main floor with hands in the air, armed with persuasive beats that accentuate the keys, driving track into a more sinewy territory. Upcoming producers Greg Funk (aka House Of Virus), opts for driving beats and soaring synth drama and Alec Hall works the floor with a sublime peak time Dub. 'Don't Wanna Be Alone' is an impressive addition to the Pacha Recordings catalogue of timeless House tunes.
In fourteen years Mike La Funk has audibly left his mark on the German house scene and is today regarded as one of its icons. His name stands for high credibility, crazy skills and above all, a unique mixture of distinctive quality house music. Growing up with the authentic old school house sound from New York and Paris, Mike lets this love shine through in his art in a respectful and elegant way. At home on both the turntables and in the studio, Mike has held numerous residencies across Germany with guest spots around the world, along with notable releases including 'Shake This World' with Jason Caesar on The Brothers and his latest smash, 'Music Is Life', with Corey Andrew on Pacha Recordings rocking the German Dance charts for 6 weeks!
Whether were talking about gospel, soul, or R&B, Kentucky born vocalist Max C can deliver a deliciously smooth vocal to fit. From Billboard hits, to topping the charts in over 12 European countries, to his humanitarian efforts, Max C is a man of many talents. His album releases with James Black and Kari Kaivola as 3rd Nation, gained much success with their 2nd album produced by Stonebridge in 1993, along with the single 'I Believe' which landed the group their first Billboard hit coming in at #8. Max C released his debut solo album 'Passin Tyme' in 2004, alongside acclaimed singles 'Caroline' and 'Time to Get it On'.
London production duo Soul Avengerz are renowned for delivering peak time floor fillers, creating remixes for CR2, Positiva, Ministry of Sound, Manifesto, Sony BMG, Hed Kandi, Universal, EMI, Strictly Rhythm and many more! Launching their own label SODA, they boys have been busy writing with the likes of Katherine Ellis, Peyton, Angie Brown, Max C and Krysten Cummins. Highly acclaimed DJ, producer and remixer ATFC has had a plethora of clubland hits over the years, from his own productions to remixes for the likes of P Diddy, Missy Elliot, Bootsy Collins, Simply Red, Faithless and Dido, among many and continues to DJ all over the finest venues around the world. Jason Chance, a mainstay on the UK's capital house music scene, has a big fan who goes by the name of Roger Sanchez, with his remixes and production work finding its way on to both Roger's Release Yourself Compilation series and Stealth label and also on Nocturnal Groove, Hugh and Milk & Sugar among many others.
Track listing
1 Don't Wanna Be Alone – Soul Avengerz Remix
2 Don't Wanna Be Alone – ATFC Remix
3 Don't Wanna Be Alone – Jason Chance Remix
4 Don't Wanna Be Alone – Original Mix
5 Don't Wanna Be Alone – Alec Hall Dub
6 Don't Wanna Be Alone – House Of Virus Remix
http://www.mikelafunk.de :: https://www.facebook.com/Mikelafunk :: https://twitter.com/mikelafunk
PREVIEW: https://soundcloud.com/mikelafunk/sets/mike-la-funk-feat-max-c-don/s-i1yiI