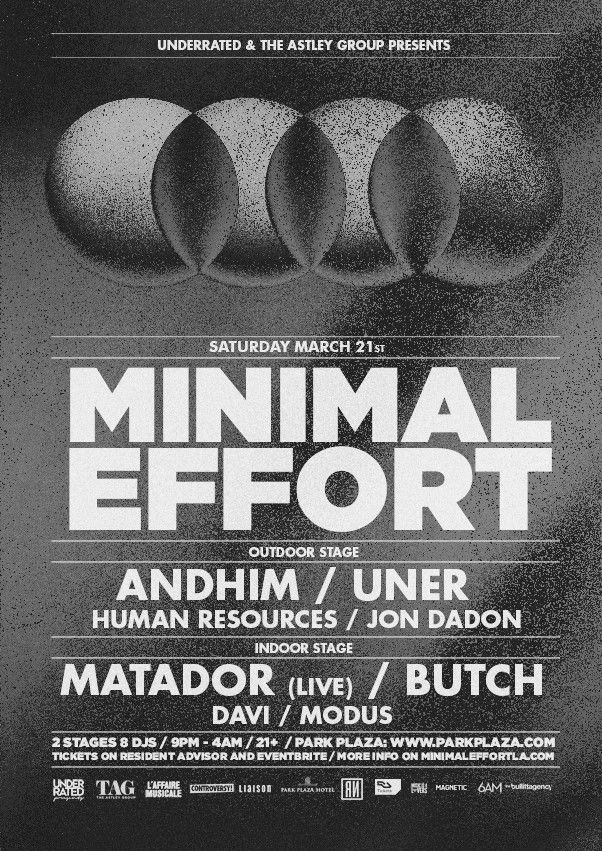 Minimal Effort Los Angeles
Minimal Effort Los Angeles announces another colossal line-up featuring the prodigious Matador, the incredible Butch, the marvelous andhim, and the astounding Uner. While Matador's live set will astonish, Butch will enrapture your body and mind, the duo andhim will convey soul and passion, and Uner will personally gratify your thirst for harmony. This triumphant gala will follow up from the last two eminent Minimal Effort events and will have you blown away featuring an indoor and outdoor stage and taking place at the legendary Park Plaza in Los Angeles. Playing host to some of Los Angeles' most illustrious since 1925, Park Plaza is a significant part of Los Angeles history and this party will definitely be one for the books.

THE LEGENDARY PARK PLAZA
This Gala will feature two stages with Matador of Minus performing live on the indoor stage along with Butch of Cocoon Recordings, Davi of Crosstown Rebels, and Modus of Funk'n Deep Records. The outdoor stage will see the likes of andhim of Get Physical Music, Uner of Diynamic Music, Human Resources of Minimal Effort, and Jon Dadon of Lovelife.
It is a rare occurrence to see Matador and his magnificent live set. He is only booked to play special occasions and this is no exception. The last time he played Los Angeles was for Insomniac's Escape Festival and his only listed event right now following Minimal Effort is Movement Festival. German DJ/Producer, Butch states he is from "The Land Of A Million Drums" with releases on some of the biggest labels in the business of the underground such as 100% Pure, 8 bit, Cecille, Desolat, Rekids, and many many more. A little over a month prior to Minimal Effort, he will release on the Watergate 18 compilation along with Ricardo Villalobos, Minilogue, Marcel Dettman, and many more.
andhim will be coming from their European and South American tour right before they head to Ultra Music Festival in Miami and after their huge release on Get Physical Music entitled Spayce on Feb. 10th. Uner will also be playing Ultra Music Festival in Miami this year and has a massive schedule of bookings in 2015 starting off the year at BPM Festival playing the Stereo Showcase and the ANTS party at Blue Parrot and then Carnaval 10H in Barcelona and Ultra Music Festival in Beunos Aires. The Spanish artist is an innovator and educator and loves to share his ideas and teach his skills to new and upcoming talent.
Los Angeles based producers Davi and Modus will accompany Butch and Matador while one of the organizers of Minimal Effort, Human Resources and the co-founder of the party brand Lovelife and founder of the online music publication, Musicis4lovers.com Jon Dadon will share the stage with andhim and Uner. This is an incredible line-up at an out of this world venue that seems a bit too good to be true.

There are not too many venues that can add the title "legendary" in their name but Park Plaza in Los Angeles is one of them. The extravagant hotel turned event space has played host to celebrity weddings, movies, a Great Gatsby party, NYE galas, and some of the most fantastic affairs in Los Angeles. Park Plaza is set in a neo-gothic style of architecture known as Gothic Revival and supports a brass sculpture set of elk antlers embedded in the clock above the grand entry to the building. Donned with angels at every corner, the venue was created by renowned Art Deco architect, Claude Beelman in 1923-1924 and is an official Historical-Cultural monument of Los Angeles.
Park Plaza also features elaborate interior murals and decorative paintings that were designed by Anthony Heinsbergen and Co. who is a noted painter of many Los Angeles cultural landmarks. The shootout scene for the 2013 film Gangster Squad between Nick Nolte and Josh Brolin was filmed here making it a perfect setting for these amazing artists to blast out melodies and harmonies amongst the elite.
Minimal Effort
Time: 9pm to 4am
Place: Park Plaza Los Angeles
Address: 607 S. Park View Street
Los Angeles, CA 90057
Admission: 35.00 to 100.00 (All Access)
Tickets: http://bit.ly/1Fo7WhT
Table Reservations: Area 1 (4 People, 2 Bottles & Table) – $750.00
Area 2 (6 People, 3 Bottles & Table) – $1,000.00
Age: 21+
Dress Code: Classy
Table Reservations: (323) 464-2065