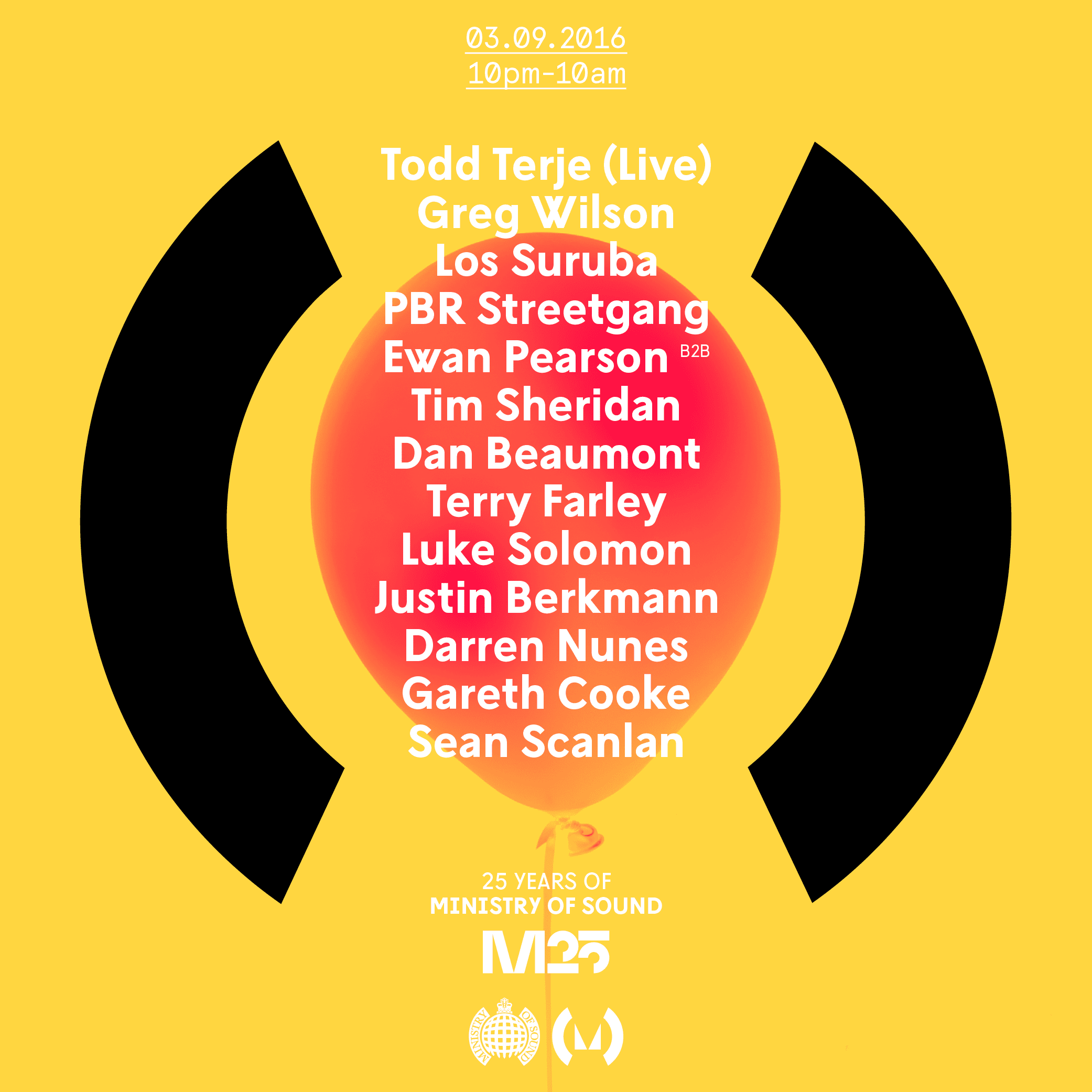 Ministry of Sound reveal Boys Own takeover with Terry Farley to complete 25th anniversary party line-up on Saturday 3rd September
With a milestone birthday for Ministry of Sound already confirming hype-worthy headliner Todd Terje, the club's 25th Anniversary on Saturday 3rd September now welcomes a new wave of dance music mainstays to the bill.

Cementing itself as a beacon for London nightlife for a quarter of a century, the capital of club culture in the city is a world-renowned global institution. Over that time its seen electronic superstars including Tïesto, David Guetta, Pete Tong and Armin van Buuren all pass through, as well as confirming its underground legacy with 2016 takeovers from DJ Harvey, Culoe de Song, Adam Beyer, and a Rinse residency which featured Novelist and Katy B – whilst Sasha returned in a surprise back-to-back all-nighter with John Digweed earlier this year. Marking the occasion in fitting memorial, a host of old hands join Todd Terje performing live for a certified classic.
Boys Own Productions takeover 103, bringing along a treasure trove of acts in keeping with the MoS tradition. Representing the London scene and the Boys Own acid house crew that with Terry Farley crafted the sound of this city from the start, polymath Dan Beaumont plays from his versatile past and Luke Solomon from a career of celebrity collaboration and circuit conquering. Historic partner promoters Rulin reflect on this hallmark night on their own journey, having hosted the likes of the late and great Frankie Knuckles within these hallowed walls. Gareth Cooke and Sean Scanlan fly their banner, with Chosen likewise joining the celebration in The Baby Box.

Event Info:

Lineup

The Box:
Todd Terje (Live)
Greg Wilson
Los Suruba
PBR Streetgang
Ewan Pearson b2b Tim Sheridan

103: Boys Own Productions
Dan Beaumont
Terry Farley
Luke Solomon
Justin Berkmann
Darren Nunes

The Loft: Rulin
Gareth Cooke
Sean Scanlan

Baby Box: Chosen
Dave Lubin
Jeremy B
Johnny Landers

Date: Saturday 3rd September 2016
Venue: Ministry of Sound, London