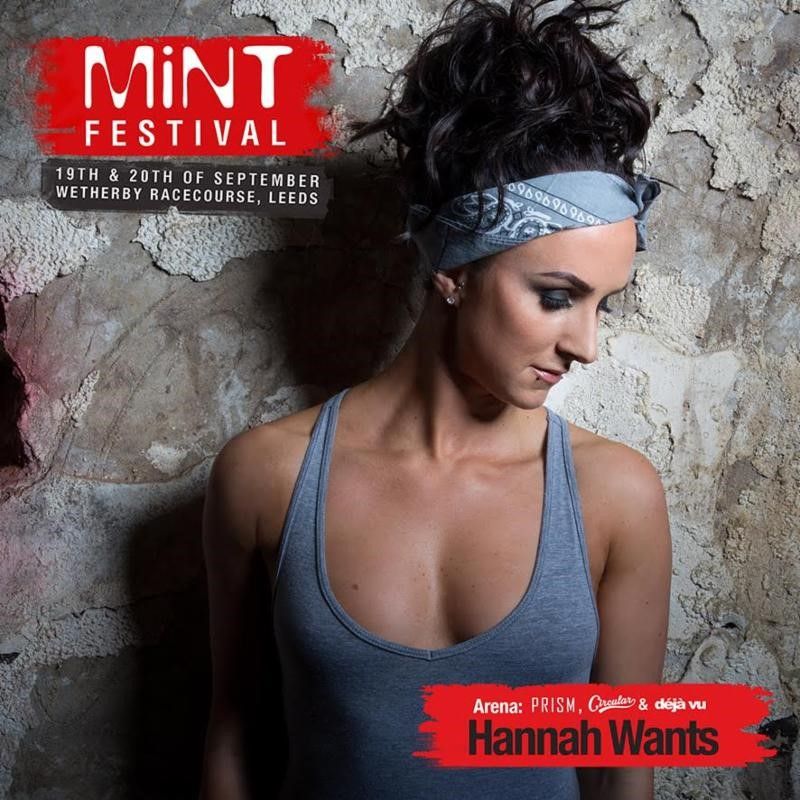 Mint Festival Adds Hannah Wants To 2015 Line-Up
MINT Festival are delighted to announce that Mixmag's "Queen of 2014", the very talented Hannah Wants will now be playing at this year's event as the very special guest in the Prism, Circular & Deja Vu arena on Sunday 20th September.
Mint Festival is delivering a truly spectacular Line-Up in 2015, in addition this year welcomes a new production team to Mint, who will be bringing the festival to life for an unforgettably immersive experience with more chill out areas, local food stalls, vendors, bars and facilities.

For the first time, camping will be available from Friday through to Monday. Look out for a silent disco and special acoustic sessions. After-Parties are also at Mint Club and Mint Warehouse, details to follow.
Tickets can be purchased online NOW at www.mintfestival.co.uk
Striding into it's fourth year, MINT Festival returns home to Leeds for an epic two-day camping event at Wetherby Racecourse. Encompassing six arenas of diverse sonic programming, MINT Festival is the perfect close to the summer, taking place over the weekend of the 19th and 20th September.
Saturday welcomes Sven Vath, Maya Jane Coles and the Martinez Brothers on the MINT Presents Arena, whilst Leeds local Hot Since 82 takes over the Knee Deep In Sound stage, alongside Green Velvet, Joris Voorn and Route 94.

Other names on the bill for Saturday include Chilean House Legend Luciano, plus Apollonia, the DJ trio made up of Dan Ghenacia, Dyed Soundorom and Shonky. Also joining the Saturday bill will be
Duke Dumont, the deep house producer who made waves with his singles 'Need U' and 'Won't Look Back' and legendary trance mainstay Paul Oakenfold.
Day two of the Festival welcomes techno mastermind Ricardo Villolobos, who will be playing back to back with Perlon's head honcho Zip. Festival goers will also be able to catch a special Live set from Henrick Schwarz plus Dyed Soundorom b2b Enzo Siraguso on the Systems Presents Fuse stage.
Seth Troxler Presents will host an impressive array of dance music heavyweights on his own stage including Fabric resident Craig Richards and Green Velvet's alias Cajmere. Elrow will welcome Bristonian Eats Everything for an extended set, in addition to dubstep's first star, BBC Radio 1 Resident Skream. Hot Creation's front man Jamie Jones will also be down at the event fresh of the back of his Ibiza residency at DC-10.

Drum 'n' Bass DJs Sigma will be present on day two of the festival, alongside drum & bass and jungle legend Shy FX. and man of the moment Skepta. Leeds hero Darius Syrossian will also be on board, playing the Prism/ Deja Vu/ Circular stage with the likes of Oliver $, Josh Butler and Sony Fodera.
FULL MINT FESTIVAL LINE-UP
SATURDAY 19TH SEPTEMBER..
MINT PRESENTS ARENA
Sven Vath | Maya Jane Coles | The Martinez Brothers | George FitzGerald | PBR Streetgang | Bobby O'Donnell
SYSTEM & SET ONE TWENTY ARENA
Luciano | Apollonia | Premiesku (live) | DeWalta | Rich NxT | Annie Errez
KNEE DEEP IN SOUND
Hot Since 82 | Green Velvet | Joris Voorn | Route 94 | Santé & Sidney Charles | Denney | Finn & Farrow (Circular)
DUKE DUMONT PRESENTS BLASE BOYS CLUB
Duke Dumont | Tiga | Waze & Odyssey | Fono | Kiwi
BITCH
W&W | Kryder | Firebeatz | Arno Cost | My Digital Enemy | D.O.D | Futuristic Polar Bears | Joshua Roberts | Nick Coulson | Digital Mode | Lost Boys | Molise
DIGITAL SOCIETY & GOODGREEF
Paul Oakenfold (25Years of Perfecto Set) | Cosmic Gate | Andy Moor | Menno de Jong vs. Ram | Will Atkinson | Luke Bond | ReOrder | Artic Moon | Hiddenagenda | James Cottle | Paul Pearson
NO WAY BACK, MILKMAN DELIVERIES & NEVER TO MUCH
Late Nite Tuff Guy | Transmission Collective | Lucy Locket | Haydn Porter | Campo | Michael Upson | Twogood | Ethan Marin | Mzungu | Cole Proctor | Nickson
NO CURFEW & CATALYTIC
Tom Haigh | Grayson | James Barra | Dan Hills | Jamie Hartley | Manny Brown | Jo Lobel | Tom Jagger | Jordan Khokhar | Dave Q | Twinsound | Mark Sinclair | Reload
VIP WITH HARD TIMES & FRIENDS
Todd Terry | Mat Playford | Brotherton Wing | Lewis Bailey | Jason Bye | Afro Coalition DJs | Clandestino | Jammhot | Liam Frisco | Anton Raphael | Ben Bottomley + Secret Guests from The Festival
SUNDAY 20TH SEPTEMBER..
PARADISE
Jamie Jones | Paco Osuna | Davide Squillace | Jamie Principle (live) | Richy Ahmed | wAFF | Robert James
SETH TROXLER PRESENTS
Seth Troxler b2b The Martinez Brothers | Cajmere | Crag Richards | Tom Trago | Felix Dickinson
JUNGLE JAM & DETONATE
Skepta | Sigma | Zed Bias presents 'Madd Again' | Shy FX | Cause & Affect | Benton | Randall | Amy Becker | Stamina MC | MC I.D. | Transit Mafia | Northern Scum | Vital Techniques | Standfast | MC Ruthless | MC Gigante | MC Jordache | MC Pean
SYSTEM PRESENTS FUSE
Ricardo Villalobos b2b Zip | Henrik Schwarz (live) | Dyed Soundorom b2b Enzo Siragusa | Rossko b2b Archie Hamilton | Annie Errez & Bobby O'Donnell
ELROW
Eats Everything (Extended Set) | Skream | De La Swing | Tom Rio
PRISM, CIRCULAR & DEJA VU
Hannah Wants | Darius Syrossian | Oliver Dollar | Josh Butler | Leftwing & Kody | Sonny Fodera | Cristoph | Finn & Farrow | Luke Pompey & Rickie DH
SLOWDOWN SOUNDS & ELEMENTS
DJ Yoda (Golden era Hip Hop set) | Prince Valium | Tony Green | Jimmy Brooklyn | Sangria Kong | BT3K | Hip Hop Karaoke w/ Ben Randm
RESIDENTS ARENA
Motion DJs | Portal DJs | Under DJs | Mvson DJs | Covert DJs | White Rabbit DJs | Piers Crozier
VIP WITH HARD TIMES & FRIENDS
Todd Terry | Doorly | Mat Playford | Brotherton Wing | Lewis Bailey | Jason Bye | Death on the Balcony | The Head Gardner | Foz | Steve Hoyland | Jack Bettinson b2b Jordan Day + Secret Guests from The Festival
+++
LINKS & FURTHER INFO
WETHERBY RACECOURSE, LEEDS
19TH + 20TH SEPTEMBER
WEBSITE:
www.mintfestival.co.uk