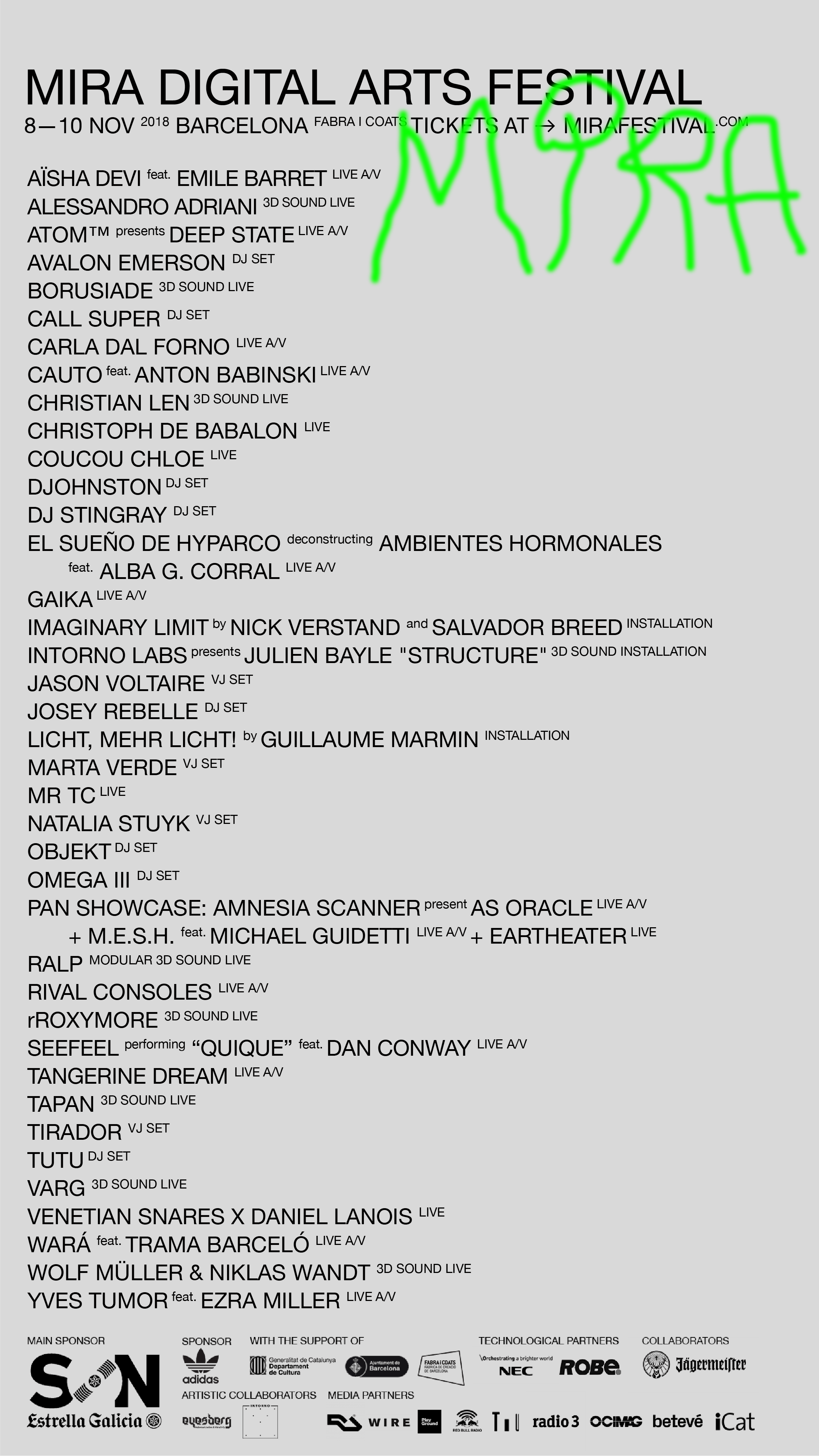 MIRA FESTIVAL – More artists, conference programme and parties revealed
Barcelona's revered digital arts event MIRA FESTIVAL adds GAIKA's live A/V Spanish debut, PAN showcase, full conference programme, plus stage splits and after party at Razzmatazz
8th – 10th November || Barcelona, Fabra i Coats
2 DAY PASS : 55EURO | THREE DAY PASS : 70EURO
http://www.mirafestival.com/en/tickets
An innovative and forward thinking event in the digital arts and music spheres, MIRA Digital Arts Festival have curated it's most impressive bill for it's 8th edition, with a fresh set of names this week. From Thursday 8th – Saturday 10th November, MIRA returns to Fabra i Coats (a refurbished factory turned cultural space) for three days of performances, exhibitions, conferences and more from industry leaders and breakout acts. Just announced, Thursday 8th will play host to the opening concert with WARP records' GAIKA making his Spanish debut with a live A/V show, and seminal label/ agency PAN hosting a showcase with Amnesia Scanner As Oracle Live A/V, M.E.S.H. feat. Michael Guidetti Live A/V, Eartheater Live + more. In addition to a whole host of talks, workshops and Q&A's from Claire Tolan,Filip Custic and Keiken with more TBA. On top of this, MIRA will be holding an official afters at Razzmatazz with Objekt, Mr TC (Live), Tutu, Omega III and Djohnston. All this adding to an already existing line-up with live A/V sets Tangerine Dream, Venetian Snares x Daniel Lanois, Yves Tumor feat. Ezra Miller and DJ sets from Avalon Emerson, Call Super, DJ Stingray and many more. Two day passes are available from €55 and three day passes are €70, do not sleep on this. TICKETS:http://www.mirafestival.com/en/tickets/
THURSDAY CONCERTS – Thursday 8th November
MIRA's opening concert brings together a futuristic line-up of well established and upcoming artists. Curating the first half of the evening is PAN, celebrating 10 years of the label; bringing along an eclectic selection of artists to demonstrate why the collective is so special, including Amnesia Scanner making her Spanish premiere presenting As Oracle Live A/V. Also on board is breakout name M.E.S.H. with Michael Guidetti on visual duties, Eartheater performing a live set around new release IRISIRI. Fresh from his Basic Volume album launch and Somerset House collaboration with Boiler Room, multi-disciplinary WARP signee GAIKA brings a high-energy, immersive A/V show to MIRA's opening event – a guaranteed must see.
CONFERENCE PROGRAMME: "THE SEARCH FOR (modern) PLEASURE"
Adding to the expansive programme of leftfield sounds, MIRA 2018 will also hold a series of exhibitions, workshops and talks to dig deeper into digital arts. Claire Tolan speaks, an American artist who boasts a lengthly career in to the research of ASMR, she will present her new role-playing game The State of ShÜSh. Also find Spanish-Serbian artist Filip Custic exhibiting and hosting a Q&A exploring the theme of technological hedonism, whilst discussing his methodical approach and vision of art. Completing this year's MIRA Barcelona conference programme, Keiken collective (London, Berlin, Falmouth) are running a performative and immersive conference that seeks to unfold the implications of contemporary society in the digital era. More announcements TBA…
'The conference programme at MIRA 2018 Festival is a reflection on hedonism, the human condition in the pursuit of pleasure and expansion and the connections that exist in the digital, technological and artistic fields. Through 3 conferences we will explore different projects and visions that revolve around the notion of pleasure within the digital era and art as a catalyst for hedonistic experiences.'
AFTERPARTY
For the official after party, MIRA will take over Barcelona's much loved club space Razzmatazz with a team local DJ's and international guests. Headlining the affair is Objekt – a selector who's technical skill combined with track selection is second to none, plus left-leaning house trio Mr TC will be play live. Barcelona natives Tutu, Omega III and DJohnston round off the bill bringing the finest selections of house, left field techno and rave. Tickets are starting at just 10€, TICKETS ON SALE SOON.
TRAVEL INFO & TICKETS
Tickets for MIRA are just 70€ for the full 3 day programme (8th-10th November), 2 day passes (9th-10th November) are currently at 55€. Single day passes are also available, starting at €20, and after party tickets begin from 10€. For a packed-out programme across the three days, the ticket price offers amazing value for arts and music appreciators – the chance to see a diverse and groundbreaking range of art for a friendly pocket price.
For those travelling from the UK, return flights are available from £37 from most major airports, and prices are similar for the rest of mainland Europe. Barcelona is a thriving cultural city, and this is the chance to explore the city's thriving underground electronic scene, learn about the artists involved and get fully immersed. The city is full of Hostels, Air BnBs and Hotels to suit all budgets and styles.Tickets : http://www.mirafestival.com/en/tickets/
MIRA FESTIVAL|| 8th – 10th November || Barcelona, Fabra i Coats
2 DAY PASS : 50EURO | THREE DAY PASS : 70EURO
http://www.mirafestival.com/en/tickets/
TANGERINE DREAM LIVE A/V
VENETIAN SNARES x DANIEL LANOIS LIVE
YVES TUMOR feat. EZRA MILLER LIVE A/V
SEEFEEL performing QUIQUE feat DAN CONWAY LIVE A/V
AÏSHA DEVI feat. EMILE BARRET LIVE A/V
GAIKA LIVE A/V
OBJEKT DJ SET
AVALON EMERSON DJ SET
ATOM ™ presents DEEP STATE LIVE A/V
RIVAL CONSOLES LIVE A/V
PAN SHOWCASE: AMNESIA SCANNER present AS ORACLE LIVE A/V + M.E.S.H. feat. MICHAEL GUIDETTI LIVE A/V + EARTHEATER LIVE
IMAGINARY LIMIT BY NICK VERSTAND AND SALVADOR BREED INSTALLATION
EL SUEÑO DE HYPARCO deconstructing AMBIENTES HORMONALES feat. ALBA G. CORRAL LIVE A/V
CHRISTOPH DE BABALON LIVE
CALL SUPER DJ SET
DJ STINGRAY DJ SET
INTORNO LABS presents JULIEN BAYLE "STRUCTURE" 3D SOUND INSTALLATION
GUILLAUME MARMIN presents LICHT, MEHR LICHT! INSTALLATION
TAPAN 3D SOUND LIVE
ALESSANDRO ADRIANI 3D SOUND LIVE
WOLF MÜLLER & NIKLAS WANDT 3D SOUND LIVE
CARLA DAL FORNO LIVE A/V
VARG 3D SOUND LIVE
JOSEY REBELLE DJ SET
COUCOU CHLOE LIVE
rROXYMORE 3D SOUND LIVE
MR TC LIVE
NATALIA STUYK VJ SET
BORUSIADE 3D SOUND LIVE
WARÁ feat. TAMA BARCELÓ LIVE A/V
JASON VOLTAIRE VJ SET
RALP MODULAR 3D SOUND LIVE
TUTU DJ SET
MARTA VERDE VJ SET
CAUTO feat. ANTON BABINSKI LIVE A/V
CHRISTIAN LEN 3D SOUND LIVE
TIRADOR VJ SET
OMEGA III DJ SET
DJOHNSTON DJ SET
DAY TO DAY STAGE SPLITS:
THURSDAY 8
GAIKA LIVE A/V
PAN SHOWCASE: AMNESIA SCANNER present AS ORACLE LIVE A/V + EARTHEATER LIVE + M.E.S.H. feat. MICHAEL GUIDETTI LIVE A/V
FRIDAY 9
MAIN STAGE
AÏSHA DEVI feat. EMILE BARRET LIVE A/V
CALL SUPER DJ SET + NATALIA STUYK VJ SET
CARLA DAL FORNO LIVE A/V
CAUTO feat. ANTON BABINSKI LIVE A/V
CHRISTOPH DE BABALON LIVE + MARTA VERDE VJ SET
COUCOU CHLOE LIVE
TANGERINE DREAM LIVE A/V
3D SOUND ROOM BY SON ESTRELLA GALICIA
CHRISTIAN LEN 3D SOUND LIVE
DJ STINGRAY DJ SET
rROXYMORE 3D SOUND LIVE
TAPAN 3D SOUND LIVE
VARG 3D SOUND LIVE
SATURDAY 10
MAIN STAGE
ATOM ™ presents DEEP STATE LIVE A/V
AVALON EMERSON DJ SET + JASON VOLTAIRE VJ SET
EL SUEÑO DE HYPARCO deconstructing AMBIENTES HORMONALES feat. ALBA G. CORRAL LIVE A/V
RIVAL CONSOLES LIVE A/V
SEEFEEL performing QUIQUE feat. DAN CONWAY LIVE A/V
VENETIAN SNARES x DANIEL LANOIS LIVE + TIRADOR VJ SET
WARÁ feat. TRAMA BARCELÓ LIVE A/V
YVES TUMOR feat. EZRA MILLER LIVE A/V
3D SOUND ROOM BY SON ESTRELLA GALICIA
ALESSANDRO ADRIANI 3D SOUND LIVE
BORUSIADE 3D SOUND LIVE
JOSEY REBELLE DJ SET
RALP MODULAR 3D SOUND LIVE
WOLF MÜLLER & NIKLAS WANDT 3D SOUND LIVE