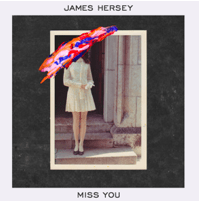 James Hersey - Miss You
We live in a rapidly evolving world of instant communication and snap judgements. It's this world that James Hersey explores, shining a light on how this new instant gratification can co-exist with instinctive human emotions.
Arriving on the scene with unshakeable new single 'Miss You', released via Glassnote Records, Hersey's talent for songs that will strike a chord with anyone who's ever experienced heightened emotions, i.e. everyone, is strikingly evident.
Co-produced by James alongside Ed Sheeran collaborator Will Hicks and mixed by Stephen Fitzmaurice (Sam Smith, Disclosure, Kwabs, Mary J. Blige), the track is a spacious, captivating future classic, with nods to the dance world. It's also deeply personal, dealing with the idea of connections between people.
"I wrote and produced the first draft of 'Miss You' in two virtually sleepless days and nights. Three days later I was on a plane to England to cut (and finish writing) what is now my debut single," James explains. "It was like windsurfing, when you catch the right gust at the right moment and you're catapulted forward by this incredible, invisible force. That's what it feels like to write music you love."
Despite 'Miss You' forming Hersey's debut single, his voice is one many listeners will be familiar with. 'Coming Over', Hersey's delicate, summer-tinged ode to delayed desires, is a song that took on a whole new life in the dance arena. Initially remixed by Filous (25m Spotify streams and counting), it's since been subtly reworked by Kygo & Dillon Francis (a staggering 70m Spotify streams and counting). Its success has led to dance legend Tiesto offering up a remix and Hersey touring Europe with Kygo himself.
Now based in Berlin but born and raised in Austria's capital Vienna, Hersey's childhood was filled with music. Guitar lessons were augmented by impromptu family music concerts. The house also reverberated to the sounds of Bob Marley, Grateful Dead and, in the mid-nineties, hip-hop. For Hersey himself, Michael Jackson was King. "I'd practice the dance moves and let my hair grow long," he laughs.
Happy to explore musical genres, utilizing that grounding in folk, pop, and rock from a young age, Hersey's songs work in different musical contexts because at the core of them lies classic songwriting. Crucially, the thread throughout is always Hersey himself.
Connect with James online:
Website: http://www.jamesherseymusic.com/
Facebook: https://www.facebook.com/jamesherseymusic
Twitter: https://twitter.com/JamesHersey
Instagram: https://www.instagram.com/jameshersey