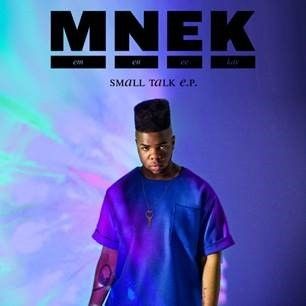 MNEK – Small Talk
With a raft of hugely successful collaborations under his belt, Londoner MNEK is about to cement his own status with the release of his debut EP, Small Talk. Lead by the hypnotic bass rumble of current single The Rhythm (impact date March 15), and featuring early singles Every Little Word and Wrote A Song About You, its six tracks highlight an incredible versatility. You want something you can lose your mind to? That's The Rhythm, obviously. You want something to chill out to? Try the hypnotic, low slung In Your Clouds. You'll love the vocally majestic of Suddenly and it also includes the exclusive 90s bounce of More Than A Miracle.
Having already felt a lot of love from Radio 1, The Rhythm – all swirling atmospherics, rumbling bass and the sort of drop that could wake the dead – is the anthem this year needs to kick start towards the summer. This sense of slow-burning euphoria is perfectly encapsulated in the video, which finds a group of supermarket shoppers slowly losing their shit as the rhythm quite literally gets to them. It's a song that should come with a health warning; basically, don't listen if you don't want to dance.
As well as writing his own music, MNEK's co-written, produced and/or appeared on seven UK Top 20 singles, including two number ones (Duke Dumont's Grammy-nominated Need U (100%) and Oliver Helden's Gecko. Elsewhere he's showcased his ability to flit between deep house one minute, pure pop the next and R&B bangers as and when via his work with the likes of Rudimental, Chris Malinchak, Becky Hill, Sinead Harnett, Bondax, Disciples, Shift Key and the current top 10 single from newcomer Karen Harding. Not only that but he's also leant his midas touch to projects from two of pop's biggest names; Kylie Minogue and Madonna.
Whether inhabiting the worlds of house, dance, R&B or soul, Listen out for MNEK's killer hooks throughout 2015.