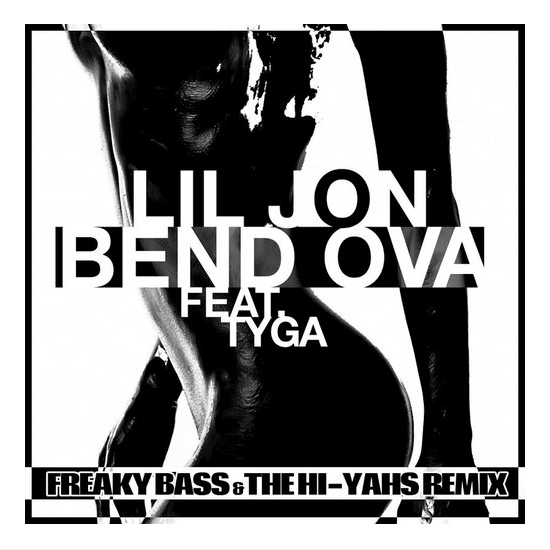 Lil Jon – Bend Ova Ft. Tyga (Freaky Bass & The Hi-Yahs Remix)
Freaky Bass and The Hi-Yahs are giving away their outstanding remix of Lil Jon's 'Bend Ova (Ft. Tyga') as a free download. This is a massive collaboration between two heavyweights whose names have been at the crown of the electronic music world for the last few years.
French DJ and producer Mathieu Carmona, better known as Freaky Bass has tracks signed to some of the world's biggest labels, including: Dim Mak Records, Sony Music, Vicious Recordings, Cloud 9 Dance, and DJ Center. Moreover with his unique style, Freaky Bass has managed to gain the support of top DJs such as: Dimitri Vegas & Like Mike, Lil Jon, Steve Aoki, R3hab, Yves-V, Tony Romera, DJs From Mars, DJ Bl3nd, and Sandro Silva amongst others. Mentored by MC Ambush, the Lyon based talent has managed to reach success in little time, having his hit single 'Floss' featured on Beatport's 'Top 50 Electro House Chart' in late 2014. Apart from his production abilities, Freaky Bass has also displayed his DJing skills at several top European clubs and festivals, playing alongside big names such as: Joachim Garraud, Chuckie, Swanky Tunes, Quintino, GlowinTheDark, Gregori Klosman and Crookers.
On the other hand, the other half of this collaboration, The Hi-Yahs, is also in possession of a rich resume. The Dallas based DJ and producer is supported by EDM superstars like: Tiesto, Diplo, Foreign Beggars, Bro Safari, Pretty Lights, and numerous others. Working within a wide range of electronic music genres, The Hi-Yahs has signed deals with prime labels such as: Mad Decent, Brooklyn Fire, and Always Never. His mad production skills have landed him collaborations with: Waka Flocka, Gorilla Joe, and Pearls Negra, apart from press features on: Rolling Stone, Thump, and DJZ.com amongst others. His success has also been extended to his DJing career, having played major festivals including: Camp Bisco, SXSW, Never Say Never, South X So-What, Lights All Night, Unsilent Night, and Dancefestopia, apart from opening for EDM elites, such as: DeadMau5, Kaskade, Hardwell, Zedd, Chris Lake, Excision, PeaceTreaty, Kill The Noise, Tommy Lee and Dj Aero, Alvin Risk, Big Chocolate, Hot Pink Delorean, Fareoh, Big Sean, Na-Palm, Shwayze and Cisco.
Ingrained into the Electro and Trap genres, Freaky Bass' & The Hi-Yahs' remix of 'Bend Ova' is surely another step towards continuing their development within the electronic music realm. The remix builds upon the hard groove established in the original, whilst introducing diverse elements that give it a spicy twist. Whilst keeping hold of Tyga's vocals, the duo makes use of a left field, ethnic-sounding synth melody as an accompaniment. The single takes an upward lift, with processed, rhythmic vocals making way to the no-nonsense, heavy-filtered Trap-infused section. A sudden halt creates anticipation for a cut-time, Hip Hop inspired tract, which heads towards another ascension leading to a colossal dirty-synth and deep bass driven chorus. The wide array of distorted, ripping effects utilised within this remix, add another layer of colour to the single, displaying Freaky Bass' and The Hi-Yahs' versatility and complex sound palette. A four-on-the-floor drum rhythm with typical Trap snare patterns offers the foundation to the phasing deep-bass pattern to close the track with a bang,