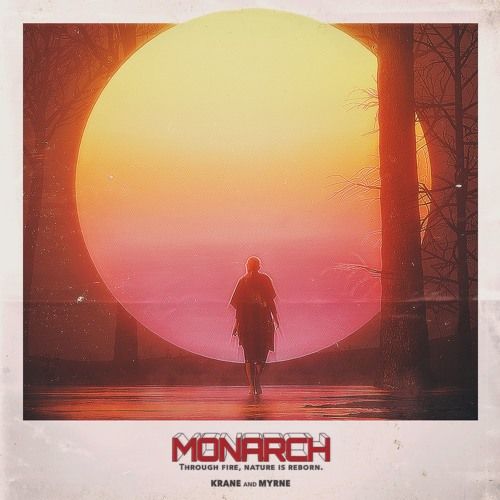 Krane & Myrne - Monarch
KRANE joins forces with Singapore-based MYRNE on the regal collaboration 'Monarch'. Intermingling mystical string leads with emphatic horn breakdowns and lush synths, this song triumphantly merges trap and melodic soundscapes into one cohesive package. 'Monarch' boasts artwork by Montreal-based visual artist fvckrender and is the first single off KRANE's forthcoming album, influenced by dystopian works such as Blade Runner and Akira.
Speaking about the release KRANE comments:
"[Monarch's] been tucked away for a minute now. MYRNE and I have gone back and forth on it, road testing it in sets, and trying out different ideas for a while now. This track brings some of our most signature approaches to producing together. I would consider this next series of releases in whole as sort of my looking back to where my sound has come from and where it's headed. Both Monarch and this album (to me) is an ending of sorts- a last chapter in a series. This will be my last large body of work that adheres closely to the sound I have developed over the last couple of years. In some ways it represents an apex, and sort of saying goodbye to it- to make room for the next evolution of the project.
Through the process of putting everything together, I was in somewhat of a nostalgic and dark frame of mind, and I wanted to leverage that mood. I really wanted to reference the kind of imagery, film, TV I have grown up loving- the likes of Ridley Scott, and dystopian anime, like Akira.
– KRANE
Commenting on their collaboration process MYRNE notes:
"I first sent KRANE the idea of the song in late 2016, and I was pretty excited – a ragey song in half-time 128bpm was still new to both of us. We spent months sending stems back and forth, him in SF while I was in Singapore. He has an amazing ear for sound design, and did a job of taming all the raw sounds I shot over.
For Monarch, I drew from the musical influences of my ancestors, and early Eastern music. I wanted to do justice in shaping a world where traditional Chinese instruments were given a modern revisit – sculpting a world where everything feels familiar, but not quite. – MYRNE
Aligning a deep knowledge of jazz with modern hip hop and electronic soundscapes, Oakland-based KRANE transformed bedroom beats into lush compositions, forming a unique interpretation along the way. It was only a matter of time before in-demand artists such as Dillon Francis, A-Trak, Vince Staples, Bebe Rexha, Big Gigantic and Jai Wolf knocked on his door for productions and remixes. He burst onto the scene in 2015 via his single with TOKiMONSTA, 'Put It Down', also featuring Anderson .Paak. That same year he launched his highly celebrated collaborative-imprint 'SESSIONS', which allows KRANE to collaborate on tracks alongside a community of budding beatsmiths. Since then, his sounds have been recorded onto sample packs and used heavily amongst fellow producers through the years to follow. Coming off recent collaborations with Keys N Krates ('Right Here') and Ekali ('Akira'), as well as last year's Debris, KRANE continues to push his sound forward on 'Monarch'.
Since MYRNE's explosive entrance onto the bass music scene in 2015, this burgeoning talent has gone from strength to strength. Consistently creating first-class productions has not only garnered the artist support and respect from industry heavyweights, such as Diplo and The Chainsmokers, but has also delivered a dedicated fanbase, growing with each release. Hotly tipped as an artist to watch in 2017, MYRNE has collaborated with What So Not, UZ and Popeska, and toured extensively throughout Asia and Australia, establishing himself as a fan-favorite throughout the regions. Now setting his sights stateside, MYRNE is ready to champion new territories.
KRANE
Facebook Twitter SoundCloud Spotify
MYRNE
Facebook Twitter SoundCloud Spotify
DIM MAK