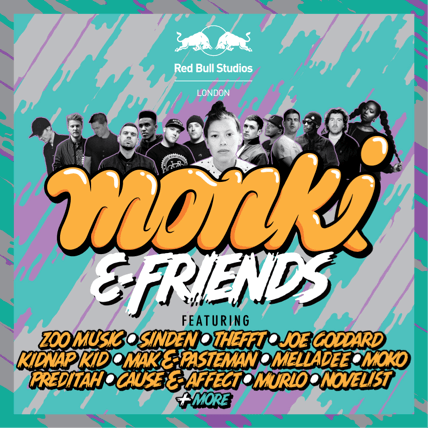 Monki and Friends EP Volume II
This August, Zoo Music founder and all-round bass music authority, Monki, returns to Red Bull Studios in London to create Monki & Friends EP Volume II.

Following the success of the inaugural mixtape which received over 100,000 plays and downloads last year, tastemaker Monki has once again brought together a who's who of club music's most exciting names including Joe Goddard, Preditah, Novelist, Sinden and Kidnap Kid to collaborate and create a free-to-download six track EP.

Joe Goddard x Kidnap Kid x Moko – Let Me Go
Cause n Affect x Preditah – Strange Signal
Mak & Pasteman x Mella Dee – Mad City
Murlo x Novelist – Flavour
Sinden x Thefft – It's On You
Zoo Music – Stride It Out
Bonus track – Murlo x Novelist – One And Only

Free Download here – http://monkiandfriends.redbullstudios.com/



As with Volume I, Monki's new mixtape features a series of exciting cross-genre collaborations bringing together the likes of grime poster boy Preditah with Dirtybird duo Cause & Affect, Hot Chip synth wizard turned 2 Bear Joe Goddard with Black Butter stalwart Kidnap Kid and British soul powerhouse Moko.

The mixtape is a continuation of a long running relationship between Red Bull Studios and Monki, who has become something of a regular at the London Bridge HQ over the years as she's grown from humble Rinse FM intern to BBC Radio 1 mainstay, championing new electronic talent through as part of the respected In New DJs We Trust roster. A long-standing Annie Mac Presents resident, Monki is also an increasingly regular fixture across clubs and festivals the world over.

There will be a launch party on Thursday 21 August at the Birthdays basement in Dalston featuring sets from Monki, Murlo, Mella Dee, Thefft, Zulu B2B TOYC. Entry is free.