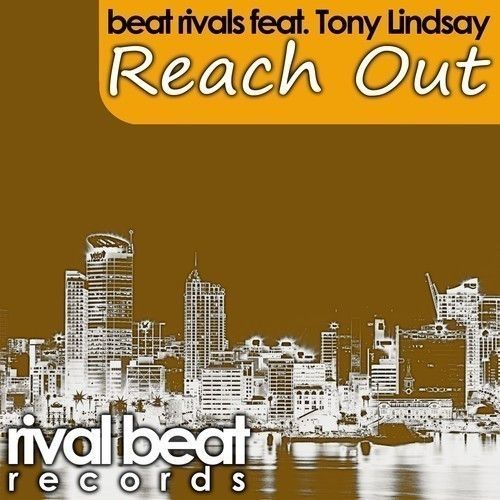 Reach Out – Beat Rivals ft Tony Lindsay
Reach Out is the latest production from the Rival Beat label.
The Beat Rivals are KrazyK and Soulshy, a London based production duo with many years experience in the music industry. They have both honed their skills under the mentorship of Karl "TuffEnuff" Brown, and the Beat Rivals are fast becoming a name to be reckoned with on the worldwide dance music scene. Each package that they produce consists of at least three mixes, one where KrazyK and Soulshy collaborate, and then a mix from each of them which reflects their own individual interpretation of the track. The friendly competition between them spawned the name Beat Rivals, which gives them a unique and refreshing approach to their work.
Tony Lindsay was born in Kingston, New York and now lives in San Francisco. He has performed with a variety of high profile stars in the music world including Santana – Tony has featured on Carlos Santana's releases and is one of the accomplished singers who forms part of the Santana tour group. He has also performed with Angela Bofill, Johnny Gill, Teddy Pendergrass, Aretha Franklin, Lou Rawls and Stevie Winwood. Tony is a talented songwriter and his rich tenor voice is in demand worldwide.
"Reach Out" is a song with an inspirational message about sharing and touching the lives of others emotionally and spiritually. Tony's vocals really connect with the audience as he delivers the lyrics with an accomplished ease and smoothness and yet a depth of feeling that takes the listener on a soulful journey with him.
The package consists of 5 mixes.
The Live Groove mix is the Beat Rivals collaborative mix and has a feelgood vibe that is reminiscent of the eighties, with sexy Latin percussion and delightful organ riffs.
Soulshy brings more of a classic Soulful House music sound with a pulsating beat , brass punctuation and a smooth jazzy piano.
KrazyK 's mix is an interesting fusion which brings to mind a 'techno anthem' atmosphere coupled with an afro vibe. This combination works very well and brings something quite unique and refreshing to the package.
The Louie P'Zonli mix brings elements of Soul and Disco to give us a classic feel that will delight the old school dancers among the crowd.
The Sole Masters inc mix changes it up again – it features a solid organ sound and elements of UK Garage in this bouncing, bumping groove.
Reach Out will add quality to any DJ set, providing a palette of sounds and atmospheres to suit every occasion.
"Reach Out" from Rival Beat Records, available on 18 August 2014 exclusively from Traxsource, then available on 1 September 2014 from iTunes and all other good download stores.
By Sue McDonald (Twitter: @SueVMcDonald; Blog: http://casaprofunda.wordpress.com/)