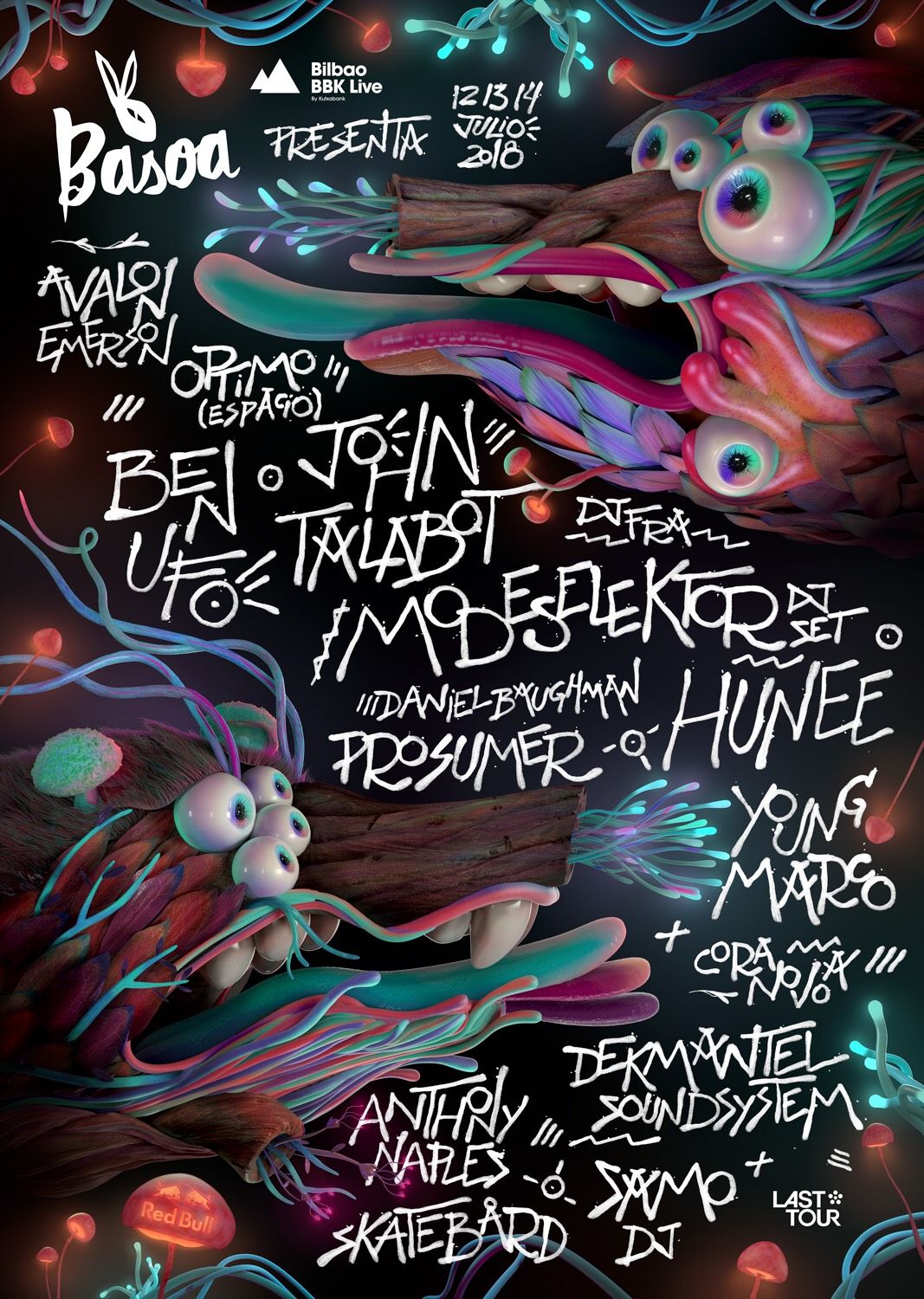 More acts announced for Bilnao BBK Live
Young Marco, Optimo, Prosumer, Avalon Emerson, Dekmantel Soundsystem, Anthony Naples, Samo DJ, Cora Novoa, Daniel Baughman and DJ Fra also join the line-up
Basoa is the electronic component of Bilbao BBK Live taking place on the 12th – 14th July 2018 and today unveils a wave of acclaimed underground headliners.
The names include Modeselektor, Hunee, John Talabot, Ben UFO, Young Marco, Optimo, Prosumer, Avalon Emmerson, Dekmantel Soundsystem, Anthony Naples and more. They all play in a magical forest on Bilbao's Kobetamendi Mountain in the heart of the Basque Country.
Basoa takes place in a woodland clearing in the beautiful Basque woodland and boasts uninterrupted parties from sunset to sunrise. The festival promotes sustainability and offers mouth-watering food and drink as well as live art installations around the site, all of which make it a perfect place to immerse yourself, escape everyday life and get lost in music and culture with thousands of like-minded people. The latest wave of names join those already announced for the main festival including Gorillaz, The XX, The Chemical Brothers, Alt-J, David Byrne, Fischerspooner, Young Fathers and many more.
These tasteful electronic acts mixed with Basoa's exceptional sound system and privileged natural surroundings will help make the forest a special place to play during the festival. Chief amongst them are Modeselektor, who have been shaking the foundations of electronic music for more than two decades. Drawing on genres as varied as IDM, hip-hop, dub, electro, techno and experimental music, their sound not only breaks barriers, but also creates new labels as they progress.
Then comes Hunee, the much loved and cult favourite DJ who digs deep in the crates to serve up classic disco, obscure techno or his latest African discovery. His productions come on Rush Hour and every time he plays, both he and the crowd feel blessed for the experience. Another fierce selector set to play is Ben UFO, co-founder of Hessle Audio. His encyclopaedic knowledge of dance music, his acumen in sniffing out future classics and his infallible technique let him switch between styles with mind-blowing ease, creating sessions that not only send you onto the dance floor but always seem to tell a story.
Also announced is Hivern Disc's man John Talabot. Always uncompromising, always looking out into the unknown, this Barcelona DJ's sets have the power to immerse you in a quasi-mystical state of trance. More than sessions, they're hypnotic rituals where you'll disappear and come back transformed forever. Next is Prosumer, whose oozed Berlin-style Chicago jack and New York deep house since the mid-1990s: profound, obscure, subtly sexual, his sessions have the pedigree that can only be reached by someone who has spent countless afternoons searching through record bins and countless nights searching for his own style on the club scene.
Scottish heroes Optimo are known for mixing wildly eclectic styles and curveballs all round the world as well as at their now legendary Optimo event in Glasgow, and Scandi talent Skatebård draws on Italo disco, American house, electro, acid and the more emotional side of techno to get you moving.
Next, Avalon Emerson's rise may have been meteoric, but it wasn't haphazard. After blazing her trail as a DJ on San Francisco's illicit party scene, she taught herself to produce and her tracks were soon being released on respected labels like Whities. Her impromptu, personal DJ style mixes techno, electro, acid and house and will leave you spinning.
Dekmantel Soundsystem—the pair behind the famous label and influential festivals of the same name— will also play and are known for playing extended sets that reach far and wide, while one of their good friends Young Marco, who makes the floor a sea of smiling faces as you dance until you drop to his unknown dance gems served up with eternal party spirit also joins the bill.
Anthony Naples is one of today's top housemasters and brings an intense, primal approach to music, while the likes of Samo DJ, Cora Novoa, Daniel Baughman and DJ Fra complete the line-up.
With the festival taking place just moments from the city, there is plenty to explore before the music starts each day. Take a trip into culture-rich Bilbao to wander the winding streets of the old town, devour delicious pintxos, sample the famous michelin-starred Basque gastronomy scene, visit the impressive galleries and museums including the imposing Guggenheim, or soak up some sun on the beach. 3-Day Tickets start from just 135€. Book now at bilbaobbklive.com
BILBAO BBK LIVE
July 12, 13 and 14, 2018
Kobetamendi, Bilbao
LINE-UP
(New acts)
MODESELECTOR
HUNEE
JOHN TALABOT
BEN UFO
YOUNG MARCO
OPTIMO
PROSUMER
AVALON EMERSON
DEKMANTEL SOUNDSYSTEM
ANTHONY NAPLES
SAMO DJ
CORA NOVOA
DANIEL BAUGHMAN
DJ FRA
(Already announced)
GORILLAZ
THE XX
THE CHEMICAL BROTHERS
ALT-J
DAVID BYRNE
NOEL GALLAGHER'S HIGH FLYING BIRDS
BENJAMINE CLEMENTINE
BOMBA ESTÉREO
FISCHERSPOONER
JAMES
JUNGLE
ANA CURRA
COOPER
MEXRRISSEY
PARQUET COURTS
TEMPLES
TRIÁNGULO DE AMOR BIZARRO
YOUNG FATHERS
ANEGURIA
BORROKAN
CAROLINA DURANTE
CECILIA PAYNE
MELENAS
QUENTIN GAS & LOS ZÍNGAROS
YONAKA
General Admission 3-Day Ticket | 135€ + booking fee
3 Day Campsite Access | 10€ + booking fee
You can also pay for 3-day tickets in 2 or 3 installments.
Book now at bilbaobbklive.com
CONNECT
Website http://bilbaobbklive.com
Facebook https://www.facebook.com/bilbaobbkliveoficial
Twitter https://twitter.com/bilbaobbklive
Spotify https://play.spotify.com/user/bilbaobbklive
Instagram https://www.instagram.com/bilbaobbklive