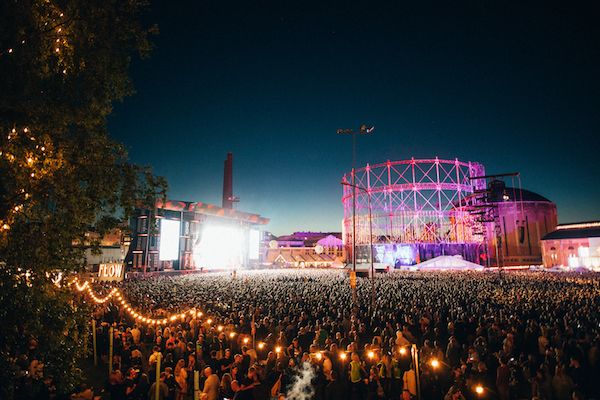 More acts confirmed for Flow Festival 2018
Flow Festival, which takes place at the Suvilahti area of Helsinki every August, has confirmed the Finnish debut of French singer Charlotte Gainsbourg. The artist, who is also known for her acting career, released her fourth album last year, after a lengthy break in recording. The album, named Rest, runs the gamut from intimate and sensitive to grandiose and was loved by critics and fans alike. The record was produced by SebastiAn, who has also worked with Frank Ocean and Daft Punk, among others.
Another addition to the festival lineup is future superstar, impressive R&B singer Jorja Smith. Smith, who recently won the critic's choice prize at the Brit Awards, has many artists as fans, having already worked with the likes of Drake, Kendrick Lamar and Stormzy.
Flow Festival will also host fresh Nordic Music Prize winner Susanne Sundfør, known for her powerful interpretations of her songs, as well as electropunk icon Alice Glass, known for her work with Crystal Castles. She released her debut EP last year. In addition, Chicago born artist and poet Noname will perform at Flow. Her Telefone mixtape brought the music press to its knees and she has been featured on songs by e.g. Chance The Rapper and Mick Jenkins.
Flow Festival hosts two very interesting German electronic music pioneers: one of the most important pioneers of electropunk and German new waveDeutsch Amerikanische Freundschaft aka D.A.F. as well as Tangerine Dream, who have been releasing ambient and krautrock works for five decades. Flow will also feature a performance by classic italodisco vocalist and producer Fred Ventura, who has undergone an artistic renaissance this millennium.
Stig Dogg, who just released his newest album on all streaming platforms, is also coming to Flow. The record features an impressive array of guest appearances and many of the stars on the record will also perform at Flow.
Other Finnish rap stars confirmed for Flow include View, who is known for his melancholy English-language songs and made a real splash in Finland and sparked some interest abroad with his debut album Leave A Comment as well as Pyhimys, widely considered to be one of Finland's best rappers and known for his work with groups like Ruger Hauer and Teflon Brothers, in addition to his solo career, which is up to its seventh album now.
Rap duo Töölön Ketterä will play their only album show of the summer at Flow, performing their debut, slated for release next week, in its entirety with a special live ensemble. Flow will also host hit-making singer-songwriter and charismatic as well as energetic live performer Olavi Uusivirta.
Previously confirmed artists at next summer's Flow Festival include Kendrick Lamar, Arctic Monkeys, Patti Smith, Lykke Li, St. Vincent, Fever Ray, Bonobo, Alma, Brockhampton, Mura Masa, Grizzly Bear, Fleet Foxes, Kevin Morby, Shame, Helena Hauff, Moodymann, Sigrid, Lxandra, Vesta, Kube x Eevil Stöö, Lake Jons, 3TM in 3D, Anna Puu: The Intergalactic Love Odyssey, Kakka-Hätä 77, Kynnet, Onni Boi and Ibe. More to be announced.
Flow Festival takes place in Helsinki's Suvilahti area on August 10–12 2018.
Tickets
www.ticketmaster.fi
www.tiketti.fi