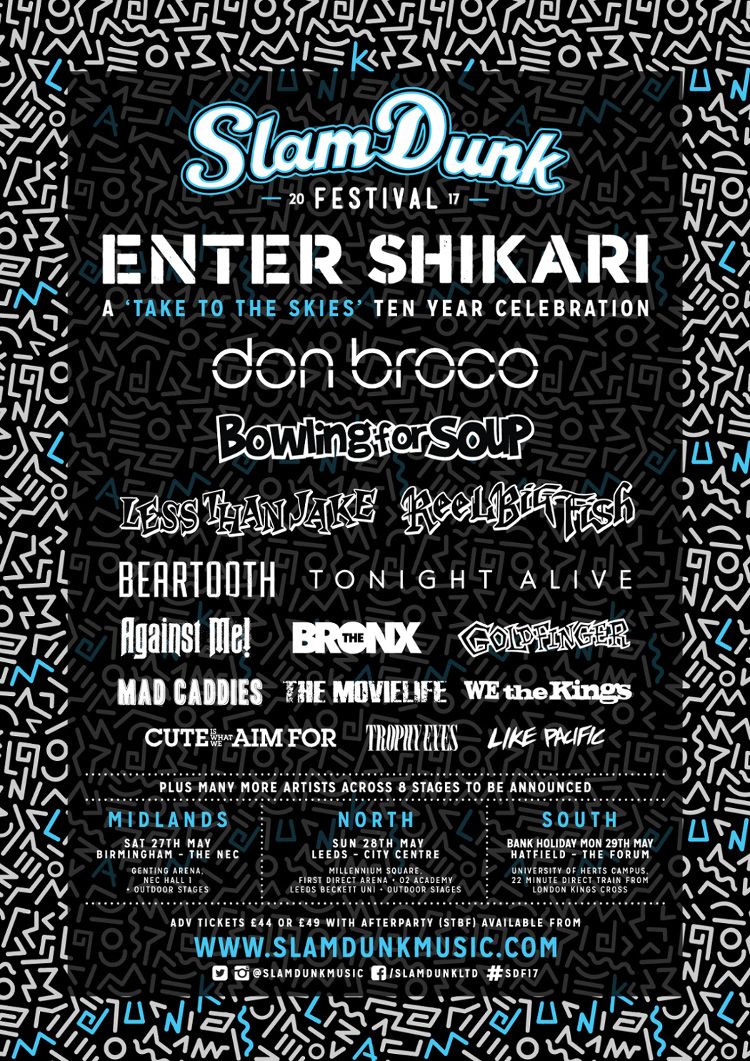 More Added To Slam Dunk Festival 2017
The UK's most exciting punk rock festival, Slam Dunk Festival have announced huge line-up additions in the form of Beartooth, Tonight Alive, Against Me!, The Bronx, Goldfinger, Mad Caddies, The Movielife, Trophy Eyes and Like Pacific for the May Bank Holiday weekend.

Leading the charge on the latest line up announcement are breakthrough US titans Beartooth who will be bringing their tectonic breakdowns to Slam Dunk 2017. After forming in 2012, Beartooth have become one of the most talked-about and celebrated new faces in modern hardcore, delivering blistering ready-made anthems and staggering live shows around the globe. With second album 'Aggressive' released last summer, the band cemented their position at heavy music's head table and their set at Slam Dunk 2017 is sure to be a standout of the weekend.

Needing no introduction, Tonight Alive are one of their genre's biggest crossovers in recent years. The Aussie trail-blazers have taken on the biggest festival stages in the world with their catalogue of potent pop-laden hits – lead by Jenna McDougall's already iconic presence, the band has seen a global legion of fans follow their every move. Always looking forward and breaking new boundaries, expect their return to Slam Dunk this May to be another enthralling chapter in the story of an unmissable worldwide phenomenon.

On their return to the festival, Jenna McDougall says;
"Slam Dunk fam! It's been four long years! We can't wait to reunite and play for you this May. The UK always brings some of the best shows and we know this time won't be any different!"

If there's ever a band vital for 2017, then that band is Against Me!. As a beating heart of the modern punk scene and always breathing new life into the importance of punk music in the 21st century, they're one of very few bands who are painting a clear picture of the world around us. Lead by the talismanic drive of frontwoman Laura Jane Grace, Against Me!'s blend of critically adored anthems and sheer intensity make them truly unmissable wherever they go. Slam Dunk 2017 is the perfect showcase for their incredible latest album 'Shape Shift With Me'.

Blistering punk legends The Bronx will be delivering one of their trademark high octane shows when they roll into Slam Dunk 2017. In a career spanning over 15 years, their name has become synonymous with intensity and after providing one of the festival's most memorable performances back in 2015, you can guarantee that 2017 will be unmissable.

Ready to give the Slam Dunk 2017 audience a masterclass in punk magic are third-wave ska & pop punk masters Goldfinger. Responsible for infectious anthems such as 'Superman' and '99 Red Balloons', the time-honoured band are excited to return to UK shores after a two year absence.
Frontman and super producer John Feldmann says;
"Goldfinger doesn't tour like we used to (we held the Guinness world record for playing 385 shows in 1996!) but I hope we can still hold true to who we been as far as an epic touring band! England is my favorite country to play shows in and I will be bringing my best suit! We have a new record coming out this year and I'm stoked to play new songs and so excited to be on stage again!"

Californian ska legends Mad Caddies, played the second ever Slam Dunk Festival back in 2007, so it's only fitting they return for their 10th Anniversary!

"We are excited to come to the UK and participate in Slam Dunk Fest for the first time in ten years! There's a bunch of great bands on the bill — it's going to be a good party!"
Also delivering unmissable festival moments this year are reunited melodic hardcore heroes The Movielife, visceral Australian quintet Trophy Eyes, and energetic hard-hitters Like Pacific.
Vinnie Caruana of The Movielife says;
"Any chance to do Movielife shows in England is an opportunity I jump at. We've had so many great shows there and there are still so many more great times ahead. I'm glad it finally worked out and that we will be making our Slam Dunk debut."

Trophy Eyes drummer Callum Cramp says;
"Slam Dunk festival is something we've all been closely watching grow for years and this time around, we're ecstatic to be able to play it. Touring the rest of the world is great but there is something about Britain that is just so immersed in rock music, something raw. We'll see you all in the birthplace of punk rock this May, for Slam Dunk 2017"

Like Pacific's Chris Thuang says;

"We're very excited for the opportunity to not only come back to the UK, but to play such a premiere punk and alternative festival like Slam Dunk. The lineup seems to get better each and every year. Very stoked to be a part of Slam Dunk"
Previously announced acts for Slam Dunk Festival 2017 are Enter Shikari, Don Broco, Bowling For Soup, Less Than Jake, Reel Big Fish, Cute Is What We Aim For and We The Kings. Kicking off in Birmingham on Saturday 27th May, the festival will travel to Leeds on Sunday 28th May before finishing up in Hatfield on Monday 29th May, once again ensuring the Slam Dunk Festival Bank Holiday Weekend is the only place to be to catch the finest in alternative music.

TICKET INFORMATION
Advance tickets £44 or £49 with after party are on sale now. www.slamdunkmusic.com

Facebook – https://www.facebook.com/slamdunkltd/
Twitter – @slamdunkmusic
Instagram – @slamdunkmusic