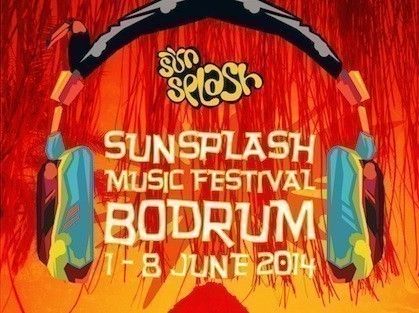 More added to SunSplash Festival lineup!
SunSplash Festival adds more outstanding music talent as William Adamson (Brownswood) and Mark de Clive – Lowe join the sun soaked 6th edition at the beautiful new beachside location of Aspat Beach, in Bodrum Turkey.

SunSplash founder Serkan Cetin says: "Our new venue takes us back to nature, a picturesque creek shaded by giant eucalyptus trees, a truly breathtaking bay with a fantastic beach and all overlooked by the spiritual presence of Aspat Mount, our music mountain!'

Embracing all the natural beauty of the Turkish Mediterranean, the festival's stunning new home of Aspat Beach truly reflects the ethos of SunSplash and it's festivalgoers. Nestled inside a private bay, the new site features a huge private palm fringed beach, a tropical style beach bar, a natural creek shaded by enormous eucalyptus trees, beach bungalow accommodation, historic ruins guarded by the noble Aspat Mountain, the top of which extends stunning views across the Turkish Mediterranean and the festival site itself. With extensive gardens, open spaces, sea breeze, wind sports, yoga zone, outdoor workshops and more. Aspat beach is the perfect venue!

Once again, SunSplash Festival brings together a wonderful discerning selection of artists and tastemakers from around the world who are all, in their own way, at the forefront of international dance music culture. The festival delights in presenting a sunny, soulful music policy that reaches the eclectic depths and diverse corners of dance music from our soul, jazz and disco heritage to contemporary classics and cutting edge electronica.

The festival promises a fantastically friendly crowd, an amazing beachfront venue and a blissful week of Sun, Sea, and Legendary Music, all the best things to make a splash about, jump in!

ARTISTS CONFIRMED SO FAR:

Zara McFarlane
Zara McFarlane's debut album, 2011's Until Tomorrow, came garlanded with rave reviews and a MOBO award nomination heralding a major new talent in the world of British Jazz. SunSplash welcomes her with open arms. Read More

Osunlade
For the first time at SunSplash! Osunlade is an artist who personifies art. His music creates unified melodies manifested with balance, life and wisdom. Read More

Gilles Peterson
One of the residents of SunSplash, rocking it year after year and needing very little introduction. Read More

Karizma
One of the most in-demand DJs on the worldwide house circuit, his productions are a must-check for any self-respecting house lover, and his remix talents are sought out by some of the biggest names in the music business. Read More

William Adamson
William Adamson is a new project from Rob Gallagher, the former talisman of acid jazz pioneers Galliano and sporadic poet Earl Zinger. Produced by heritage futurists 2 Banks Of 4, the multi-faceted Gallagher has created a topographical travelogue – a concept album in the truest sense.

Mark de Clive-Lowe
Mark de Clive-Lowe (MdCL) is one of the most innovative producers and live performers you will find anywhere. Whether you call him artist, producer, composer, pianist, performer, DJ, or selecta, titles are impartial to the marvel of Mark de Clive-Lowe.

Phil Asher
One of London's finest. DJ, producer and a much loved SunSplash resident. Bringing good time boogie and deep club cuts. Read More

Rainer Trueby
The Root Down legend from Germany returns to grace the turntables. What can we say? The man is pure class. Read More

Patrick Forge
First time at SunSplash! A familiar name on the London DJ scene for the last 25 years, his radio show, The Cosmic Jam, ran for twenty one years on Kiss FM, the longest running programme in the station's history! Read More

Alex Attias
A long established and well loved house, funk and disco and later 'broken beat' DJ who has produced some of the most memorable tracks of the movement, working with the likes of Dego, Mark De Clive Lowe, Bembé Segué, Vanessa Freeman and others. Read More

Kev Beadle
DJ, radio presenter and producer Kev Beadle's bio reads like a journey through the halcyon years of the jazz, jazz funk and soul scene in the UK from the late 70's through to todays musical manifestations. Read More

Manasseh
Manasseh founded the legendary Manasseh sound system back in 1985, playing big dances from around '87 and sound clashing with the likes of Jah Shaka, Jah Warrior, Volcano, Abbashanti, Jah Observer and Jah Tubby's.
Ruben Estevez (BrukBoogieKru)
Ruben started as a DJ in 1994 in Lausanne, Switzerland, spreading a selection of sounds from hip hop to soul funk and electronica, progressing to drum and bass and broken beat/nu jazz. Read More

FESTIVAL WORKSHOPS & ACTIVITES:

Yoga
Start and finish the day with Yoga; sunrise and sunset sessions are on offer daily and included in the package fee.

Kate Magic – Raw Living
In keeping with the festival's good music and good living concept, the scrumptious Kate Magic comes to SunSplash in 2014 with her workshops on Raw Food and Raw Living. There will also be a stool to buy delicious raw cakes and chocolates, so it's not all talk! Read More

Phil Asher – Beats
One of London's finest. DJ, producer and a much-loved SunSplash regular Phil Asher will take a music production seminar for 'headz', other interested parties and budding producers. Read More

TRAVEL & ACCOMODATION:

Beach bungalows and nearby boutique hotel packages are available for groups and families of 1-4 people, full details below. Return flights are available from all over the UK with flight prices currently from £150.

For all the latest SunSplash Festival news, line up additions, hotel packages and travel options please visit: http://sunsplash-festival.com

:::::::::::::::::::::::::::::::::::::::::::::::::::::::::::

SUNSPLASH FESTIVAL LISTINGS INFORMATION:

WHAT: SunSplash Festival
WHERE: Aspat Beach – Bodrum – Turkey
WHEN: Sunday 1st June – Sunday 8th June
TICKETS: Week pass £160 // Day pass £35/£25 + accom & fights (detailed below)
Week pass & half board packages from £240 + flights
WEBSITE: http://sunsplash-festival.com

CONFIRMED LINE UP SO FAR:

Zara McFarlane // Osunlade // Gilles Peterson // Karizma // William Adamson // Phil Asher // Mark de Clive-Lowe // Rainer Trueby // Patrick Forge // Alex Attias // Kev Beadle // Mighty Zaf // Ruben Estevez // Ahu // Kaan Duzarat // djsoulprovyder // Cegiz Ulusahin // Ertan Kurt / / YEK // Manasseh

FESTIVAL TICKET OPTIONS & PACKAGES:

Festival Only
Week Pass (GOLD PASS) – £160 pp/wk
Day Pass (SILVER PASS) – £35 pp/day – THU, FRI, SAT
Day Pass (BRONZE PASS) – £25 pp/day – MON, TUE, WED
Airport Transfers CAR – £120 return (1-3 passengers)
Airport Transfers Minibus – £160 return (3-10 passengers)

Bungalow (Sleeps 2-3)
There are 60 standard bungalow rooms on site. Set beside the natural creek and shaded amidst large eucalyptus trees, these are simple, single storey beach cabins with en suite showers and WC.

Family Size Bungalow (Sleeps 3-4)
The resort also offers 4 family rooms, these are larger bungalows, double the size of the standard bungalows and can comfortably sleep up to 4 people in two separate bedrooms.

Accommodation Off Resort – LIV HOTEL
SunSplash is offering off resort accommodation at the wonderful LIV Hotel. Liv Hotel is just 2km from the festival site and offer boutique hotel accommodation to guests who wish to stay for less than a week or would prefer to stay off site. There will be several shuttles a day to and from the hotel to the festival site, taxis will also be available.

Just a few steps from the seafront, Liv Hotel offers a large outdoor pool area, even boasting a hot tub, a private beach and a spa centre. All rooms and suites are tastefully decorated with modern furnishings, minibar and the usual mod cons.

See the SUNSPLASH BOOKING page for more photos and package prices.

Standard Room – 7 Nights (BB)
7 Night (Double) – £470 pp / (Single) – £620 pp
Standard Room – 3 Nights (BB)
3 Night (Double) – £240 pp / (Single) – £320 pp
Suite Room – 7 Nights (BB)
7 Night (Double) – £595 pp / (Triple) – £450 pp / (Quad) – £425 pp
Suite Room – 3 Nights (BB)
3 Night (Double) – £300 pp / (Triple) – £250 pp / (Quad) – £225 pp

The accommodation prices at LIV Hotel are on a Bed and Breakfast basis. The prices also include festival ticket.

The hotel is around 2km from Aspat Beach. There will be several free shuttles a day from the hotel to the venue. Taxis from the hotel to the venue will cost around £6