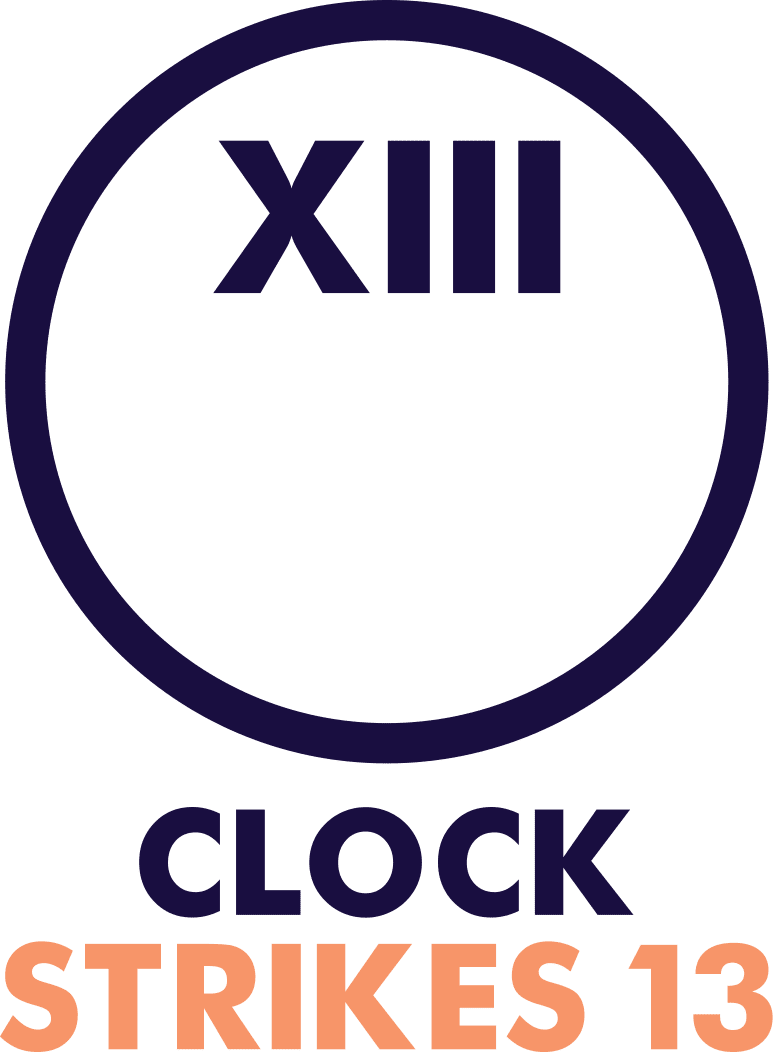 More announced for Clock Strikes 13 series
Clock Strikes 13 reveal more artists including Ron Morelli, Lotic, Kuedo, UNIIQU3, Vex'd, Kindness, The Era, Prayer and more, plus footwork dance classes and Edifeye X DUMMY podcast series
Last month, new London club series Clock Strikes 13 announced a three month agenda set to explore the boundaries of the underground landscape, bringing together 28 iconic record labels and over 100 artists across the capital's favourite venues. With CS13 launching next week, the crew share another set of winning artists on board for the inaugural outing, plus footwork dance class events in collaboration with Hyperdub / The Era, a special Edifeye X DUMMYd podcast series, AND a 22Tracks takeover all kicking in as we edge closer.

Showcasing the diversity of the ever-evolving electronic music scene, CS13 will journey through bass, house and hip hop, grime, techno and everything in-between. Joining the Smalltown Supersound special on the 16th of October is Chicago don Daniel Wang spinning playful house and disco classics alongside Rocketnumbernine and Bjorn Torske, whilst classically-trained producer Prayer accompanies Biosphere covering the more experimental side of the label. A very special guest TBA makes a welcome addition to the Liberation Technologies line-up the week after with a genre-defying blend of magic added to the sounds of Powell, Container, Lukid and more. Later that month, Jersey queen UNiiQU3 joins Night Slugs boss Bok Bok and comrades for a Halloween party soundtracked by tripped-out future club tracks, inspired by the Jersey club kids.

Skip to November and the Hyperdub crew have a treat in store with footwork crew The Era (Litebulb & Chief Manny) flying over to storm the floor with their infamous Chicago flex. And for those keen to get involved, The Era will teach one-off footwork classes at Pineapple Dance Studios that day (details below.) Other November additions include techno purveyor Ron Morelli, providing the deepest, darkest techno exploits at the Hospital Productions night. Planet Mu's 20th birthday party unites an all-star cast from the eclectic label. Joining U-Ziq, Ital Tek and Ekoplekz will be revered dubstep duo Vex'd, plus pioneer Kuedo, known for creating futuristic blends of Bladerunner-esque soundscapes tinged with techno and dub influences, plus another guest TBA.

Fresh artists for December includes cosmic duo Demdike Stare, who'll join Andy Stott and the Modern Love gang for a night of explorative leftfield adventures. LuckyMe's Eclair Fifi can also reveal a solid-gold set of talent for her escapade, including a DJ set from king Kindness, and transcendental vibes from SCNTST. Berlin-based Lotic also plays with Eclair Fifi, an artist destroying boundaries between genres who has deservedly grabbed the attention of many in the last year. And, there's plenty to come for the final Ninja Tune party, Viewlexx and Comeme vs. Highlife.

With just a week until seminal London hip-hop label Lex kicks off the series with their party at The Laundry on the 2nd October, Clock Strikes 13 are also organising some fun extras and extra curricular activities, including Footwork dance lessons with The Era (Litebulb & Chief Manny) on the 7th November. These classes will be an insight into the footwork phenomenon taught by those who stand at the heart of the scene. Tickets will be extemely limited, find out more via the Hyperdub RA pages here and here.

DUMMY and music specialists Edifeye will over the next 3 months, present a series of podcasts with the artists and labels playing their part, telling stories from behind the scenes. Instalment number one is comprised of Boxed main man Slackk and Tom Lea of Local Action talking through the history of their labels, parties and friendships, that will be available from next week via DUMMY. Keep your eyes and ears peeled for editions to come! Plus CS13 will collaborate with 22Tracks for a 3 month channel takeover showcasing selections from talent from across the 24 parties, and details of collaborative projects with Juice VCR will also be revealed in the coming weeks.

Tickets from www.cs13.london or Resident Advisor.
Footwork Dance Class Tickets:
http://www.residentadvisor.net/event.aspx?758778
http://www.residentadvisor.net/event.aspx?758780

New Additions :: Daniel Wang, Demdike Stare, Kindness, Kuedo, Lotic, Prayer, Ron Morelli, SCNTST, The Era (Litebulb & Chief Manny) UNIIQU3, Vex'd

02/10 | The Laundry | Lex – Prefuse 73, Golden Rules, Michael Christmas, High Lucia, Edan & Paten Locke
03/10 | Corsica Studios | Boxed x Local Action – Kahn & Neek, DJ Q, Logos, Mr Mitch, Darq E Freaker, Rabit, Deadboy, Oil Gang, Slackk, Finn b2b Grandmixxer, Spooky, Tom Lea, Inkke, Yamaneko
09/10 | Dance Tunnel | Príncipe – DJ Marfox, Nidia Minaj, DJ Firmeza
10/10 | Birthdays | Skam Records – The Fear Ratio (live) VHS Head, NHK'Koyxen
16/10 | Dance Tunnel | 1080p – Project Pablo, MCFERRDOG, Scientific Dreamz of U
17/10 | Bloc | Smalltown Supersound – Rocketnumbernine (live) Biosphere (live) Bjorn Torske, Daniel Wang, Prayer
23/10 | Bloc | Liberation Technologies – Powell, Container (live) Lukid, FIS (live) IVVVO, Physical Therapy + Special Guest
24/10 | The Pickle Factory | SUED – Dresvn (Dynamo Dreesen & SVN) + Special Guest: Asusu
30/10 | St John Hackney | Ninja Tune I – King Midas Sound x Fennesz, Dean Blunt, Shackleton pres. Powerplant
31/10 | Village Underground | Bok Bok Takeover – Bok Bok, Karizma, Total Freedom, Sweyn Jupiter + UNIIQU3
06/11 | Village Underground XL | Recordings | Zomby, Special Request, Mumdance, Mssingno, Hugo Massien
7/11 | Corsica Studios | Hyperdub – Kode9, DJ Spinn, Scratcha DVA, Ikonika, Taso, Cooly G, DJ Paypal, Okzharp + The Era (Litebulb & Chief Manny)
13 /11 | Bloc | Hospital Productions – Prurient (live) Ninos Du Brasil (live) + Ron Morelli
14/11 | Village Underground | | Awful Records – Father, Abra, KeithCharles Spacebar
20 /11 | ICA | Ninja Tune II – Actress (live) Florian Kupfer, Lowtec
21/11 | Village Underground | 20/20 X Astral Black – Ivy Lab, Jon Phonics, DJ Milktray, Jon1st, Sega Bodega, Tim Parker + Guests – Ryan Hemsworth (live) Evil Needle
27/11 | Village Underground | Houndstooth – 18+ (live) Akkord, Throwing Snow (live) Call Super, Second Storey + Special Guest – Source Direct (jungle set)
28/11 | Village Underground | Planet Mu 20 – U-Ziq (live) Ital Tek, Ekoplekz + Kuedo, Vex'd Special Guests
04/12 | Corsica Studios | Northern Electronics x Samurai Horo – Abdulla Rashim, ASC, Varg, DjRum, Acronym, Ancestral Voices, Ulwhednar, Sam SDC, DJ Presha
05/12 | Bloc | Modern Love – Andy Stott (live) Mille & Andrea, Rainer Veil + Demdike Stare
11/12 | Bloc | Viewlexx – I-F, Intergalactic Gary, Joe Hart + Special Guest TBA
12/12 | Corsica Studios | Ninja Tune III – HNNY, Flak0, Glenn Astro, Josey Rebelle + Special Guests TBA
18/12 | Bloc | Eclair Fifi Presents – Kindness, Lotic, SCNTST, Joseph Marinetti, Eclair Fifi
19/12 | Corsica Studios | Comeme x Highlife – Lena Willikens, Auntie Flo, Throwing Shade (live) Esa, Andrew Huntleys + Guests