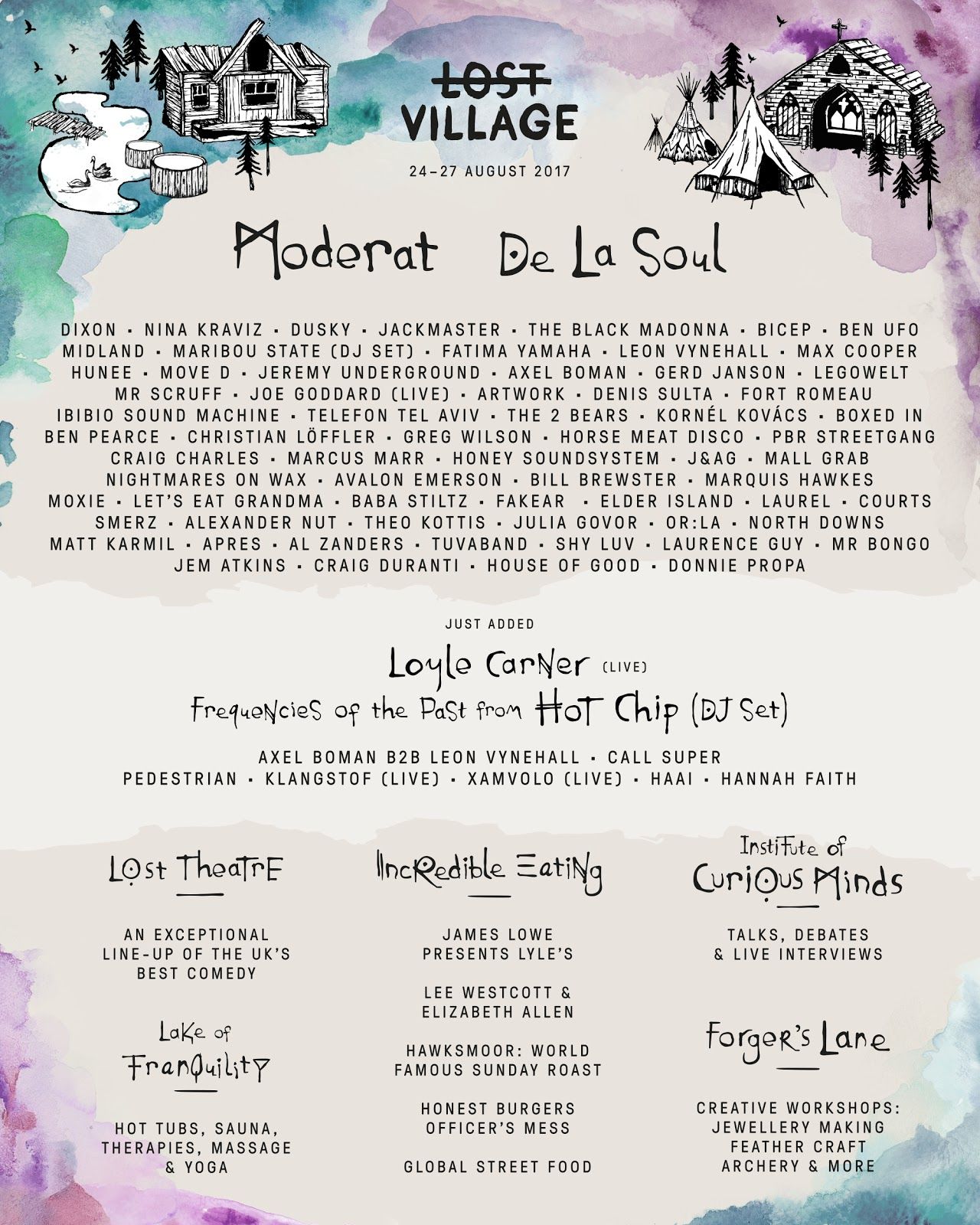 More Announced For Lost Village 2017
Lost Village has today announced yet more additions to its already impressive musical line-up, cementing its place as one of the most exciting dates of the summer. Taking place in a desolate forest, this surreal 3 day event has more in common with Secret Cinema than most music festivals. An exploration into 'the land of the missing' and inspired by 'a fascination with abandoned places and Stephen King novels' – Lost Village engulfs festival-goers in a unique and immersive experience, that will have you questioning reality at every turn.

Frequencies of the Past is an all new part of the Lost Village experience, inviting seminal artists to take revellers on a retrospective journey through their record collection, from guilty pleasures to early influences. Taking place at the Abandoned Chapel, this inaugural celebration will see the mighty Hot Chip takeover the night with unique performances and one-off moments, including a special Prince tribute set from Alexis Taylor, all in the midst of masked celebrations, lead by some of the Village's most exuberant inhabitants. A Friday night congregation of sound and dance, Hot Chip's 'Frequencies Of The Past' is set to be a defining moment of the summer

The man behind one of the most important albums of the year, Loyle Carner, will also be making his way into the woods. Loyle's fearlessly honest approach to hip hop has garnered him an army of fans and critical acclaim alike. Delivered on a palette of funk, soul and gospel-informed beats; passion, sincerity and creative energy emanates from everything he does.

Call Super has become one of the most talked-about new artists of recent months; from his Fabric Live mix album to envelope-pushing releases on Dekmantel and Trilogy Tapes. His eclectic, flamboyant and utterly captivating style make him an unmissable addition to the Lost Village line-up. It has also just been announced that Axel Boman and Leon Vynehall will be playing a very special b2b set at a currently undisclosed location over the weekend – expect rarities, oddities and selections from the left-field.

With further additions including LA wordsmith Pedestrian, panoramic Scandinavian weavers Klangstof, Xamvolo, Haai and Hannah Faith, Lost Village has confirmed itself as an eclectic and unparalleled hub of the world's most exciting sounds, with previously confirmed names including Moderat, De La Soul, Dixon, The Black Madonna, Horse Meat Disco, Greg Wilson, Mr Scruff, Nightmares On Wax, Hunee, Craig Charles and many more.

Far more than a music festival, Lost Village also boasts an unrivalled food & drink programme. The Tribal Banquets offer Michelin Star level dining, headed-up by three of London's most lauded chefs; James Lowe of Shoreditch's Lyle's, Lee Westcott of 'The Typing Room' and Elizabeth Allen. London's Hawksmoor will be delivering their world famous Sunday Roast whilst the mighty Honest Burgers will be setting-up camp with a bespoke Officers Mess restaurant. And that's not to mention carefully selected street food from the likes of Claw, The Cheese Truck, Le Swine and many more. A foodies heaven on earth, tastebuds will find their home at Lost Village this year.

With a huge comedy line-up still yet to be revealed, workshops on Forgers Lane, talks, live interviews and games at the Institute of Curious Minds plus hot tubs, yoga, massage and therapies at the Lake of Tranquility, Lost Village really is an experience like no other. A truly unique festival, perpetuated by the unifying tribal inspired attire of its patrons, Lost Village is a gathering of lost souls and like-minds, in the beautiful surroundings of a long-forgotten forest.