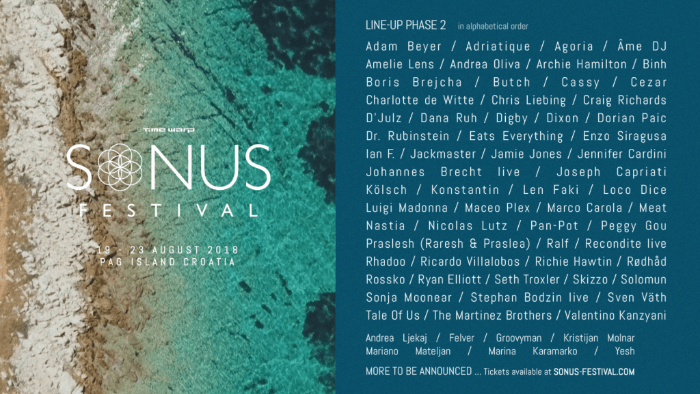 More names added to Sonus Festival…
Following a mammoth fifth birthday last year, Sonus is back for its sixth outing in 2018. 5 days and nights of unrivalled partying between 19th – 23rd August set in the hedonistic paradise of Zrce Beach, Sonus boasts its most thrilling lineup to date. Underground music lovers from around the globe will descend once again on the idyllic Zrce Beach, Croatia for a one of a kind adventure combining impeccable beaches, world-class calibre of artists and unbeatable programming under the sun.
Adding to the spectacular line up, with the likes of Archie Hamilton, Boris Brejcha, Craig Richards and Rossko, Sonus Festival is pleased to announce a second wave of artists, including many Sonus debuts. The line-up brings together a monumental list of acts from each corner of the globe, alongside legends of the local Croatian circuit, making it the go-to house and techno party this summer. Standard tickets are available to buy from www.sonus-festival.com, from €179 – act fast as Early Bird and Tier 1 have already sold out!
With an incredible bill of international heavyweights, Sonus have pulled out all the stops for their most impressive bill to date – and the newest additions are massive. Across Aquarius, Kalypso and Papaya, there'll be over 40 artists playing including many debuts, led by two exclusive live performances by Stephan Bodzin and Johannes Brecht. Fabric legend Craig Richards and FuseLondon-residentRossko will bring their distinctive blend of techno and house, in addition to a highly anticipated first appearance by Italian DJ icon Ralf. Digby, Italian DJ Skizzo and Romanian all-star Cezar add more groove to the lineup, whilst Dr. Rubinstein and Boris Brejcha bring uncompromised techno to the Adriatic coast.
Welcomed back to Sonus Festival's stages with open arms The Martinez Brothers as well as Swiss Nordstern-Resident Andrea Oliva. FuseLondon legend Archie Hamilton brings his expert selections to the dance, as favourite leading lady Cassy. The Croatian scene will be represented by none other thanMariano Mateljan, who is joined by an array of local heroes of the likes of Andrea Ljekaj, Felver, Marina Karamarko, Groovyman, Kristijan Molnar and Yesh.
All this on top of the already announced acts including Adam Beyer, Jamie Jones, Joseph Capriati, Maceo Plex, Marco Carola, Pan-Pot, Richie Hawtin, Ricardo Villalobos, Solomun, Sven Väth to techno ladies Amelie Lens, Charlotte de Witte, Nastia and more. Still to be announced are stage breakdowns, the infamously wild after hour parties, and legendary boat parties.
Year on year, Sonus partners up with the hottest clubbing institutes the world round for infamous showcases. After joining forces with Junction 2 and Movement in 2017, both brands are back for 2018. Following memorable takeovers last year, 100% JC, FuseLondon, Keep on Dancing, Secret Societyand Romanian summer festival Sunwaves will be back to add their own vibe. Newcomers to the network are French electronic festival virtuosos, The Peacock Society, Belgium's finest, Fuse, Redimension, and the Swiss Techno-Mecca Nordstern. Media partners Resident Advisor and XLR8R will again be the hosts for two parties – expect massive sets by the finest artist.
Cosmopop party promoters have established Sonus Festival as the go-to party for any house and techno aficionado, combining a jaw-dropping all star bill, unrivalled production, and infamous after parties, set along the glittering Adriatic coast. As the team behind Time Warp, "one of the most preeminent techno festivals", there's a strong close-knit feel. Together with the We Love Sound crew, the gang are known for bringing along the Cosmopop familia from their two decade journey for their perfect summer rave adventure. Rest assured you're in safe hands with this one! From Hawtin closing (and crowdsurfing) in 2015 to Seth Troxler and Martinez Brother's epic B2B in 2017, expect more special Sonus memories to be made at this years' momentous event.
World renowned as the best place in the universe to experience a sun-soaked festival, Croatia is the perfect spot to combine a holiday and festival, from just €294. The sunkissed Zrce Beach is a dreamy combination of golden beaches, on-site clubs and beautiful waves fit for Sonus Festival's prolific boat parties. Pag Island is easily accessible from Zadar / Split / Zagreb, with flights from London and other European destinations at under €200. With many travel and accommodation options, whatever your budget, Sonus Festival has you covered. Head to www.sonus-festival.com for information, with official packages for hotels and tickets available via official travel partners Collegium, Festicket & Papaya Travel.
With the launch of its brand new social channel on VIBER, fans can get touch with likeminded spirits, share their passion for the festival and find out useful info online. Everyone can follow Sonus on Viber, either through downloading the unique Sonus Stickers [https://vb.me/sonusstickers] or joining the official Sonus Community [https://vb.me/sonus2018community]. With over 1 billion users, Viber is one of the leading communication platforms. Countless leading global brands and celebrities have their own Viber channels, where fans can follow the freshest news and exclusive content. Some of the brands like Sonus, also have their bots, automated virtual assistants who can help you choose and share content, get useful information like the festival line-up, answers to FAQ's or even buy tickets which are already available on Sonus Festival's Chat Bot at Viber. You can subscribe here [https://vb.me/sonus2018chatbot].
Early birds and tier 1 tickets have already SOLD OUT, but second release tickets are now on sale at €179, via www.sonus-festival.com. With further artists, boat parties and more to be announced it's set to be a vintage year. Do not sleep on your chance to dance with Sonus Festival as the hedonistic Zrce Beach reaches new levels of techno majesty.