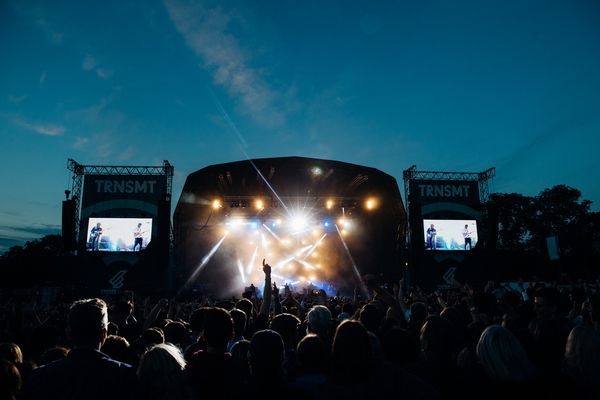 Trnsmt Festival Announce Full King Tut's Stage
The ultimate destination for world-class music in Scotland this summer, TRNSMT Festival today announce their full King Tut's Stage Powered by Utilita Energy line-up featuring Gun, Fatherson, The Xcerts and Catholic Action amongst the best Scottish artists taking to the stage over two weekends this June and July. Artists also joining theTRNSMT bill include RAMZ, Hunter & The Bear, Mason Hill, Electric Pyramid, The Academic, The Amorettes, The Slydigs, The Night Café and LUCIA.
These acts take to the King Tut's Stage Powered by Utilita Energy from 29th June – 1st July, plus 6th and 8th July, joining TRNSMT headliners Stereophonics, Liam Gallagher, Arctic Monkeys, Queen + Adam Lambert and The Killers at the Scottish five day extravaganza. The festival features Arctic Monkey's first UK appearance following the release of their much anticipated album, plus the debut of rising stars like Sigrid, Pale Waves, Marmozets, IAMDDB, Sam Fender, Dermot Kennedy and much more.

Headlining the King Tut's Stage Powered by Utilita Energy on Friday 6th July are Glasgow rockers Gun, making a welcome addition to the Glasgow Green festival. Celebrating over 30 years in the music industry, the band have toured with some of the biggest names in music including The Rolling Stones, Def Leppard and Bon Jovi and are always welcomed back to their hometown with thunderous appreciation. The band have an intimate history with King Tut's Wah Wah Hut in Glasgow, as they sold out three consecutive nights at the venue in 2015, playing sets dedicated entirely to a different album every night. Over their decades-long career, Gun have gathered fans old and new since releasing their debut album Taking on the World in 1989 alongside hit single 'Better Days', all of which means their headline set on the King Tut's Stage Powered by Utilita Energy on a Friday night in Glasgow will be one for the history books.

Dante Gizzi of Gun said: "After the amazing success of last year's first TRNSMT it's an absolute honour to play it. You can't beat a Scottish festival crowd and performing a stone's throw from where you were brought up, it doesn't get any better than this."

Kilmarnock trio Fatherson are the latest exciting Scottish addition for the King Tut's Stage Powered by Utilita Energy, as they join Sigrid, King No-One, Dermot Kennedy, Confidence Man, The Magic Gang and Island on Sunday 1st July at TRNSMT. Since forming in 2010, the band have released two albums which truly resonated with fans, shown clearly at the sold out shows in late 2017 the trio performed at Glasgow's Art School. Having sold out most of Glasgow's world-famous venues like King Tut's and the Barrowlands, it is now the turn of TRNSMT to host a magnificent homecoming for Fatherson.

Fatherson said: "We're really excited to play this year's TRNSMT festival. We've been quietly working on new music for the past year – so to be back playing our first festival in a long time, in our home city should be really special."
Joining the TRNSMT line-up on Friday 6th July are another Scottish success story; The Xcerts. The Aberdonian trio released their much-anticipated and widely-acclaimed albumHold On To Your Heart earlier this year, making their UK Top 40 debut. The band deftly weave heartbreaking lyrics with upbeat rock and the past year has seen them play some of their biggest headline shows to date, including Glasgow's O2 ABC.

Catholic Action join TRNSMT's final day, Sunday 8th July, as they make their King Tut's Stage Powered by Utilita Energy debut in Glasgow Green. The Glasgow four-piece pin classic pop songwriting on glam-rock sensibilities, creating an utterly unique sound ever prevalent on their debut album, released in 2017, In Memory Of. Already achieving credentials to be envied by many other bands of their age, Catholic Action have previously supported The Libertines and now have a debut slot at TRNSMT festival to add to their bursting credentials.

Chris McCrory of Catholic Action said: "I was at TRNSMT for Radiohead last year, and the festival was great – it had a really good atmosphere. We're looking forward to being a part of that."

New artists also joining the King Tut's Stage Powered by Utilita Energy at TRNSMTline-up today include; RAMZ, Hunter & The Bear, Mason Hill, Electric Pyramid, The Academic, The Amorettes, The Slydigs, The Night Café and LUCIA.
This summer, TRNSMT will welcome some of the biggest global artists to the grounds of Glasgow Green, as the city, with its world-renowned and UNESCO City of Music certified heritage, calls out to music fans far and wide to make Glasgow their destination of choice this year. 2018 sees TRNSMT extend to two weekends for the first time ever, following the festival's perfect debut of international and local talent mixed with an incomparable atmosphere and audience at Glasgow Green. Glasgow has a love for music like no other; so, where better to spend some music-filled days under the summer sun for two weekends this June and July?

Check out TRNSMTfest.com for tickets plus accommodation and travel packages.