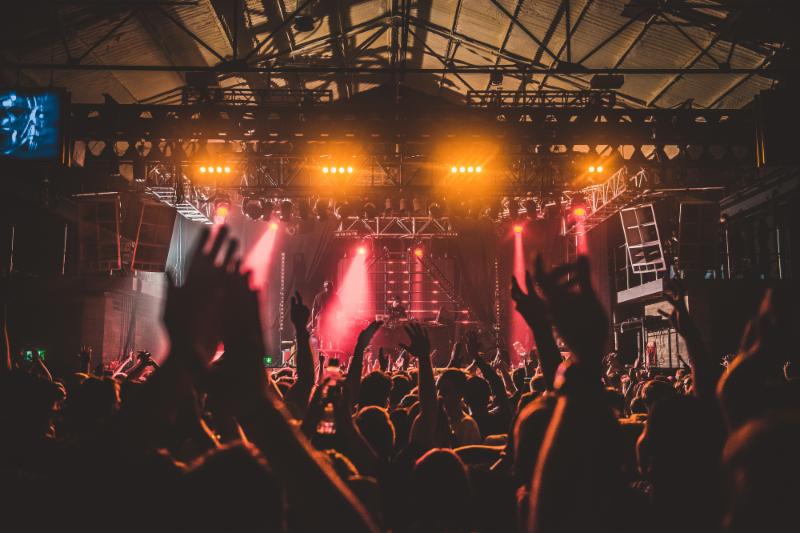 Motion, Bristol – Q3 event programme listings 2018
Following a blistering run of Spring shows, Motion locks in an array of unmissable and diverse events for this summer and beyond.
As such an influential figurehead of electronic music, it's hard to believe that this will be FUSE's Bristol debut when the day party arrives on 7th July. Head honcho Enzo Siragusa, Archie Hamilton and Seb Zito will ensure that the label makes a triumphant bow in the city, which so many have been eagerly anticipating for some time.
2018 marks the 50 year anniversary of St Pauls Carnival and the afterparty finds it way to Motion, promising the best in reggae, dub, bashment, jungle and bass. With Lee Scratch Perry, Mad Professor, Reggae Roast, Laid Blak (Live) and more on the bill, they've secured exactly that.
If you're looking for the ultimate hip hop party, there's only one name that springs to mind. Brooklyn Zoo returns to Motion on 14th July with an outdoor day party that boasts two stages, East Coast and West Coast, the biggest anthems and even hip hop inspired burgers and pizzas. An event to soundtrack your summer.
Having established itself as an essential date in the Motion calendar, Sequences once again unites the most exciting names in bass music with the most esteemed sound systems on 21st July. Mist, Rejjie Snow, Mala, Noisia (DJ set) and loads more are locked in for the acclaimed event that vows to "never compromise on lineup or sound", making it a must for any bass music fan.
It's well known that Defected pretty much guarantees you the best names in house music and so it proves, as newfangled superstars CamelPhat, Dario D'attis, Dennis Cruz, longstanding label mate Franky Rizardo, Radio 1 titan Monki, Jacky and label head Simon Dunmore take the reigns on 28th July for the aforementioned's Day & Night Party. With a colossal fifteen hour marathon locked in, expect an array of genres and big hitters to provide the soundtrack.
Two of Brooklyn, New York's finest selectors, Mike Servito and Octo Octa, head up the next edition ofBitch, Please! on 4th August, Motion's revered LGBTQ+ Friends celebration that urges you to dust off those short shorts, leotards, leggings and harnesses to groove to a tropical soundtrack like no other.
Em Williams will be returning alongside Futureboogie disc jockey Christophe, with residents ZenZero, Butch Queen & Amour Ami also completing an impressive bill that promises special guests, vogue dancers Kiki House of LaVolta and drag queens Chocolate City Sisters and Prince'sass.
LTJ Bukem, Spectrasoul, Technimatic and more take control of a stunning Spearhead takeover on 18th August, locking down the Crane Yard for an all day extravaganza that unleashes the best in multi genre DNB.
Boasting huge names and a unique art programme, YARD: Open Air Club once again takes over Motion's outdoor spaces on 25th August with Âme (Live), Rødhåd, Avalon Emerson, Leon Vynehall, Antal and more in tow. Featuring yet another exclusive art installation by Studio 89's Ben Price, it's a shining example of Bristol positioning itself as one of the UK's leading cultural cities.
Following the overwhelming success of 2017's Run All Day, the drum & bass party is going bigger and better on 8th September, enlisting the likes of Sub Focus (DJ set), DJ Hype b2b Hazard, SaSaSaS, Dimension and more for a celebration of ferocious beats.
FULL MOTION EVENT LISTINGS:
7th July – FUSE BRISTOL OPEN AIR DAY PARTY
Enzo Siragusa, Archie Hamilton, Seb Zito
7th July – ST PAULS CARNIVAL OFFICIAL AFTERPARTY
Lee Scratch Perry, Mad Professor, Reggae Roast, Laid Blak (Live) & more
10th July – ART BATTLE BRISTOL
13 Artists, 3 Rounds, 1 Winner
14th July – BROOKLYN ZOO OUTDOOR DAY PARTY
East Coast vs West Coast
21st July – SEQUENCES FESTIVAL
Mist, Noisia (DJ set), DJ Hazard, Mala, Rejjie Snow, Holy Goof & more
27th July – FREERANGE (LOCK YARD)
Sukh Knight, Opus b2b Hutton & more
28th July – DEFECTED DAY & NIGHT GARDEN PARTY
CamelPhat, Dennis Cruz, Franky Rizardo & more
4th August – BITCH, PLEASE! SUMMER PARTY:
Mike Servito, Octo Octa, Christophe & more
11th August – BINGO LINGO SUMMER BBQ
Sizzling BBQ's & Outdoor Bingo
18th August – SPEARHEAD SUMMER DAY PARTY
LTJ Bukem, Spectrasoul, Technimatic & more
21st August – A HISTORY OF DRUM & BASS WITH RONI SIZE
Funzing Talks
25th August – YARD: OPEN AIR CLUB
Âme (Live), Rødhåd, Andrew Weatherall, Avalon Emerson & more
8th September – RUN ALL DAY 2018
Sub Focus (DJ set), DJ Hype b2b Hazard, SaSaSaS & more
23rd September – THEY MIGHT BE GIANTS
www.facebook.com/MotionBristol
www.twitter.com/MotionBristol
www.instagram.com/motionbristol