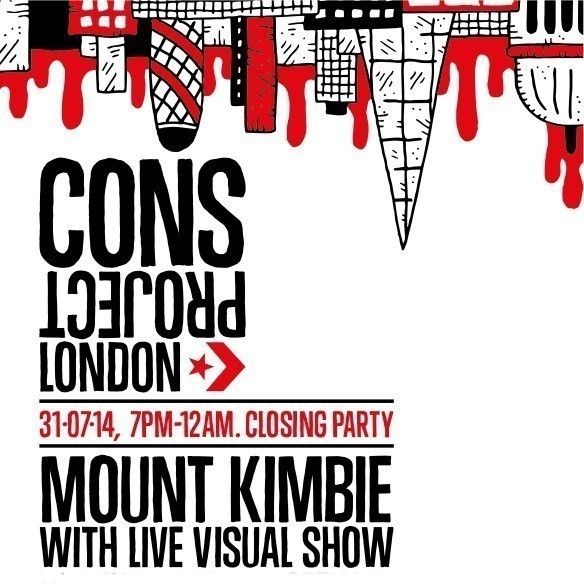 Mount Kimbie headline Cons Project Closing Party
MOUNT KIMBIE TO HEADLINE CONS PROJECT LONDON CLOSING PARTY WITH SUPPORT FROM LIL SILVA, DEADBOY AND SPENCER
Today Converse announces the line up for the CONS Project London celebration party on 31st July, with Mount Kimbie set to play live at the Peckham space as the 10 week project draws to a close. The performance will be accompanied by a specially commissioned visual piece created a local London artist and support on the night will come in the form of DJ sets from Lil Silva, Deadboy and Spencer.
The CONS Project London closing party represents the third and final instalment of Journey Through LDN Sounds, a series celebrating the underground music that has defined London over the past 20 years. 001 presented the jungle, drum & bass and garage pioneers with Fabio & Grooverider, Foundation (Sticky and Scott Garcia) and Zed Bias and 002 featured the best of UK dubstep, bass and grime with sets from Hatcha, N-Type, D Double E and T.Williams.
003 will take a look at the artists representing the 'Future Sounds' currently shaping the London music scene. UK duo Mount Kimbie have played a central role in forging a new form for electronic music over the last few years and DJ sets from Lil Silva, Deadboy and Spencer will showcase some of London's strongest music talent, ensuring the project closes with a bang.
A seminar on Nurturing Creativity will also take place on Saturday 26th July with speakers Tom Armstrong (Sabotage Times), Jimmy Asquith (Corsica Studios, Kristina Records), Dave Gamble (Fabric) and Jimmy Posters (ex-Pulse Editor, Huxley's Saints & Sonnets label manager) discussing how to identify and create opportunities to get ahead in the game.