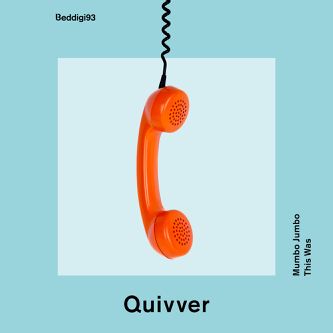 Quivver - Mumbo Jumbo / This Was
John Digweed's Bedrock label is focused on releasing exceptional, forward-thinking electronic music, constantly working with some of the world's finest artists, whose musical palettes are intensely inspired and musically diverse. Quivver (aka John Graham) is one such true musical innovator, a legend in electronic music circles and renowned as being one of the scene's most essential creators since the early 1990's.
The chilled 'Reprise' versions of (the excellently titled) 'Mumbo Jumbo' and 'This Was' were critically acclaimed highlights on the recent 'Bedrock 18' album, and now, to kick-off 2017 in style, the original club versions are set for their own single release.

As you would expect from one of the world's finest electronic producers, innovative experimentation flows freely through Quivver productions, with 'Mumbo Jumbo' leading the way…

"The title 'Mumbo Jumbo' came about as I was trying to come up with vocal ideas for the track and did what I usually do – sing nonsense lyrics and try to find a good melody, at which point I usually go back and write proper lyrics, but since I liked the sound of the vocal I left the random nonsense as it was – then fed some of it through Alchemy to make it sound even weirder." – Quivver

This element of open-minded electronic research has created an exceptionally original element for what is a gloriously groovy, hip-swinging, melodic gem that constantly mutates and develops from start to finish. This spirit of experimentation is continued with the deeply delicious vibes of 'This Was', and yet another perfect late-night Quivver delight is the end result.
On the live front, John has been keeping busy playing Quivver shows in South America, Amsterdam, Budapest, Ukraine, and Liverpool recently, and is currently readying himself to tour Japan in late January 2017. Never one to shy away from a creative curve-ball, he has also had a lot of fun playing a couple of live shows recently under his old drum & bass moniker – Skanna – a project he intends to revive with some new releases in the coming months.

Quivver's Frisky Radio show 'Controlled Substance' also continues to go from strength to strength – on the 3rd Monday of every month – the 21st instalment will be broadcast on 16th January at 9pm UK time (1pm USA West Coast) and is well worth checking: https://www.friskyradio.com/show/controlled_substance/
And finally… If you're in London, John will be performing the track 'Rooms', that he wrote with Sasha, as part of his two live shows at the Barbican Theatre in May. More info here: http://www.barbican.org.uk/cache/sasha.html
Artist Info:
https://soundcloud.com/quivver_john_graham
https://www.facebook.com/QuivverMusic
http://www.johngrahamofficial.com
Bedrock Info:
www.bedrock.uk.net
www.johndigweed.com
www.facebook.com/bedrockrecords
www.twitter.com/#!/BedrockRecords
www.youtube.com/user/bedrocktransitions
https://www.beatport.com/label/bedrock-records/63