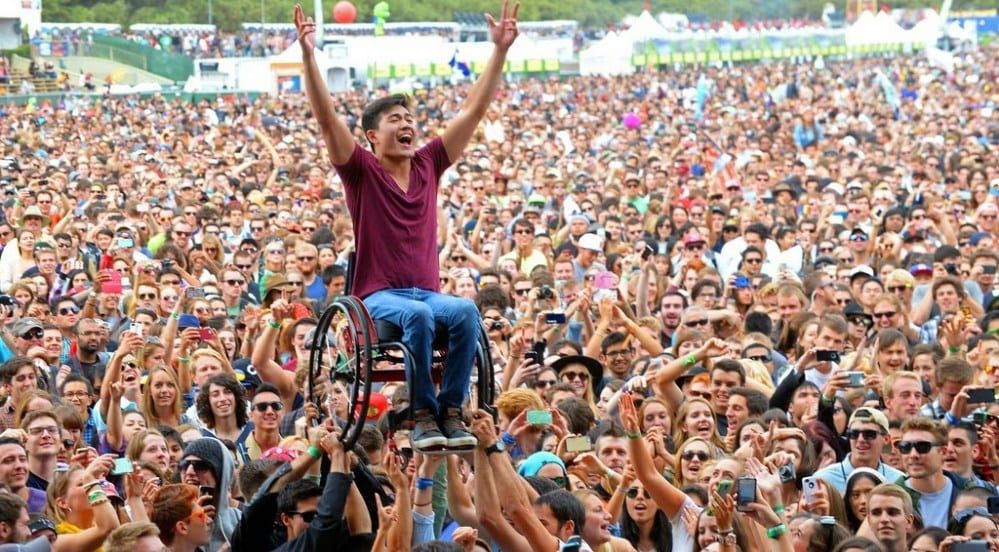 Music Festivals Hit The Right Note On Access For Disabled People
Some of England's top summer musical festivals that are putting access for disabled people centre stage have been revealed, including Latitude, British Sumer Time Hyde Park and Standon Calling.
While praising festivals for doing the right thing by creating an inclusive environment to allow disabled fans to enjoy live music, the Minister for Disabled People Justin Tomlinson called on all sites to continue making improvements.
Poor access, unsuitable camping arrangements, restricted visibility and a lack of representation both onstage and as employees are among the most common issues facing disabled people, but there are many solutions.
Among those at the top of the charts for disability accessibility is the British Summer Time Hyde Park series of concerts, which offers accessible viewing areas, sign language interpreters and hearing induction loops.
Latitude Festival, held in Suffolk later this month, offers a personal assistant ticket scheme, fridges to store medication and a Changing Places toilet.
And Standon Calling – a 10,000 capacity festival – has a dedicated team to support customers in the accessible campsite and sign language interpreters across the site, proving you don't have to have a large budget to make access improvements.
Minister for Disabled People Justin Tomlinson said:
"Everyone should be able to experience the joy of attending one of Britain's world-famous music festivals, no matter their circumstances.
"Disabled fans are spending more than ever on live music, but it's clear there is still more to do to improve festival access and facilities.
"Organisers have a moral responsibility to make their events inclusive, but they should remember it's also a very smart business move given the Purple Pound is worth a staggering £249 billion."
The Purple Pound is the annual spending power of disabled people and their households.
According to figures compiled by the charity Attitude is Everything, disabled people spent £8.3million on live music last year, up £3.4million in 2013-14.
Suzanne Bull MBE, the Government's Disability Champion for live music, said:
"UK festivals have made great strides in improving access over the past few years, demonstrated in the growth of economic impact that disabled people and their households spend on attending live music events.
"Many festivals now list their access information publicly, which leaves out all the guesswork about viewing platforms and accessible campsites that disabled fans previously had to do.
"The introduction of mobile Changing Places toilets on festival sites has been an important breakthrough because events are opened up to a wider range of people with higher physical needs and hidden impairments.
"There is much more to do beyond just audience provision. We need to plan for disabled artists and disabled employees to be working throughout all levels of the industry."
More than 195 venues and festivals have signed up to Attitude is Everything's Venue and Festival Charter of Best Practice.
The Charter, available online, provides a framework built around Bronze, Silver and Gold awards according to a live music venue's accessibility.