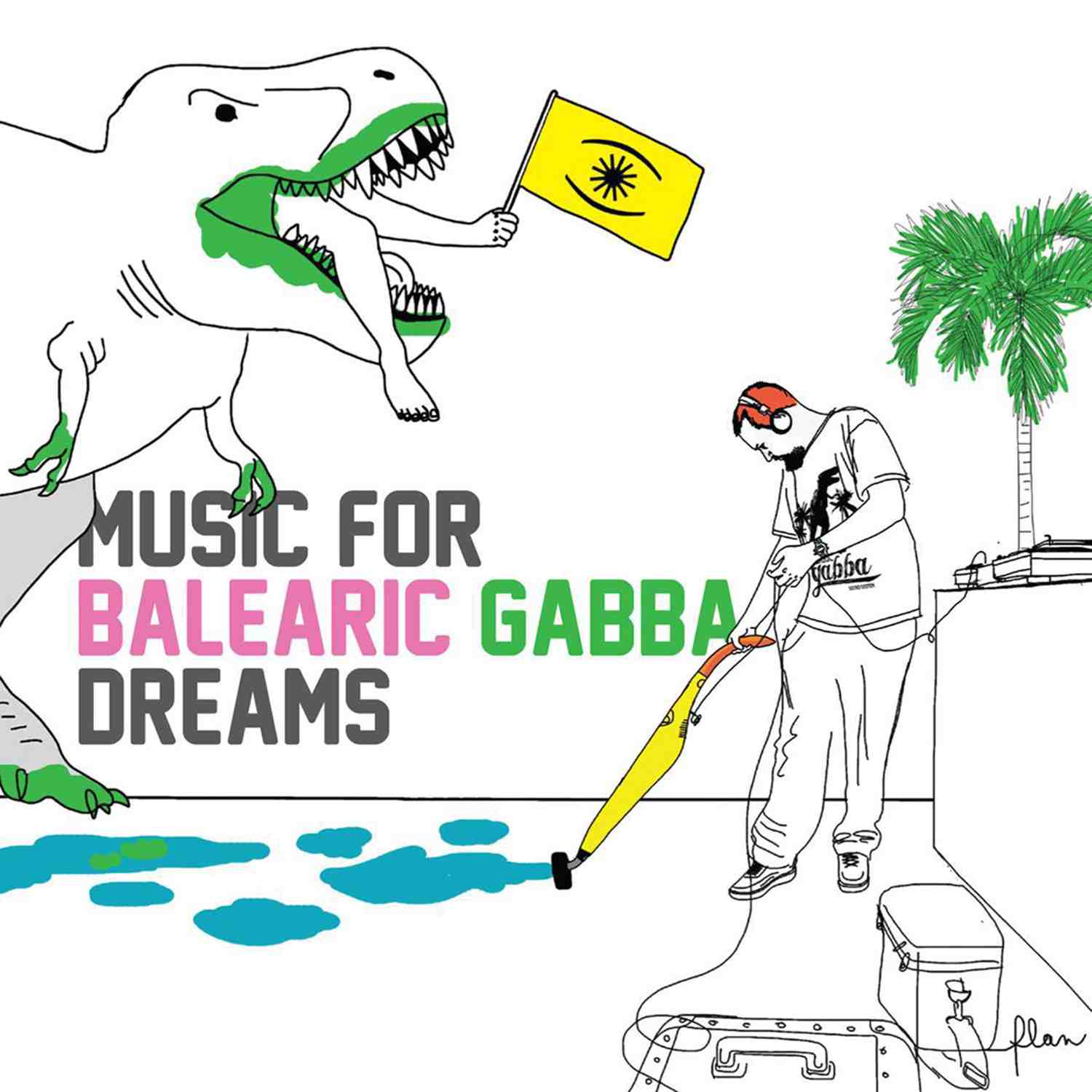 Music For Balearic Gabba Dreams
Featuring tracks and mixes by Andrew Weatherall, Prins Thomas, Kenneth Bager Experience, Tempelhof, Sueno Latino, Rusty, Mr Marvin, Daniele Baldelli & DJ Rocca.
Music For Dreams is releasing a compilation album on 21st April by The Balearic Gabba Sound System, the esteemed DJ collective dedicated to promoting the eclectic soundtrack of Ibiza.
Group founder, Marco Gallerani, has always been inspired by the Music For Dreams label; the Danish electronica imprint that is revered by downtempo and chill house aficianados and for that reason there is much kinship between MFD and Marco's Hell Yeah Recordings label. So too are there similarities between the genre-less approach of Music For Dreams and that of Marco's Italo-Ibiza production collective, The Balearic Gabba Sound System, which means that this compilation seems like a natural coming together for all concerned.

The Balearic Gabba Sound System is a non-sense dream team founded by Marco Gallerani, aka peeDoo, and made up of Enzo Elia, Everest Parisi, E-the-Hot, Bjorn Torske, Gallo and some other collaborators with a shared love of sonically weird, bona fide feel-good recordings with a very surreal twist. The best way to explain this collective's approach is to cite their daytime DJ hero, Ibiza chill legend Jon Sa Trinxa.

"My DJ style is Balearic, which is like trying to define the indefinable…" he once said. Well, thankfully, the iconic selector continued. "Many DJs are defined by playing a particular genre, but Balearic music is a total mix of genres. Balearic DJs play all styles."

As such, The Balearic Gabba Sound System represents the second generation of these so-called Balearic DJs: people who grew up on '90's raves and survived the digital revolution. Enzo Elia (Hell Yeah house specialist and key member of "El Freakadell") is one of those DJ enthusiasts. His famed and much loved Balearic Gabba Edits dig deeply into the crackling, early '90's Italian house scene and re-edits them for modern purposes, always with a sympathetic touch.

There are not too many "spaghetti" episodes along the way, but obscure hands in-the-air-Riviera moments, tribal retro-winners, wannabe Idjut Boys b-sides and party-sampling manias a go-go do often feature: It's clear, then, that the collective is about introducing you to a fresh musical sound you've been looking hard for, but weren't even sure existed, until now.

A glance down the tracklist reveals many treats, from Andrew Weatherall's remix of legends Daniele Baldelli & DJ Rocca to Prins Thomas' Disko Mix of Rusty's classic 'Everything's Gonna Change' via originals from Templehof and Peter Katafalk. This is music for music lovers, for sonic freaks and Balearic bad boys. It is music not confined by time, space or genre, but music that makes you feel something you really didn't know you could feel.

The iconic line drawing artwork comes from a close friend of Hell Yeah, namely Italian artist Federico Lanaro, a graduate of the Fine Arts Academy in Bologna. His work has been exhibited across Europe at places like Fabbrica del Vapore (Milano), Mutuo Centro de Arte (Barcelona), Galerija BlackBox (Sarajevo) amongst others. As you can see on the cover of this compilation, his work is characterized by a pictorial turn, distinguished by flat surfaces that are imbued with chromatic and formal clarity and befit the fact he works for the gallery Studio Raffaelli in Trento, Italy.
Marco Gallerani says 'Pulling this compilation together has been as fun as we hope it is to listen to, so without delay we invite you to tune in, kick back and cop out; to dream your wildest dreams and let the sounds consume your being, because this is the indefinable sound of The Balearic Gabba Soundsystem'.
Balearic Gabba Dreams is released by Music For Dreams on CD / download and stream on Monday 21st April 2014
http://www.kennethbager.dk
http://www.facebook.com/balearicgabbasoundsystem
Music for Balearic Gabba Dreams – PREVIEW by Kenneth Bager on Mixcloud