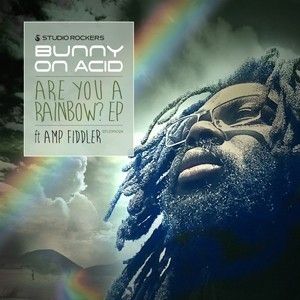 Bunny On Acid – Are You A Rainbow? EP
A big 12" vinyl E.P. coming at you from Studio Rockers for April 28th featuring Bunny On Acid and Detroit's own Amp Fiddler.
Bunny on Acid is back with a tasty release showcasing all his talents on this four track E.P. Leading the A-side with a serene club tune, "It's On", featuring Detroit local Amp Fiddler who's well known for his collaborations with a stream of reputable artists such as J Dilla, Parliament and Prince to name a few. After the sweet soulful vibes of "It's On" we're hit with the title track, "Are You A Rainbow?" which is a bouncy electro banger with a huge bass that doesn't leave you feeling too dirty, complete with some pumping drums.
As you flip the E.P to the B-side, you find "Daydream" flying the flag for modern bass music. With wave after wave of trippy synths cresting and breaking over a choppy rhythm its impossible not to get lost in a daydream. Rounding off the record with "When We Touch" Bunny shows us innovative use of sampling and reverb to make this track the perfect ending to the E.P. inducing a meditative calm after an exquisite audio voyage.
Available to pre-order the exclusive 12" vinyl Are You A Rainbow? EP from Bandcamp now.