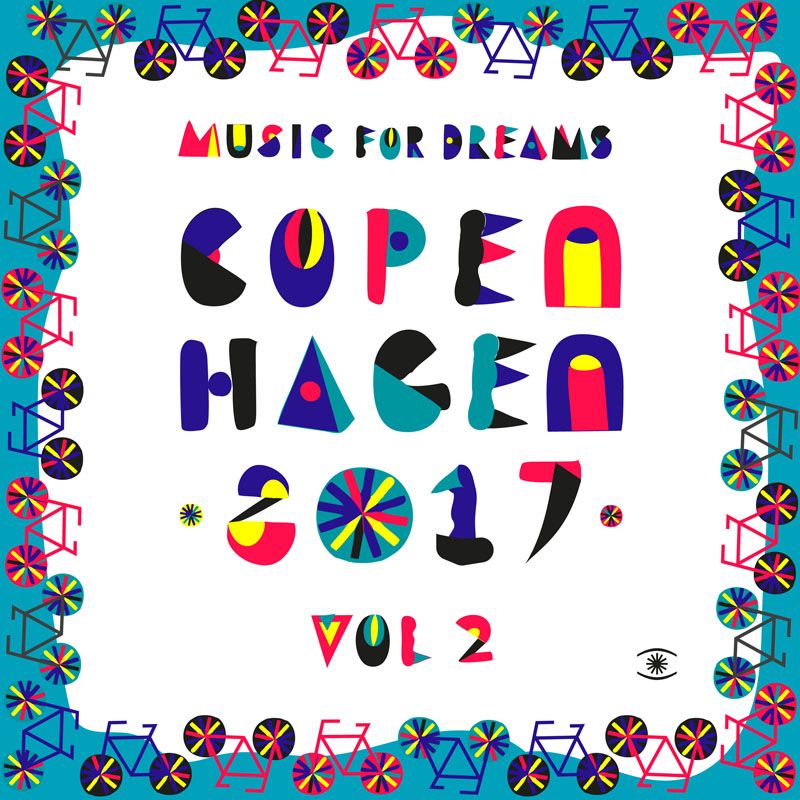 Kenneth Bager - Music For Dreams Copenhagen 2017 Vol. 2
Featuring exclusive tracks and mixes by The Kenneth Bager Experience, DJ Pippi, Islandman, Ambala, Dalholt & Langkilde, Mackrory & Collier, Folamour, Ghoul Immanuel.
Kenneth Bager is releasing the new Copenhagen compilation on Music For Dreams on Friday 3rd February 2017.
'Music For Dreams – Copenhagen 2017', Volume #2, features the Danish label's latest Balearic, house, and chill output including Ibiza anthem 'Te Faz Bem' by Copenema, and other outstanding 2017 label cuts, Ruf Dug 'Thank You Wally (Leo Mas & Fabrice Remix)', Nordsø & Theill 'Sun Fo Ni (feat. Caroline Franceska)', Bongo Entp. 'Lújon (Carrot Green Remix)', Silent Riders 'I See You (Dennis Bovell Dub Mix)', and Bonnie & Klein's 'Ithaca', the beautiful title track from their eponymously titled album due for release in November.
The Copenhagen album also includes exclusive tracks and mixes, DJ Pippi 'Mr. P (Islandman Remix)', Dalholt & Langkilde 'Je M'appelle Spacy', Mackrory & Collier 'Blue Bird', Ambala – 'Calypso Beach (Folamour Stomp Your Feet Remix)', The Kenneth Bager Experience – 'Biological Bread (Ghoul Immanuel's Wet Tool Mix)', and Islandman 'Following'.
Music For Dreams head honcho, Kenneth Bager, is celebrating a landmark year for the label, which has now amassed over 2 million sales and generated sizeable support thanks in part to its involvement in bringing chillout back to Ibiza. In 2017, Kenneth Bager and MFD hosted summer residencies and guest appearances at Ibiza institutions including Jockey Club, Pikes, Hostel La Torre, and Sa Trinxa.
Kenneth is the music curator and promoter of the Apple Flower Festival as well as the internationally renowned Coma Club in Copenhagen. He hosts his own 2-hour weekly eclectic national radio show in Denmark on National Radio P6, and a weekly show on Ibiza Sonica plus he has his own streaming channel; Music For Dreams radio on Musicfordreams.dk with a 'Music For Dreams Radio' app available to download to I-phones from Appstore.
'Music For Dreams – Copenhagen 2017 Volume #2' is released on Music For Dreams on digital and stream on Friday 3rd November 2017.
www.soundcloud.com/music-for-dreams
www.facebook.com/ComaClub
comaclub.dk/
www.kennethbager.dk
Tracklist:
1. Copenema – Te Faz Bem
2. DJ Pippi – Mr. P (Islandman Remix)
3. Silent Riders – I See You (Dennis Bovell Dub Mix)
4. Nordsø & Theill – Sun Fo Ni (feat. Caroline Franceska)
5. Dalholt & Langkilde – Je M'appelle Spacy
6. Peter Visti & Lukas Visti – Besezeppe
7. Jamie Porteous – Slip Arcadia
8. Mackrory & Collier – Blue Bird
9. Fletch – Honey
10. Ambala – Calypso Beach (Folamour Stomp Your Feet Remix)
11. Ruf Dug – Thanks You Wally (Leo Mas & Fabrice Remix)
12. Bongo Entp. – Lújon (Carrot Green Remix)
13. The Kenneth Bager Experience – Biological Bread (Ghoul Immanuel's Wet Tool Mix)
14. Bonnie & Klein – Ithaca
15. Troels Hammer – Grindadráp (feat. Liv Næs)
16. AyOwA – Eremit
17. Islandman – Following
18. The Swan And The Lake – Port d'Andratx (Pt. 2 'Rain')
19. Jacob Gurevitsch – Cinemática