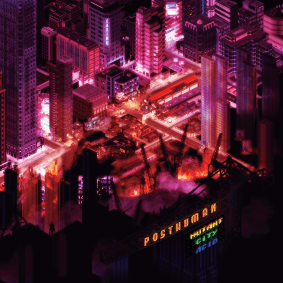 Posthuman - Mutant City Acid LP
Cult acid and techno innovators Posthuman return with 'Mutant City Acid' – their first album in eight years and fourth full length overall – dropping via their own Balkan Vinyl label this November.
It comes on double coloured 12" in a gatefold sleeve, with an accompanying ambient version on limited edition cassette.
Joshu Doherty and Rich Bevan are accomplished DJs and producers who, since the late 90s, have spearheaded the ongoing fascination with acid house and techno. Their long running I Love Acid club night is legendary, and their own music is just as essential. It comes on labels like Shipwrec, Chiwax, Dixon Avenue Basement Jams, Tusk Wax and many more, and is no-nonsense, hardware based material that is utterly timeless and always refreshing.
They say their latest album, and first since 2010's 'Syn Emergence', is a "journey into and through a nightmarish urban sprawl, under the glow of neon skyscrapers in a dystopian near-future. Inspired by the sounds and design of late 80's and early 90's sci-fi computer games and based as a companion piece to the Mutant City Acid various artist 12" series on Balkan."
Form the brilliantly deep acid opener to the darker and more menacing 'Nightride to New Reno', the pair continue to find new life in their 303. The serene 'Once Was' is a melancholic, slow-burning piece with gorgeous vocals, 'Gods of Technology' is cosmic electro of the highest order, and 'Junk Bonds' is one of their trademark slo-acid jams which will turn dance floors inside out.
Proving they have real range, the likes of the superb 'Shellworld Industries' takes you on a voyage to the edge of the cosmos with beautiful pads and masterful drum programming, the excellent 'Abaskun Control' is a freaky, crawling bit of tripped out machine music and 'Transit System Error' will make any dance floor erupt with is sleazy acid line. The perfectly elastic 'Wish Mountain' closes things out on a lively house tip with plenty of rubbery drums and Detroit pads making it an emotional ride.
This is an expressive and adventurous trip through many forms of house, acid, techno and electro, all run through with Posthuman's unique sense of timeless futurism.
Posthuman 'Mutant City Acid' drops on Balkan Vinyl on 26th November 2018.
http://www.posthumanmusic.com
http://www.balkanrecordings.com
Tracklist:
1) Into Gestalt
2) Nightride to New Reno
3) Once Was
4) Gods of Technology
5) Junk Bonds
6) Raid On Kyoto Quarter
7) Shellworld Industries
8) Abaskun Control
9) Transit System Error
10) Wish Mountain