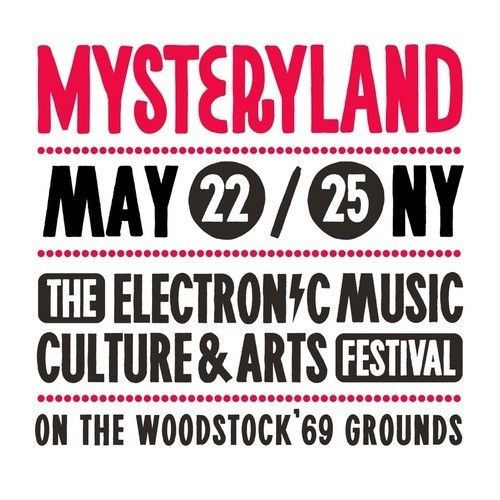 Mysteryland USA Announces Friday Artist Lineup
Mysteryland USA is excited to announce the artist lineup for its Friday opening parties held exclusively for Holy Ground campers on May 22. The day time party will bring Fool's Gold boss A-Trak, Miami-based globetrotters GTA, and Brazilian bass duo Tropkillaz to the newly expanded Camping Circus stage from 2 pm until sunset. The night time party kicks off with techno legend Richie Hawtin, deep house and techno visionary Maceo Plex, and Ovum Recordings head Josh Wink keeping campers dancing until 2 am. Don't miss this special party with some of the world's best electronic music artists bringing campers together to kick off an incredible Memorial Day Weekend on the historic Woodstock '69 festival grounds.
Meanwhile, Mysteryland's new outdoor camping stage The Pineapple Paradise makes its debut, bringing an "anything goes" ethos to set the tone for the festival on Friday only. Hosted by New York locals Brunch Bounce, the stage lineup features Adamboy, ARQ, DJ Schoolboy, EauxZown, Fight Clvb, Irv!, Klep One, Mixa, Nadus, and Swizzymack playing 2 pm to 2 am. The BangOn! NYC bus will make its Mysteryland return for the weekend, this time expanded to three art cars with The Golden Pony, Dirty Looks, Real Eyes and Tribes DJ's, as well as host an intimate silent disco on Saturday and Sunday nights..
Saturday and Sunday mornings in the Camping Circus will see restorative Yoga sessions bringing together mind, body and music from 8am to 9am. The Breakfast Club, the brand new daily pre-party from 11 am to 2 pm, extends the weekend experience for Mysteryland campers. The Breakfast Club will be hosted by Saved By The 90's playing live performances of all your favorite 90s hits to go along with mimosas, bacon, egg and cheese sandwiches and more. With an official 2015 theme of "Camp DoYaWannaDance," Holy Ground is inspired by old school summer camps with classic games (giant drinking Jenga, Connect Four), hamster ball soccer, bounce house dodge ball and a 20-foot inflatable slide, promising to make the camping experience an unforgettable one.
Throughout Memorial Day weekend, Mysteryland will host a plethora of world-class talent, including live performances from Empire of the Sun, Porter Robinson, Netsky, Bob Moses, Guti, Benoit & Sergio and KiNK, and stages presented by Matthew Dear and his Subversions family, Adam Beyer and his Drumcode label, Bro Safari's Animal House, New York nightlife leaders Verboten and Webster Hall — plus many more.
Festival information
Mysteryland USA
May 22-25, 2015
Memorial Day Weekend 2015
Bethel Woods Center for the Arts
Bethel, New York
21+ festival
Mysteryland.us
Facebook.com/MysterylandUSA
Twitter.com/MysterylandUSA
Soundcloud.com/MysterylandMusic
Instagram.com/mysteryland_usa
Youtube.com/Mysteryland