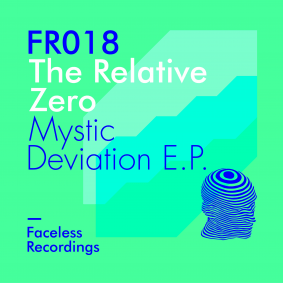 The Relative Zero - Mystic Deviation EP
Faceless Recordings return in 2019 with four moving cuts from The Relative Zero entitled 'Mystic Deviation' EP.
Berlin's The Relative Zero has developed a space for himself within the electronic music scene where he combines classical chord progression and contemporary sound design without setting creative boundaries. His music looks to create a unique story aimed towards inducing an emotional and soothing experience which can be heard within previous releases on Tiefdruckgebeat and Faceless Recordings. His 'Mystic Deviation' EP sees him join the Faceless Recordings roster following releases from up and coming artists such as Bambook, Mundane and MattR and remixes from the likes of Timo Maas, James Teej, Droog and Audiofly.
'Terquoise' kicks things off with effervescent percussion accompanied by eccentric melodies and winding key progression before infectious vocals, pulsating bass grooves and powerful synth waves are expertly deployed in 'Liebe Heulen'.
'Mystic Deviation' then delivers natural drums layered with deep resonance and undulant, angelic strings until 'Licorice' concludes proceedings with bouncy atmospheres, fluttering piano keys and weaving synth zaps.
The Relavtive Zero 'Mystic Deviation' EP drops on Faceless Recordings on 13th May 2019.
Tracklist:
1. Terquoise
2. Liebe Heulen
3. Mystic Deviation
4. Licorice