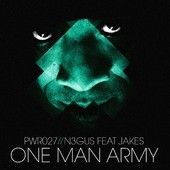 N3GUS feat. Jakes – One Man Army
Hot on the heels of their still-massive 'Walk The Walk', N3GUS and Jakes collide with maximum impact once again.
The second in a PowerOf3 co-lab trilogy – this one delivered in tandem with Manchester's mighty Midication crew – the Bristol boys continue to take care of business in their own inimitable way as N3GUS lays down a smouldering halfstep riddim that steams with ghetto mischief.
Leaving heaps of room for Jakes' distinctive manoeuvres, the spacey groove is sprung with latent drama. All slippery synth wriggles and naked kicks, the elements build momentum with the Hench bossman's smoky tones, developing into a big surprise for the final pay-off.
Switching from moody halfstep to an out-and-out D&B slap-down for the final crescendo, it's not hard to see why MistaJam has already triggered major heat on this. Following his last Jam Hot trophy for 'Walk The Walk', he's recently awarded 'One Man Army' with his coveted Inbox:Fresh accolade.
And the heat won't stop there. One of the most complementary, natural sounding producer/MC collabs we've heard in years, we guarantee this partnership will resonate with all styles of bass-laced playlists.