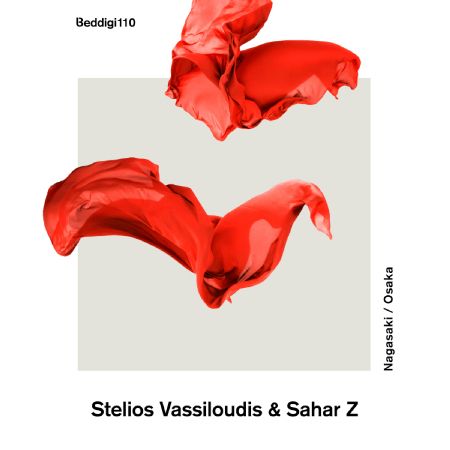 Stelios Vassiloudis & Sahar Z - Nagasaki / Osaka
Maybe it's a sign of the musical times, or a shift in some artist's creative ideology, but, interestingly, it seems that the strength of the numerous collaborative studio partnerships out there seem to be growing and growing. So, as yet another exceptional year of electronic music draws to a close, it seems fitting that the combined talents of Sahar Z & Stelios Vassiloudis should be joined together in a finale release for Bedrock Records in 2017.
Athenian DJ/Producer Stelios Vassiloudis is a Bedrock regular whose diverse musical palette always sees him create enthralling, highly memorable tracks. Having recently returned to the studio after an extended musical hiatus, his solo releases throughout 2017 have been exceptional, further establishing him as one of the scene's finest melodic masters. In addition, his recent tag team with Germany's Nils Nuernberg saw them create an exceptional EP on Steve Bug's Poker Flat label, as well as a highlight track on the recent 'Bedrock – Frequencies' album.
Sahar Z has been at the heart of Tel Aviv's electronic music culture for the past 20 years. A masterful DJ and influential proponent of the art of music programming, where each and every show is an unforgettable journey, Sahar's pedigree as a collaborative kingpin has been previously established through his excellent projects with Guy Mantzur, Navar (both on Lost & Found) and Chicola (Microcastle). So, its no wonder that his new project with Stelios marks this duo as a creative force to be reckoned with.
The richly imaginative 'Nagasaki' mischievously builds anticipation in clever, intricately arranged steps, as its low-slung, rhythmically infectious groove evolves with the addition of perfectly positioned melodic motifs throughout. In contrast, crisp, crunchy beats form the basis of 'Osaka' as it grows into a more energetic percussive workout. Layers of atmospheric excellence and teasing synth stabs give the track an emotive edge, with a swirling, deeply delicious energy. In their own distinctly different ways, both tracks form an irresistible masterclass in subtle genius.
Having been mutual admirers of each other's work over the last few years, Sahar and Stelios finally established creative contact in 2017 when Stelios released his 'Amnesia/Saturday Sky' EP on the fledgling Armadillo Records (which Sahar co-runs with Guy J).
Artist Info:
https://soundcloud.com/stelios-vassiloudis
https://www.facebook.com/steliosvassiloudisofficial
https://twitter.com/StelVassiloudis
https://soundcloud.com/saharz
https://www.facebook.com/Sahar-Z-227121677365914/
Bedrock Info:
http://www.johndigweed.com
www.facebook.com/bedrockrecords
https://soundcloud.com/bedrock_rec
www.twitter.com/#!/BedrockRecords
https://www.beatport.com/label/bedrock-records/63
https://www.youtube.com/user/bedrocktransitions/videos