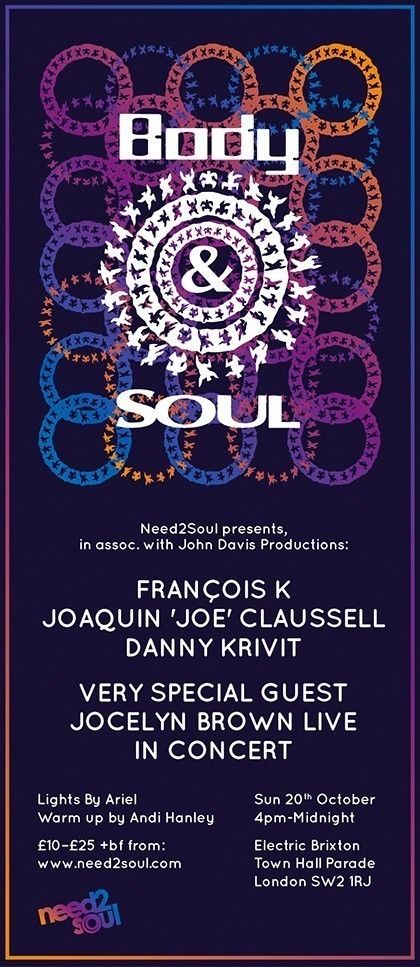 Need2Soul presents Body & Soul
This October Need2Soul presents another truly unforgettable party, as Body & Soul makes a very welcome return to London for the first time since April 2012.
The famous Body & Soul New York soul train – where François K, Joaquin 'Joe' Claussell and Danny Krivit conduct proceedings All-Day-Long – comes back to the capital on Sunday October 20 for pure uplifting, quality house and groove-filled day time party. Plus the phenomenal Jocelyn Brown performs live in concert in the majestic surroundings of the Electric Brixton.
London promoter Need2Soul brings the world famous all-out party of Body & Soul to London for an eight-hour day to remember. This trio of renowned DJs promise a no-holds-barred event, and with the addition of Jocelyn Brown – one of the original soul divas – this is an epic event that will sell out quickly.
Founded in 1996 Body & Soul is a collaboration between three legends of the world party scene, Danny Krivit, Joaquin 'Joe' Claussell and François K and it's an opportunity to let go, dance and celebrate the most vibrant energy that music gives us. The famous Body & Soul Sunday afternoon union has been one of New York's most revered weekly parties and it's seen success all over the world.
The party strips away pretension to make it all about the music; everyone is invited to share the party – and all are encouraged to have fun. It's a transcendental experience that lifts you out of your day-to-day life and brings a fresh perspective to the mundane when you return. Body & Soul is the music lover's mecca and a rare opportunity to catch three undefinable talents play back to back under the roof of the Electric Brixton.
Now Need2Soul welcomes Body & Soul back to London. Having sold out Oval Space last year with their unique soulful mix of very organic and spiritual dance music that spreads disco, techno, house, soul, funk and everything in between, they had people squared to the dancefloor for eight hours straight.
Very special guest Jocelyn Brown also joins the party. Jocelyn Brown's outstanding recording career has seen her work with some of the best soul, groove and disco producers, artists and musicians, including Quincy Jones, Luther Vandross, George Benson, Micheal Jackson and Roberta Flack. Her massive 'It's Alright (I Feel It)' is a Body & Soul staple, featured on the 'Body & Soul Volume 1' compilation, it's a well-known and celebrated track for the dancefloor that always finds its way into the Body & Soul parties.
In the 1990s she collaborated with producer and Todd Terry and Martha Wash on a rework of her classic 'Keep on Jumpin' and the pumping 'Somethin' Going On', and she's been going strong ever since. Her unforgettable vocal hook 'I've Got The Power' has been sampled across genres, and her gospel background will see her performance drop jaws at the Electric Brixton this October. Her powerful performances have packed out shows at The Jazz Cafe and Under The Bridge already this year. A live set from Jocelyn Brown is the perfect complement to Body & Soul.
Need2Soul strives to put together some of the most monumental parties in London, and now presents an afternoon that trumps everything so far. This very special event not only brings house music's cream of the crop with Body & Soul, but also showcases one of soul music's most iconic singers for one of their most justifiably legendary events. Get your tickets now.
Body & Soul returns to London this October…
François K + Joaquin 'Joe' Claussell + Danny Krivit… plus Jocelyn Brown
Need2Soul presents Body & Soul
Sunday October 20
Electric Brixton
Town Hall Parade, London SW2 1RJ 4pm-12am facebook.com/events/283591718449924/
Tickets:
From £10 (+BF)
More On The Door http://need2soul.yokaboo.com/
http://www.need2soul.com / http://www.facebook.com/need2soul / http://www.twitter.com/Need2Soul