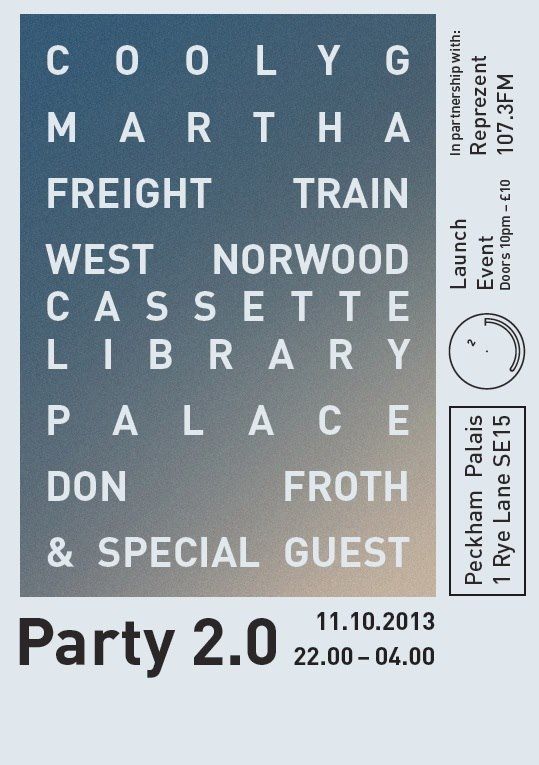 Party 2.0: The collective realising the potential of music events in urban social development
Party 2.0 is a collective of young partners who have come together to realise the potential of music events in urban social development. Every Party 2.0 event will present a groundbreaking line up to rival underground nights in the clubbing scene, and will create streams of long lasting positive impact upon the city in which it is hosted, helping to contribute to the personal development of a young person or young people in the local area, raising funds for a social project within the city, and providing a fresh new aspect to the events industry.
The artist line up
Every artist on the line up is considered a Party 2.0 partner. They waive their fee for one night to become a part of the Party 2.0 collective and to aid social development of the city in which they play. Every Party 2.0 lineup prides itself on being current and pioneering, rivalling the best underground line ups available in the city. The artists involved are forward thinking and share our social values.
Social impact
The inaugural event has three social impact streams:
1. Personal development
1. This event has developed the skills of Martha, 19. Martha was identified for her huge potential in the music industry. By providing her with experience in the increasingly relevant field of music events, Party 2.0 will develop her skills and network, increasing her chances of success in the industry.
2. Raising funds
1. This event is raising money for a social project within the city. We Reprezent is a youth engagement social enterprise, and runs Reprezent Radio which is the only youth led radio station in London, giving young Londoners a voice and actively campaigning on issues affecting young people.
3. Instigating change
1. This event hopes to provide a fresh new direction to the events industry to realise that there are positive ways that music events and promotion can progress. Party 2.0 challenges perceptions of what one night can achieve, harnessing potential for social good.
About the collective
Every element of Party 2.0's formation as an organisation has been done through the motivation to create something groundbreaking, influential and positive. Every partner has given their expertise for no fee, meaning that not one single penny has changed hands. From leading SEO and web design agency, Go Up, to graphic designer Ollie Stockbridge, young partners have shown what can be achieved through drive and commitment to social change
With thanks to…
Go Up (web design)
Ollie Stockbridge (visual identity)
Tim Hawkins Production (video production)
Thermalbear (video production)
The inaugural event
Event: Party 2.0: inaugural event
Date: 11th October 2013
Location: Peckham Palais, 1 Rye Lane, Peckham, SE15 5EW
Time: 22.00 – 4.00
Line up: Cooly G (of Hyperdub), West Norwood Cassette Library, Don Froth, Palace, Freight Train (Reprezent), Martha (Reprezent), and a very Special Guest
Website: www.p2p0.org
Video: https://vimeo.com/74320479
Facebook group: https://www.facebook.com/party2point0?fref=ts
Twitter: https://twitter.com/Party2point0
Tickets: www.p2p0.eventbrite.com