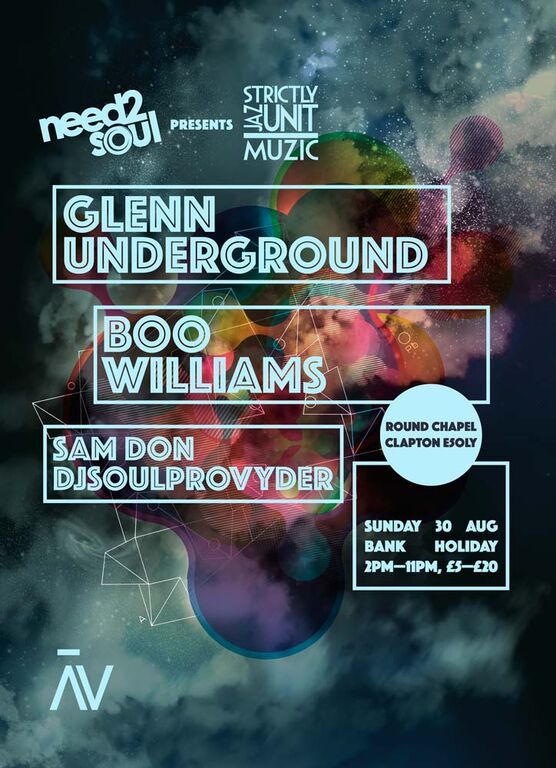 NEED2SOUL presents Strictly Jaz Unit with Glenn Underground & Boo Williams plus Sam Don and djsoulprovyder
NEED2SOUL is back with a super special all-dayer for the August bank holiday, this time at East London's most unique venue, the Round Chapel in Hackney. Headlining the party are two founding fathers of Chicago house Glenn Underground & Boo Williams, both playing extended sets as Strictly Jaz Unit to celebrate their forthcoming album's signing to Need2Soul Music, set a for a relaunch this year. Local spinners Sam Don and djsoulprovyder will be warming things up from early doors, and outside there'll be gourmet street food stalls for essential refuelling ahead of these epic sets from a pair of masters.
Meeting on the Chicago scene in the early 80s, while both were DJs at seminal clubs such as The Power Plant (owned by Frankie Knuckles) Boo Williams became somewhat of a production protégé to Glenn Underground after hanging out at those formative Lil' Louis parties back in the day and Glenn's early productions found their way into Boo's tape deck, sparking a life long mutual respect and creative relationship. Glenn founded Strictly Jaz Unit (with Tim Harper) in 1996 alongside Boo – a project that has rendered some of the most deep and soul lifting music in house history and one that's still alive and kicking today. After inviting Glenn to play solo all night back in February, Need2Soul is proud to present this legendary duo for a special bank holiday affair at The Round Chapel, on 30th August and to celebrate the re-launch of the imprint Need2Soul Music.
Tickets >> http://bit.ly/1HPpaVt
£5 (early bird)
£10
£20 (on the door)