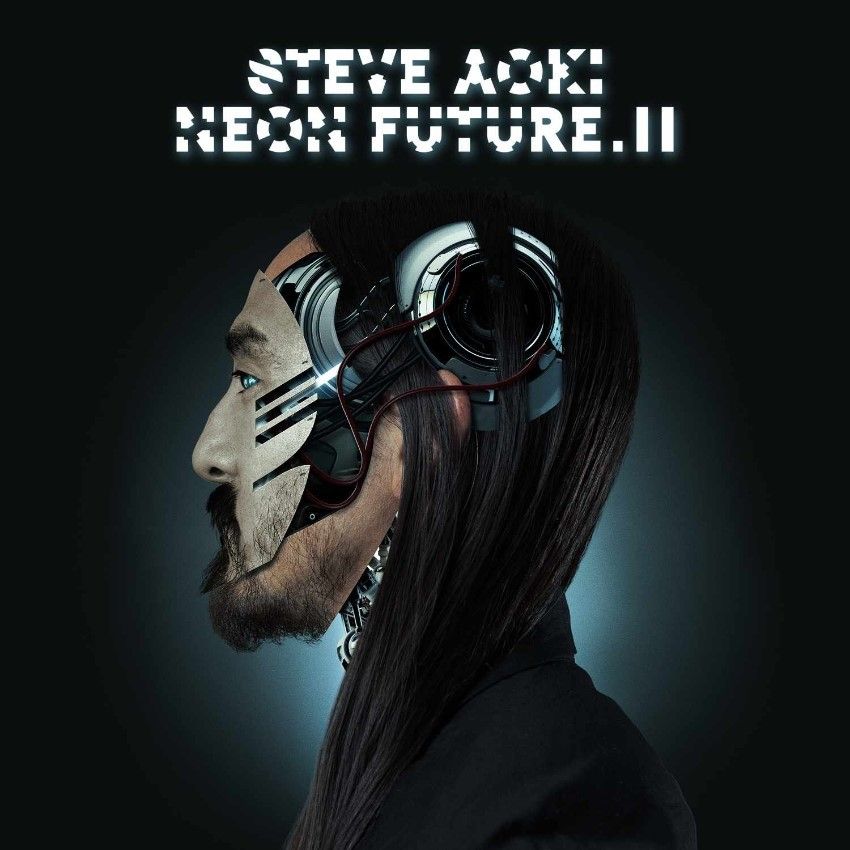 Steve Aoki - Neon Future II
STEVE AOKI returns with part two of his Neon Future double-album concept, NEON FUTURE II, today (5/12) on Dim Mak/Ultra Music. Much like AOKI's 2012 Grammy-nominated album debut Wonderland and Neon Future I which includes his gold single and Top 40 radio hit "Delirious (Boneless)," NEON FUTURE II is an all-star extravaganza featuring cameos from Linkin Park, Snoop Lion, Rivers Cuomo, NERVO, Matthew Koma and Moxie, with spoken word contributions from Interstellar executive producer and MIT professor Kip Thorne as well as director/producer/creator J.J. Abrams and, bringing a different twist to the fold, are YouTube sensation/folk rock band Walk Off The Earth.
"I can't wait for everyone to hear the sequel to Neon Future I," said AOKI "Putting these two albums out is the biggest feat of my career and it's going to take you into the future and beyond!"
STEVE has offered fans an advance glimpse into what he has described as the darker, deeper, more emotional half of his Neon Future collection. Recent reveals from the NEON FUTURE II arsenal include "I Love It When You Cry" with Moxie, currently spinning at national radio, and the captivating anthem "Darker Than Blood" featuring Linkin Park.
In other news, it was announced yesterday (5/11) that Relativity Studios will release a documentary currently titled I'll Sleep When I'm Dead which takes a compelling look into the life and mind of one of dance music's most hardworking, controversial and impulsive characters. The film–shot during the making of the Neon Future double album–follows AOKI on his journey to play the biggest show of his career and centers around his complex yet loving relationship with his Father, the Benihana restaurant tycoon and former Olympian Rocky Aoki. An eclectic supporting cast of music industry heavyweights add color to AOKI's fascinating life story, shed light on his high octane lifestyle, and talk about the sacrifices one must make to play over 300 shows a year. To build a restaurant empire Aoki's father had to put business above everything else. This film asks what AOKI must sacrifice to reach the top. Look for more information about I'll Sleep When I'm Dead to be released soon.
NEON FUTURE II on iTunes: smarturl.it/NeonFutureII

The complete track listing for STEVE AOKI's NEON FUTURE II is:
1. Time Capsule (intro)
2. I Love It When You Cry (Moxoki) – Steve Aoki & Moxie
3. Youth Dem (Turn Up) featuring Snoop Lion
4. Hysteria featuring Matthew Koma
5. Darker Than Blood featuring Linkin Park
6. Lightning Strikes – Steve Aoki, NERVO & Tony Junior
7. Tars (Interlude) featuring Kip Thorne
8. Home We'll Go (Take My Hand) – Steve Aoki & Walk Off The Earth
9. Heaven on Earth featuring Sherry St. Germain
10.Holding up the World featuring Harrison and Albin Myers
11.Light Years featuring Rivers Cuomo
12.Warp Speed (Outro) featuring J.J. Abrams