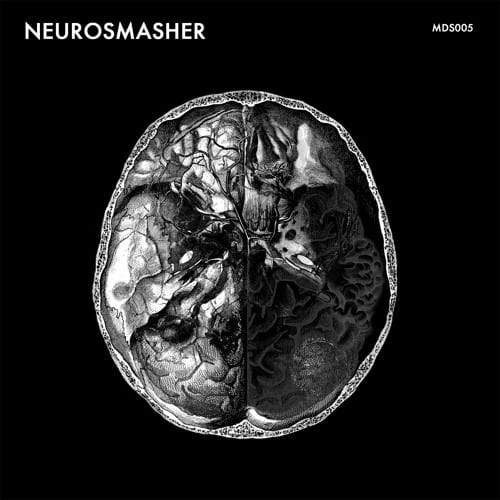 "Neurosmasher" ft. Pure, Huren, Honzo, more
The warping process of perception articulates through a consistent but eclectic collection of dark and dystopic experiments, delivered by some of the most active contributors on the label, some new influential artists and some new surprising fresh projects.

Among the new ones, the label head of Repitch, 3TH and Carbone Rec D. Carbone's side experimental project Honzo, appears with an obscure sci-fi ambient intro, a set up for the whole cyber-journey. Rell-Eramo's collaboration follows with a massive distorted downtempo doom, a gigantic journey. Second Tension strikes back on Monolith bringing more groove with a wave-industrial dark cut that remembers the previous ep on the label for his strongly ritualistic aesthetics. Berliner newcomer Countermeasures Electronicsdelivers a twisted slow tempo industrial acid tune that deconstructs the ritual into a decaying cyber scenario, rotting using rusty percussions on a giant beat. Arrythmia from Subotica evolves the cyber-groove delivering an industrial-techno breaky banger to continue the smashing process. S0D, in collaboration with the Liber Null Berlin resident MXM, exasperates the development with a massive slow industrial technoid monster marching over destruction.
Among the oldest collaborators, the Tresor resident Artik brings the journey to the next level by exploring an obscure post-apocalyptic scenario screaming over an electro industrial groovy banger. Hypnoskull offers an interpretation based on a field recording of the scanner of the 1432′ Las Vegas police unit; a regular night of non-stop violence there, rolling on a huge and heavy industrial four-four tool beat, almost struggling to keep things together. Half of Teste and O/H with Rich Oddie, Huren's sickness contributes with a frontal shocking sci-fi noisy attack, making it techno as a kind of hobby. A huge mutant side bass accompanies the monster grinding beat, shaping a smashing technoid tool. Label head Sirio Gry J delivers an ultimate cyber-industrial broken beat banger to erase any trace of humanity in perception, with each stab of the huge synth hitting hard all over the track. Pure's grinding masterpiece reshapes perception through a schizoid metamorphosis which overloads the brain in order to reassemble it with a new shape. Already involved on Monolith with the last 12″ 'Atomic Spawn' the broken beats industrial project from Rome, Fire at Work, strikes back to finalise the journey with an IDM-Industrialesque piece that re_samples the question of matter itself, deconstructing patterns and glitching percussions against any of the standard methods, delivering both a code and its encryption key.
"NEUROSMASHER is a tool to tamper with the mind perception process.
Exploring dissonances it's possible to alter and smash perception by using or abusing frequencies and modulations. An extensive-meaningful showcase of acrobatic experiments based on those not-defined sound happenings known as "noise", by definition the contrary of "sound" intended as a meaningful and defined happening, instantly readable and understandable. Noise is neither the signal nor the message, but the disturbance; it poses a fundamental problem for information processing and affect all aspects of nervous-system function. The neuronal networks are affected at different levels, while multiple noise sources contribute to cellular and behavioural trial-to-trial variability, distorting perception normal sound will no longer trigger any emotion due to its smallness and monotype. On the other hand, the compulsive need to discover and interpret the undefined, unknown and unlimited shapes that this 'matter' is able to take it's answering to the growing need of freedom of the 2.0 human; the challenge is to forge the dark matter towards something perceivable as a meaningful happening, somehow definable and quantifiable because constrained within boundaries outlining a shape."