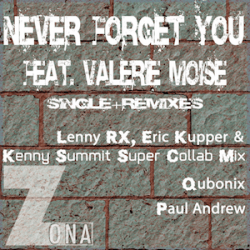 Zona - Never Forget You
Focusing on the soulful and inspirational facets of house music, the production duo of Dimitri Craven and Jerry Andrews – collectively known as Zona – have unveiled "Never Forget You", the latest single taken from the album Peace, Love and Understanding. This eclectic combo, based in Los Angeles, pushes a 'live' deep house style and has had previous acclaimed releases on Good For You Records, Kapa, and House Tribe Records. 70×7 Records is Zona's own imprint, and it plays host to the alluring "Never Forget You".
Featuring regular collaborator Valerie Moise on vocals, Greg Brown on vibraphone, and the pounding surge of Greg Velasquez's percussion, "Never Forget You" is soulful house at its best, accented with touches of acid jazz and deep disco. The song's lyrics send best wishes to a lost love as expressive layers of keys, vibes, and snappy rhythms – all buoyed by a super funky bass line – win over the most resistant of dance floors.
The remixes are led by the 'super collaboration' of Lenny RX, Eric Kupper, and Kenny Summit who deliver a breezy and soothing remix in a classic late night New York soulful style. The percussion-driven beat is gentle but solid, and warm pads and melodic synth leads accompany Valerie's voice with lovely sophistication. Next up, Sidney Perry, who runs the Qubonix label and is an up-and-coming producer on the LA house scene, provides an effective, stripped-down version of "Never Forget You". Jazzy chords tightly follow the vocal melody, creating an atmosphere that's dreamy and hypnotic. There's also a Qubonix dub mix which highlights the vibraphone and pulls phrases from Valerie's vocal … pure deep house magic. The final remix comes from Paul Andrew, another DJ based in the City of Angels, and it's a delightful disco-tinged version featuring dubby effects through its distinctive sound, while maintaining the original's powerful bass line and percussion. Prime time business.