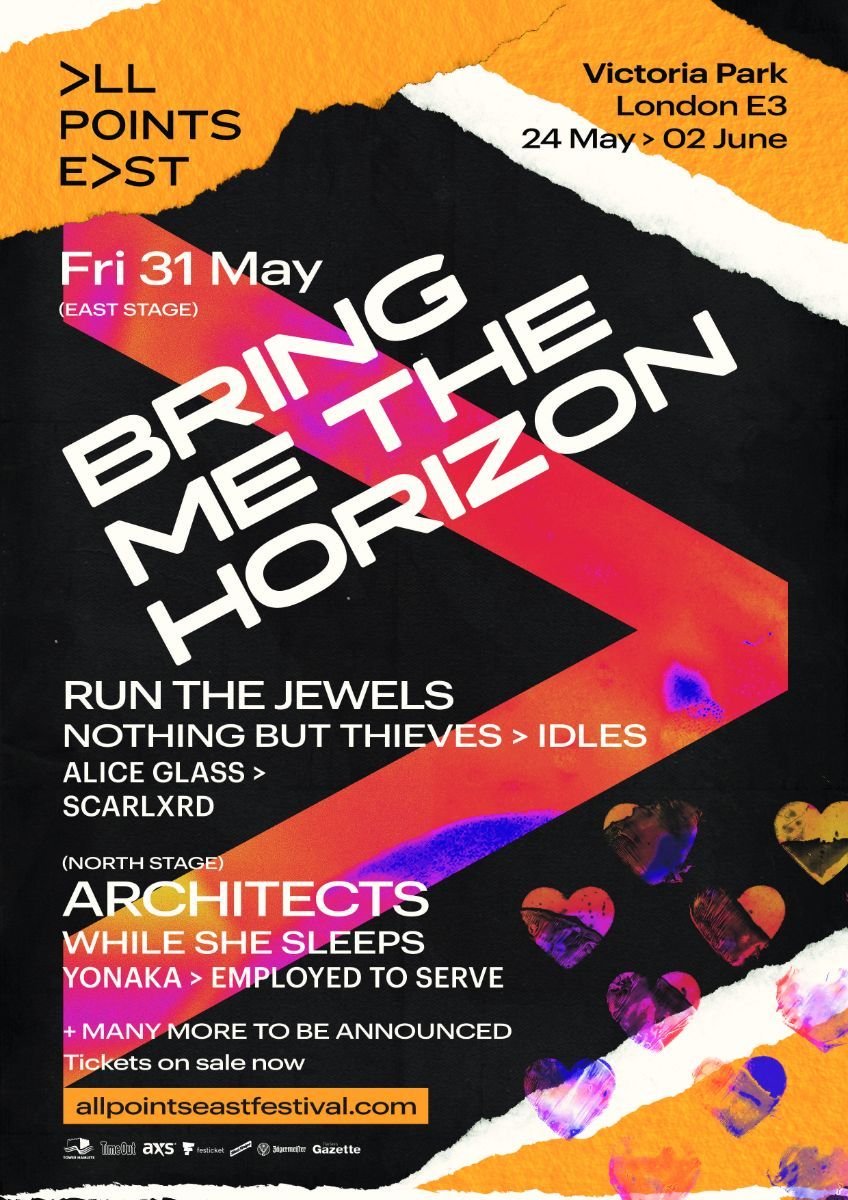 New Names Added To Bring Me The Horizon APE Festival Date. Architects, While She Sleeps and more!
All Points East have added four acts to the previously announced Bring Me The Horizon headline show. The band who this week achieved chart success, scoring their first number one album with new record 'Amo' have curated their own day at the Festival to be held in London's Victoria Park. Architects, While She Sleeps, Employed To Serve and Alice Glass have all been added.
Commented Bring Me The Horizon "We are extremely excited to announce the next round of acts on our very special day at all points east festival. Many of the bands are great friends of ours and we can't wait to come together to play at Victoria Park."
Brighton-based metallers Architects released their most recent record, late 2018's Holy Hell, to phenomenal response. The album, which addresses the recent passing of guitarist Tom Searle, is wracked with grief, passion and a strong sense of mortality and was crowned as the group's "finest album to date," by the NME. Having previously performed at some of rock's biggest events and stunning audiences at shows worldwide, both as headliners and alongside the likes of Parkway Drive and Enter Shikari, Architects have curated a live set that you wouldn't want to miss.

Formed in 2006, While She Sleeps are no strangers to the stage. Having performed at Warped Tour, Rock im Park, UNIFY and Reading & Leeds among others, the group have rendered themselves as a force to be reckoned with. Their debut record, 2010's 'The North Stands For Nothing' received critical acclaim from the likes of Kerrang and Metal Hammer, and the group have since gone on to release two more records. Their most recent offering, 2017's 'You Are We', was released independently with the help of crowd funding from their fans, with the record itself described as "an album that bristles with hooks, crackles with power and almost overflows with passion." Now, the group are set to bring that same passion and power to the stage at Victoria Park, delivering a set that will have audiences head-banging in unison. Their new single 'THE GUILTY PARTY' was just released and brand new album 'SO WHAT?' arrives 1st March. Sean Long from the band commented "The line up is clearly next level. We can't wait to bring the Sleeps show to Victoria Park and prove we're meant to be there."

Feral hard-core quintet Employed To Serve have made it their mission to decimate every venue the UK and Europe throws in their path. Known for their relentless live charge, the group have made appearances at Damnation Festival, Incubate Festival, and have toured with the likes of Rolo Tomassi, Milk Teeth and Black Peaks. Their 2017 album 'The Warmth of a Dying Sun' was crowned Kerrang's album of the year and boasted a heavier and darker feel than its predecessor 'Greyer Than You Remember', firmly establishing the groups sound and proving to be their strongest release yet.

Canadian singer and songwriter Alice Glass embarked on her solo career in 2014, breaking away from her co-founding position in electronic band Crystal Castles. Her debut solo single, 'Stillbirth', was released to increase awareness of domestic and sexual abuse, with all proceeds from the tracks revenue going to aid abuse victims. Following the 2017 release of her debut self-titled EP, Glass toured with Marilyn Manson. Glass has since released a string of singles and has grown to be known for her dedication to live performance, performing five months worth of shows on crutches after straining an already-injured ankle.

Taking place during All Points East's second weekend Friday 31st May 2019, Bring Me The Horizon will be bringing an exciting diverse line-up to Victoria Park. The show will be the band's first-ever festival headlining set and their only UK headline show for 2019.

Formed in Sheffield in 2004, Bring Me The Horizon have long been widely regarded as one of the most forward thinking heavy bands in the UK. The band released their sixth studio album 'Amo' on 25th January, which went straight into their first number one.

Genre defying in nature, the band have been labelled as everything from deathcore to pop-rock. Even hailed for their electronic elements, they have been consistently on the rise since their formation, never comfortable staying in the same space for long and constantly evolving with each step of their career.

From playing the Royal Albert Hall with a live orchestra to two huge arena shows at The O2 this is a band that have always thrived on taking things up a gear. Expect big things for their first outdoor festival headline and an eclectic supporting line-up throughout the day.

Special guests come from independent hip-hop heroes Run The Jewels, the US duo that exploded onto the scene in 2013 to sudden critical acclaim. They released breakthrough album RTJ3, last year winning over UK audiences with a dynamic performance at Glastonbury's Pyramid Stage introduced by none other than Leader of the Opposition, Jeremy Corbyn as well as a memorable performance at Finsbury Park this year. They've even broken into Hollywood with their latest single, "Lets Go (The Royal We)", included in the soundtrack for Marvel's latest blockbuster Venom and had a Grammy nomination with Danger Mouse-produced single "Chase Me", included on the Baby Driver soundtrack.

English alternative rock band Nothing But Thieves, have proved themselves a formidable live act touring huge arena shows with Muse and Twenty-One Pilots and selling out two consecutive nights at The Roundhouse in their own right and playing their biggest ever headline show to date at Alexandra Palace last month. They have had two official top 10s with both their studio albums. 2015's self-titled debut album went straight in at #7 on the Official Albums Chart and last year's follow up 'Broken Machine' charted at #2.

Brit-nominated IDLES, have created the soundtrack for our times with their first two albums, released only a year apart – 2017's 'Brutalism' and 2018's second album 'Joy As An Act Of Resistance'. The band have gained attention with their hard-hitting live performances and witty but dark lyrical content, creating punk anthems with intelligent lyrics about toxic masculinity, depression and austerity, music that is so cathartic and important it should be prescribed on the NHS.
Every artist playing on this day have proved themselves to have a tenacity and hunger setting them apart from the over saturated music scene but Scarlxrd holds the record, releasing six albums in the space of just two years. Blending trap with heavy metal and creating unusual and distinctive music and an aesthetic that takes inspiration from Japanese culture Scarlxrd truly sets himself apart from everything else out there and will kick off this energetic day – unrestricted by genre but crafted out of the most exciting modern acts of today.

Formed in Brighton in 2015, alt pop quartet Yonaka have already rocked the boat with their hip-hop fused head-banging rock. Their Grime-influenced DIY ethos and unequalled ambition has seen them catapulted from small venues at Brighton's The Great Escape festival to signing with Atlantic Records and making waves supporting Bring Me The Horizon across the UK and Europe. Front woman Theresa Jarvis's ferocious intensity, teamed with heavy riffs and punchy basslines, truly sets Yonaka aside as a tour de force, branding them as one of the most exciting new names in alternative music.

Jim King, Senior Vice President, AEG Presents commented "We are beyond thrilled to be able to welcome Bring Me The Horizon to the East Stage next year for their long overdue first festival headliner set. The band and the festival have curated an unbelievable day of music. May 31st is going to be an unforgettable night for Victoria Park."

East London's beautiful Victoria Park in Tower Hamlets also hosted a hugely popular 4-day community focused midweek event last year. Kicking off on the second Bank Holiday Monday, In The Neighbourhood is set to return across the half term week for 2019. Featuring free access to the All Points East site, In The Neighbourhood will host a vibrant programme of activities and entertainment, in collaboration with the local community, businesses, organisations and suppliers. From free Outdoor Cinema, Live Music & Entertainment, Street Food to Pop Up Bars, Theatre, Arts, Sports & Wellbeing, Children's Activities and much more.

A truly unique festival environment, an excellence in production, facilities, hospitality and customer service unlike anything seen before in Victoria Park will underpin the entirety of the 10 day event. From the team behind events such as Barclaycard presents British Summer Time Hyde Park, and the world's number one venue The O2, the highest standards will be stamped across every aspect of the event.