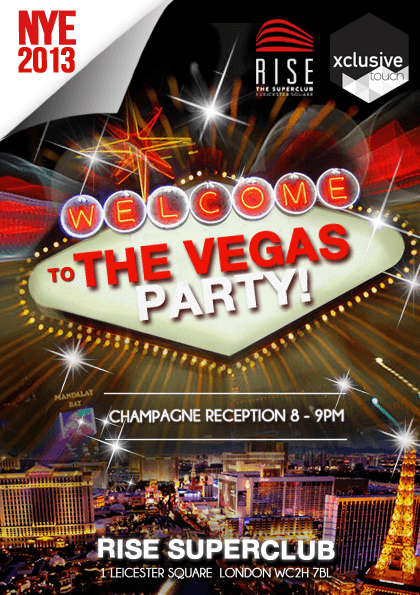 New Years Eve Welcome to the Vegas Party
Early Bird Tickets £35
http://original.pngxclusivetouch.fatsoma.com/events/98068/
Xclusivetouch Presents…
The Vegas Party is set to be the most spectacular and action packed New Years Event in London!
Las Vegas is the party theme and in true Sin City fashion the energy will be high long into the night with confetti cannons, UV glow sticks, theme dancers and a host of surprises booked for the night. The fourth floor will be an Oceans 11 paradise with traditional Casino entertainment and games available for guests to enjoy.
Early arrival is required to enjoy the complimentary champagne reception between 20:00-21:00. Come midnight there will be an extravagant confetti and UV showcase so be sure to grab a glass of Champagne to toast the New Year.
***** A T T R A C T I O N S*****
– Prestigious Central London Superclub
– Las Vegas Theatrics and Surprises
– Casino Games and Entertainment
– 2 floored venue
– Luxury Champagne Reception 2000-2100
– Reasonable Drink Packages and Bar Prices
– 750 capacity
£35 (Early bird rate, price will rise closer to the date)
***** T A B L E S *****
Booking a table allows queue jump, a seating area for your group and early bird ticket entrance (£35). Tables work on a minimum spend basis.
REGULAR – £500 – 4-6 Guests
PREMIUM – £750 – 7-9 Guests
VIP – £1000 9-12 Guests
These sections are very limited, please call 020 7734 9116 or 07951246768 for more details on availability and booking procedure. Please note a 20% deposit is required to secure your table reservation.
***** C O N T A C T *****
Event Manager Tickets and Tables: Julian
Email: [email protected]
Mob: 07951246768
Telephone: 020 7734 9116
BBpin: 7B26D8C9
Twitter xclusivetouch