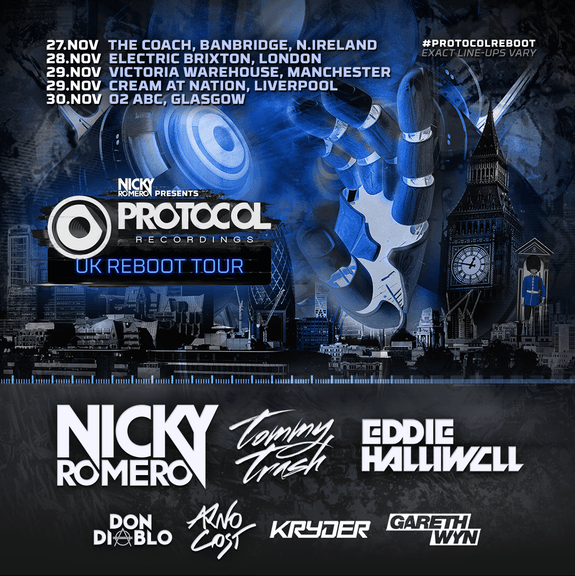 NICKY ROMERO PRESENTS PROTOCOL RECORDINGS UK REBOOT TOUR
Nicky Romero‹the man behind one of the UK's biggest selling hits of the last few years alongside Avicii, 'I Could Be The One'‹is coming to the UK.

From 27th-30th November, Romero and his Protocol label mates will embark on a monster five-show trip, which will see him and his team take over some of the most revered venues across the British Isles‹travelling between each on his very own Nicky Romero themed bus!

This tour comes at the perfect time for Romero, who will be releasing his brand new single 'Feet On The Ground' (featuring Dutch rockstar, Anouk) in the UK on December 7th. Having been premiered at Miami's Ultra Music Festival earlier this year, the track has already garnered huge support from some of the biggest tastemakers out there, with the likes of Tiesto, Afrojack, Dimitri Vegas & Like Mike as well as Pete Tong and Danny Howard from BBC Radio 1 all on board and playing it in their sets. Check out the official video below and ready yourself for its release on December 7th via Island Records!


To further accompany this tour, and to celebrate the UK release of 'Feet On The Ground', Nicky Romero has also teamed up with music discovery platform giant Spotify for an exclusive track giveaway and UK tour ticket competition.

How it works:
When UK residents 'Shazam' either the original mix or any of the official remixes of 'Feet On The Ground', they will be redirected to Shazam Tile (within the Shazam application), where they'll be asked to enter their email address. Each completed address will then be sent a link to a free download of the unreleased 'Flashmob Dub' edit of Feet On The Ground, and will be automatically entered into the UK tour competition, where they'll be in with a chance of winning a pair of tickets to one of the five forthcoming UK shows!


Earlier this year, Protocol began its global conquest with its new 'Reboot' event concept, departing from the status quo and creating something unique and revolutionary. After stops in cities including Miami, Amsterdam and most recently New York over Halloween weekend, a full run of the UK was naturally the next step. With dates at the likes of the Electric Brixton in London, Victoria Warehouse in Manchester and the 02 in Glasgow, they're making sure they do it properly!

The 'Reboot' concept is all about audiences experiencing the latest and greatest in progressive house and electro music. With that idea in mind, Romero has carefully hand-selected the likes of Don Diablo, Tommy Trash and Arno Cost amongst others to support him along the way. With a lineup of dance music's elite, the tour is set to be a sensational showcase that will let people experience Protocol's 'Reboot' concept in full effect!

Protocol Recordings and its label nights have seen unparalleled recent success around the world and it all starts with the one man at the helm. These nights not only see Nicky Romero as a performer but also as an on-site curator who is involved with every decision from the top to the bottom down. It is his passion for the project that continues to shine through with each and every event that is held. Having also recently picked up a BMI Award for his production work on Rihanna's 'Right Here', the 25-year-old Dutchman is making waves at every turn‹be it as a label boss, an artist, producer or a performer. With more still to come in 2014, it's anybody's guess as to what Romero has in store for us, just know that it is set to be special.

Protocol Recordings UK Tour Dates
For all further ticket information, visit www.nickyromero.com

27th November – The Coach -Banbridge, N.Ireland
w/Nicky Romero & Arno Cost

28th November – Electric Brixton – London, England
w/ Nicky Romero & Arno Cost

29th November – Victoria Warehouse – Manchester, England
w/ Nicky Romero, Tommy Trash, Don Diablo, Eddie Halliwell & Arno Cost

29th November – Cream at Nation – Liverpool, England
w/ Nicky Romero, Tommy Trash, Don Diablo, Kryder & Gareth Wyn

30th November – O2 ABC – Glasgow, Scotland
w/ Nicky Romero & Arno Cost