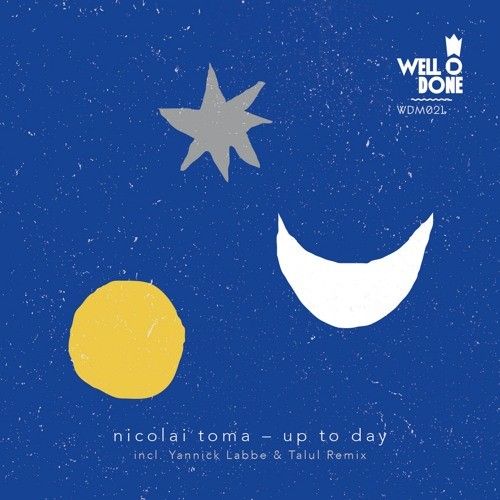 Nicolai Toma - Nicolai Toma – Up To Day
A new dawn, a new day – when the sun rises, all the night's encounters, experiences and adventures flow back into norma-lity. It's a fact of life. For Nicolai Toma, this natural boundary, where the magic of the night dissolves, is a connect moment of inspira-tion worth focussing on for his with WDM first EP on WellDone! Music. Over the last two years, the Düsseldorf-born musician has appeared on every WellDone! Music compilation. Whether it was on his own, under a secret alias or in collaboration with Hannes Smith or Marlon Hoffstadt, all of these tracks have been to the point, bravely extravagant and intricately put together. Each of them stands out because it is different and special – Nicolai Toma's very own signature sound. So, we think his own EP on WellDone! Music is well overdue.
And here it is at long last, marking WellDone! Music's 21st release. Nicolai Toma set a high standard for himself recently, putting out quality material on IRR, Kreislauf and Endless Fight, and his new EP certainly lives up to it with two stylistically varied originals, each of which receiving an alternate version by high class remixers Yannik Labbé and Talul.
The title track "Up To Day" shines with refreshingly minimalistic simplicity, the kind one usually only gets from the likes of Jesse Rose and Oliver Dollar. Kick drum, snare and clap define the groove and, with the bassline coming in, really get the track rolling. The vocal in the first part of the track is cut together from various telephone calls. Later on, a sweet female voice loosens things up. Add piano chords, an open hi-hat and a catchy flute riff and you have a groove that those lazy dance floor swayers will surprisedly catch themselves wildly girating to.
The remix of the title track comes courtesy of Yannick Labbé from Hamburg, who delivers quite a little masterpiece with his version of "Up To Day". Originally one half of Trickski, and going solo since the duo split up, he has since released on labels such as Suol, Suruba and Hafendisko. His remix gives the musical backbone of "Up To Day" a completely new feel. Kick drum, hi-hat and snare remain but now push along in a straight 4/4 measure,making the track feel faster without changing the tempo. The bass line is simplified and a synth pad is introduced in place of the vocals, which featured prominently in the original version. This way, the track is given a driving, mythically atmospheric feel, perfectly suited for setting large groups of people hypnotically in motion. Ideal for the still young festival season.
"Turn It On" is the second original on the EP. Here, Nicolai Toma shows his mastery of sweeter and more delicate sounds. A harmonically tuned drum set, made up of kick drum, hi-hat, clap, shaker and a bell, easily push the track forwards, short piano chords lightly dance on dreamy synth pads and two vocal loops, a softly beckoning male voice and a sweetly innocent female voice, and our thoughts are alreadywith a bunch of happy people dancing in the sun.
The remix for "Turn It On" stays true to the emotional sound of the original. It comes from the expert hands of Talul, well known here at WellDone! Music, who already remixed Matteo Luis's "We Found Love" two years ago and has since managed to become an internationally sought after DJ and producer, as the reactions to his latest releases on Parquet Recordings, Steyoyoke and Kunsthandwerk show. Talul changes the atmosphere in his version of "Turn It On", giving the track an incredibly deep sound. Pushing the drums even further into the background during the first part of the the track, he only leaves the prominent hi-hat to keep the groove going. He expands the synth pad's sonic spectrum but reduces the number of notes played, keeping things interesting with cleverly placed filter sweeps. Only the original´s female vocal remains, but a mysterious, distorted voice is added, merging into a palette of sounds that give the track an atmosphere of an eerie journey into the dark of the night.
Listening to Nicolai Toma's originals as well as the remixes by Yannick Labbé and Talul evokes a wide range of emotions, just like you may experience during a night of dancing. Joy, love, the urge to move as well as mystery, melancholic loneliness and sad farewells – all of these feelings are in these tracks. They come and they go when the song is over, just like the night breaking into day. And then you wish for another of those nights or you listen to …