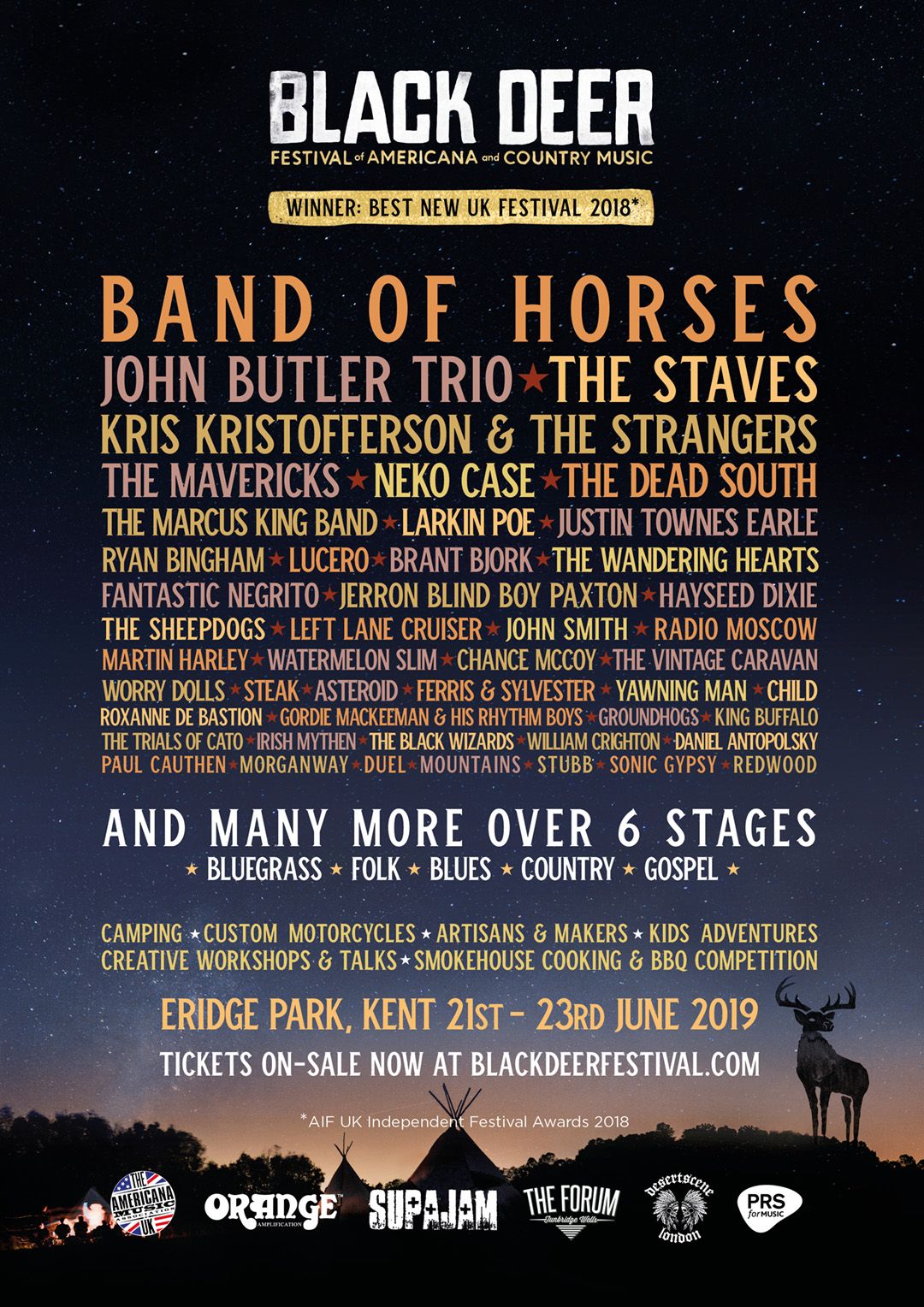 Nicolas Winding Refn to Curate Unique Film Experience for UK Festival Exclusive at Black Deer Festival 2019
The UK's new boutique weekender Black Deer Festival has joined forces with Nicolas Winding Refn, the director responsible for masterpieces such as Bronson, Drive, and The Neon Demon, to bring a unique cinematic experience to Eridge Park this summer: byNWR Expressway.
In this exclusive UK festival partnership, byNWR is set to show the specially-curated trilogy of hidden gems for first time in this new form. Forty Acre Feud, Wild Guitar and Cottonpickin' Chickenpickers all hark back to a time of the American drive-in cinema at its peak, and have been beautifully and meticulously restored to serve as a visual reimagining of early Americana alongside the immersive hand-picked music and food programming at Black Deer Festival. This experience is part of a mesmeric and rare EXPRESSWAY series which will begin in February at Milan's Fondazion Prada before returning to London's Royal Academy of Arts in May ahead of the series' greenfield festival debut at Black Deer Festival in June.
Nicolas Winding Refn says:
"For me, Black Deer represents the ultimate spirit of Americana and everything we love about it. It is the perfect place for byNWR's own obsession with all things American."
byNWR.com was launched as a revolutionary online site which was first presented in 2018, as stated by Winding Refn, "What we've created is not a film, TV, fashion, photography, lifestyle or political site. It's an installation, an online museum inclusive of everything. There's a movie presented each month, but that film is merely the jumping off point. It's the seed to inspire creativity, provoke a state of mind. The result isn't easy to explain in a soundbite, you have to experience it. byNWR comes with a mystery attached."
byNWR's partnership with Black Deer Festival promises an unrivaled experience and comes from an extraordinary alignment of the festival's pioneering spirit of independence, byNWR's commitment to boundary-pushing film, and their shared passion for all things Americana and Country.
BYNWR EXPRESSWAY AT BLACK DEER FESTIVAL
FORTY ACRE FEUD
Coming to Black Deer Festival as a world exclusive screening, Forty Acre Feud is a 1965 film that will no doubt delight die-hard historians of Americana and Country music, as it includes a slew of country music stars such as George Jones, Loretta Lynn, Ferlin Husky, Skeeter Davis and more. This charmingly colourful entry from the notorious husband and wife exploitation filmmaking duo, Ron and June Ormond, sees the stars "puttin' on a show" in the midst of a country feud.
Cherished by the Country Music Hall of Fame and Museum in Nashville, Forty Acre Feud was almost wiped from the cinematic world entirely as every existing original negative from the Ormond's filmography was destroyed in the Great Nashville Flood of 2010. This catastrophe has resulted in a scramble to rescue all the remaining print elements from their lifetime of work, and Forty Acre Feud is in the process of being restored from the best available materials in 2019. The screening at the Black Deer Festival will be a work-in-progress from the elements that have been located so far.

WILD GUITAR
Also coming to Black Deer this summer is the 1962 film Wild Guitar, centered around an aspiring teen pop singer from the sticks (the wonderful Arch Hall, Jr.) who lands in L.A. to try making it big, and is swallowed up by the evils of showbiz. This delightfully low-budget musical was the first feature directed by legendary underground filmmaker Ray Dennis Steckler, and with photography by Vilmos Zsigmond, it's the ultimate feel-good rags-to-riches saga teetering on the edge of spoof.
Having long been plagued by ghastly sound and multi-generation-down video copies, a gorgeous new restoration from the original camera negative will be shown at Black Deer Festival in June, courtesy of the byNWR project. For the first time since 1962, it can be seen (and heard) in all its original carefully-shot black-and-white detail, of particular interest to Los Angeles architecture buffs for rare views of the Sunset Strip in its heyday.

COTTONPICKIN' CHICKENPICKERS
Completing the curated journey through Americana cinema is Cottonpickin' Chickenpickers. A late entry in the "hicksploitation" country music drive-in movie genre, filmed entirely in Florida, this eye-poppingly colourful oddball corrals a motley crew of lesser-known music performers and fading Hollywood legends (such as Lila Lee and Sonny Tufts) into a moonshine-soaked sort-of-chase picture.
Punctuated along the way by some great tunes, and many, many chances to view an amphibious "Amphicar" in action (a short-lived land/sea automobile!). Restored from the original 35mm camera negative, this sparkling new presentation of Cottonpickin' Chickenpickers offers a chance to see and hear this regional curiosity as never before. Previous releases were plagued by murky sound which spoiled the music and dull colours that didn't do justice to the all-Florida-location photography. ByNWR was excited to have been able to go back to the original materials and give them a do-over.
TICKET INFORMATION
Tier 2 tickets on sale now and are available from https://blackdeerfestival.com/tickets/
Weekend tickets from £125 – subject to booking fees.